Artima Gallery on Cork Street to Open Temporary Pop-Up Gallery and Host Artist Reception
Internationally renowned artist Charles Fazzino is gearing up for his big trip to London where a two-week long exhibition of his incredible 3D works  will run from July 31 – August 11, culminating with a public art reception on August 4th – and YOU'RE INVITED TO ATTEND. During these two weeks, visitors will be dazzled by the collection of vibrant, colorful and whimsical artistic creations. Fazzino's trip is being  sponsored by Diplomat Magazine, a 65 year old publication that provides a unique insight into the minds of the most prominent world leaders and governments. While in London, Fazzino will also show off his cover art for their 65th Anniversary issue. For more information about the pop-up gallery, artist reception and the art of Charles Fazzino in the UK, please contact Artima Gallery at www.charles-fazzino.co.uk or email them at info@charles-fazzino.co.uk.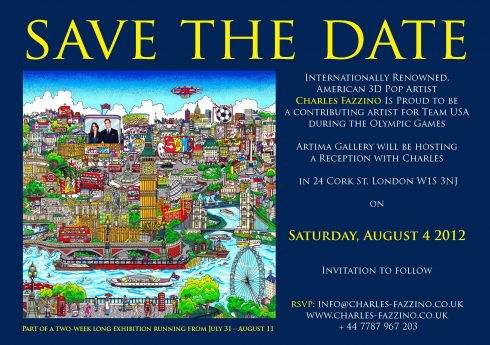 Fazzino

to Sign

Olympic Art Collection

at the USA House
On August 4th from 7-9pm, Fazzino
has been invited by the United States Olympic Committee to sign his  Olympic Art Collection at the USA House, a temporary VIP hospitality location for Team USA based at the Royal College of Arts at Kensington Gore.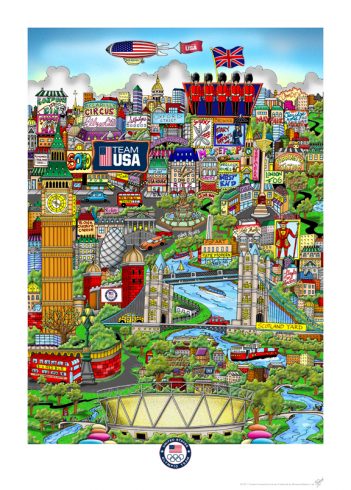 Artist to Host Interactive Art Workshop for Students at the American School in

London
On Friday, August 3rd from 9am to 12 noon, Fazzino will visit with students at the American School in London and conduct an interactive master art class, in which he will create an original piece of art with a group of students. The work resulting will be donated to the school and unveiled during the August 4th artist reception at Artima Gallery.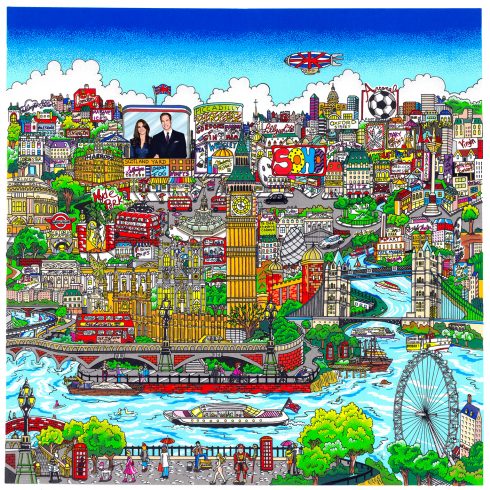 Procter & Gamble Commissions Fazzino to Create Olympic Tribute Poster; Artist to Sign at P&G Family Home
Thursday, August 2nd, from 3pm-5pm, Charles Fazzino will conduct a free Olympic poster signing for guests of the P&G Family Home. Fazzino has created a special version of his Olympic poster just for this purpose, which pays tribute to Proctor & Gamble's support of Team USA.