3D Pop Artist Charles Fazzino Selected as Official Commemorative Artist for the 2019 College Football Playoff National Championship!
 IRVING, TX –Charles Fazzino, famous for his 3D pop art, has been commissioned by the College Football Playoff (CFP) to create limited-edition prints and posters in celebration of the fifth anniversary of the CFP National Championship. "We are honored to work with Charles to commemorate the CFP," said executive director, Bill Hancock. "His iconic pop art will dazzle fans of college football and our great event." Fazzino, a graduate of the School of Visual Arts in New York City, is one of the most popular and highly-collected pop artists. His artworks are exhibited in hundreds of museums and galleries in more than twenty different countries. Most recognized for his unique 3D art, Fazzino employs his signature style of bright colors and incredible detail. "I am thrilled to have been commissioned by the CFP," said Fazzino. "The Bay Area, Santa Clara and Levi's Stadium are magical, and I hope to capture all of the excitement of the national championship game."
The Charles Fazzino CFP Art Collection will be on display at the Playoff Fan Central, a college football theme park open to the ticketed public at teh San Jose McEnery Convention Center from Friday, January 4th through Sunday, January 6th.  The 2019 CFP National Championship will be played on Monday, January 7, at Levi's Stadium in Santa Clara, California, and will be broadcast live on ESPN. For additional information on the CFP, visit www.collegefootballplayoff.com.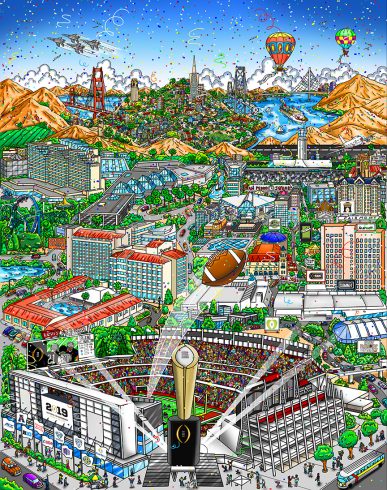 After the game takes place, Charles Fazzino will add the logos of the two teams who compete in the game and a championship banner with the final score to make it a true commemoration of the event. The art is available as both limited edition 3D prints and open edition poster prints. Contact your favorite authorized Fazzino gallery for purchasing information or drop us an email at info@fazzinocollectors.com.