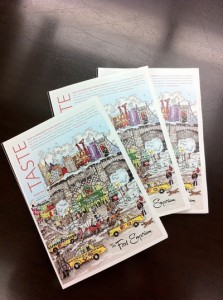 If you're in the NYC area, make sure you visit The Food Emporium and pick up a copy of the Holiday 2010 edition of TASTE Magazine. At 304 pages, the TASTE Holiday edition is the Food Emporium's largest magazine ever brimming with fresh ideas and inspiration for gourmet gifts, elegant holiday entertaining and recipes as well as exclusive interviews and insight from some of the world's best chefs – and to top it off, the cover was designed by Charles Fazzino! This wintery wonderland created by Fazzino exclusively for The Food Emporium is designed to be separated from the magazine so even when you're finished with all of the incredible stories, interviews, and recipies, you'll still have the artwork as a keepsake.
Unfortunately, these magazines cannot be ordered through the mail, so if you're not in NYC, make sure you get one of your local friends or relatives to pick you up a copy. Inside the magazine, is an article about Charles, and a link to enter the Food Emporium Big Apple Word Seach contest. There is no need to have a copy of the magazine to enter, just click on this link and send in your answers. Good Luck.
Don't forget about The Charles Fazzino, Food Emporium Recyclable Grocery Bags. They make great holiday gifts and help a fantastic cause in The Muscular Dystrophy Association !