Aspiring artist and friend Colin Taylor sent us some samples of his work recently. Colin is a very talented young artist, who in fact, his honing some of his skills working for Charles Fazzino's art studio assembling Fazzino limited editions. "I love Colin's drive," said Charles Fazzino. "He is so incredibly creative but at the same time, he's meticulous and pays attention to detail. That's a unique combination and I think he will go far. His work is interesting and inspiring. He is still searching for his voice and once he finds it, he's going to be unstoppable."
In Colin's Own Words:
I am an artist across multiple genres. I am a musician, a thespian, a writer, a photographer, and I only recently began exploring the field of visual arts. Since I was a little kid I have always loved to express myself and have made statements ranging from "be whom you want to be" to "funky socks and sandals are cool". An honest answer to the question of why I make art is that I cannot not make art. Compared to those who see a career as a desire, I see myself as someone following a calling. Art is all around me and I love to create.
There are many opportunities in this field and therefore I would love to explore my options. I am taken by the world of design where I create to inform. I tend to use mixed media in my artwork not only because I like they way it looks but also because, by reusing materials that would have been thrown into a landfill, I am helping the environment. My goal, like the Parsons challenge, is to ultimately inform people of everyday actions that are overlooked but could be crucial in protecting the environment and ourselves. I am constantly learning new techniques and processes as the need arises as I draw upon my own experiences and react to an inner emotional life that often explores current environmental events."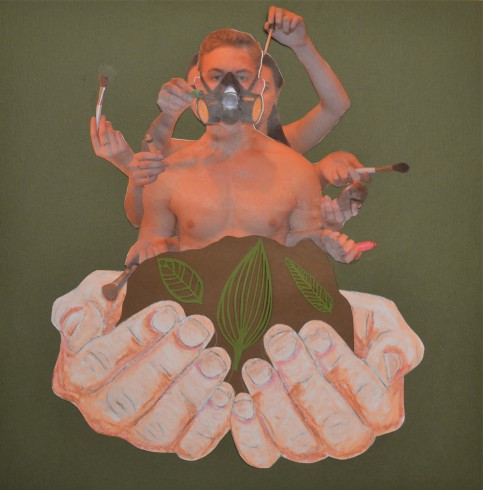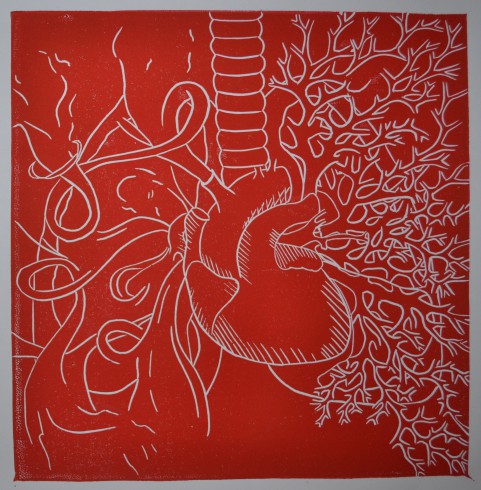 Recently, Colin won 1st place for his mixed media piece at the Mamaroneck Artist Guild exhibit . "My Two Sense" was created with string and pins. Congratulations Colin!