Charles Fazzino spent most of the last week in February in Williamsport, PA, home of Little League International, Penn College of Technology, and the First Community Foundation Partnership. All three organizations had a hand in the trip and together were able to construct a framework within Charles Fazzino will create the 75th Anniversary Artwork for Little League, host a gallery show at Penn College, and complete an educational tour for students and teachers in Lycoming County. The last step actually came first….the educational tour.
Educational Workshops for Little League 75th Anniversary
Between February 26th and 28th, Fazzino conducted a teacher development workshop, led two interactive workshops for students, and starred in an art-related assembl, called Fazzinopalooza, for more than 11oo fifth graders from Lycoming County. The assembly took place at the Community Arts Center, while the rest of the events were kindly hosted in the recreation room at Little League headquarters.
The teacher development workshop featured a Q&A with Charles and then an interactive portion during which the teachers each created (with Fazzino's guidance) their own 3D artworks. They also consulted with Fazzino about the projects they will be doing with their students over the next few months to celebrate the Little League Anniversary. These projects will be inspired by Fazzino's style and technique and will be exhibited alongside some of Fazzino's works at the Gallery at Penn College in July and August.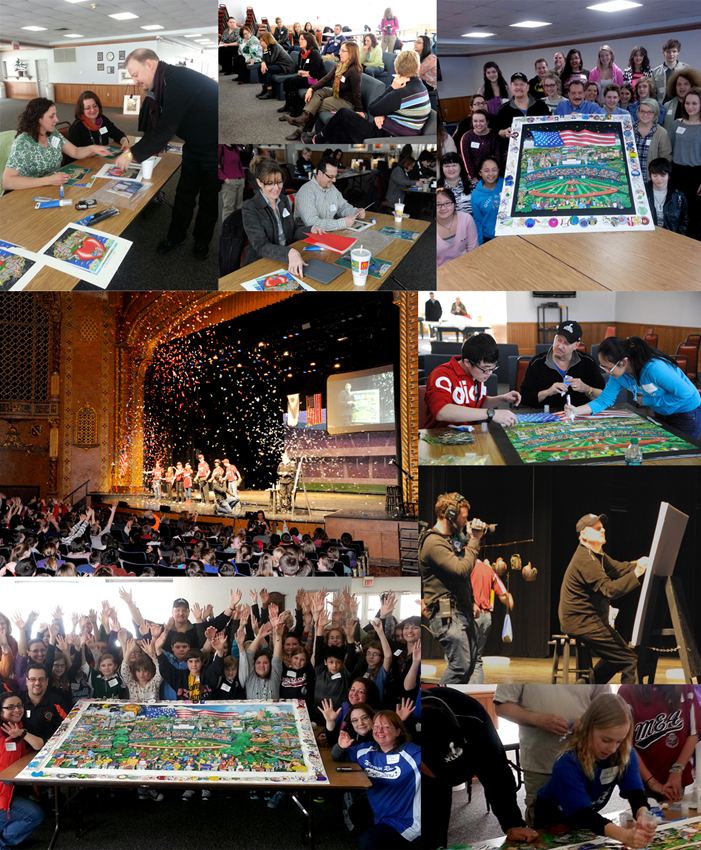 During the assembly, Fazzino, surrounded by lights and a simulated baseball game, re-created a compressed plein air painting session to show the kids how he is inspired and how he creates his artwork. He and his staff then led a discussion panel to connect the dots…with the them being the importance of the arts in their educational experiences.
"It was a whirlwind…but it was a very rewarding whirlwind," said Fazzino about his trip. "I was grateful for the opportunity to stand on my soap box for three days and preach the benefits of arts education and i was so impressed by the response. The kids were great. The teachers were great. Everyone was so receptive and i think had as much fun as i did. I'm looking forward to being part of the Gallery show with these kids and to having the Little League 75th Anniversary artwork unveiled in August during the Little League World Series."
One of the workshops Fazzino involved more than 40 fifth graders in the actual creation of the official anniversary painting which will be permanently installed in the World of Little League Baseball Museum in Williamsport in August.