The School of Visual Arts Alumni Society will present "The Sports Show," a survey of creative work in various media that brings fans closer to the action – before, during, and after the game. The exhibition will bring together more than 30 leading artists and designers who graduated from SVA, of which Charles Fazzino is one. "I'm proud to have my work shown along with that of my fellow-graduates," stated Fazzino. "The School of Visual Arts" played a huge part in my becoming who I am today, and I'm thrilled to be able to exhibit some of my work there as part of The Sports Show."
"The Sports Show" Celebrates the Art of Sports Through the Lends of Top Artists and Designers.
The Exhibition will run from August 22 – September 19th at the School of Visual Arts Chelsea Gallery located at 601 West 26th Street,  New York City. A reception will be held on Thursday, September 10th from 6pm to 8pm.  The exhibition is curated by Todd Radom with Jane Nuzzo, director, SVA Alumni Affairs and Development and designed by SVA Gallery Director Francis Di Tommaso. The Gallery will be open from Monday through Saturday, 10:00am to 6:00pm and admission is free. Call 212 – 592-2145 for more information.
Fazzino's contribution to the exhibtion will include a giant 4-foot-diameter baseball he painted for the NY Mets when they hosted the MLB All-Star Game in 2013. In addition, one of his original Sydney Olympic paintings will be featured, along with a new original 3D embellished work on Yankee Stadium.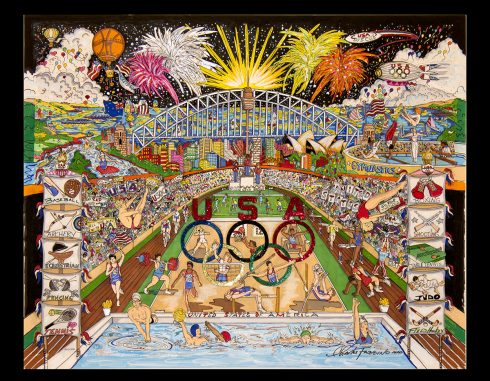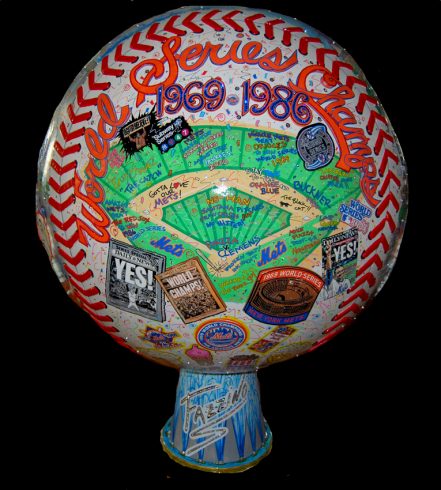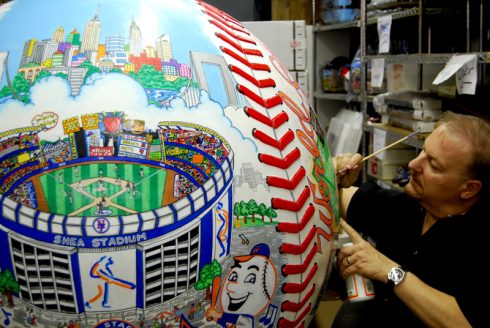 Other participating artists and designers include:
Rafael Alvarez, Jayson Attienza, Elizabeth Baddeley, Elisa Bates, James Bennett, Katherine Biese, Andrew Christou, Mickey Duzyj, Amy Elkins, Brian Finke, Latoya Flowers, Nathan Fox, Sarah A. Friedman, Naoki Ga, Bill Gallo, Michael Halsband, Kelly King, Graig Kreindler, David Levinson, Clay Patrick McBride, Tal Midyan, Frank W. Ockenfels, Alfred Pereira, Hanoch Piven, Tim Purus, Todd Radom, Kevin Reece, Yuko Shimizu, Linda Shirar, Denise Vargas, and Jason Vogel.