The Gallery at the Pennsylvania College of Technology is hosting a show titled "Collective Pop" from July 10th through August 24th. It is taking place in conjunction with Charles Fazzino's involvement as the Official Artist for the 75th Anniversary of Little League Baseball, one of the College's most high-profile neighbors.
The exhibit will feature Fazzino's works, alongside artwork created by the students in Lycoming and Sullivan Counties. Fazzino worked with fifth-grade students during the creation of the 75th Anniversary artwork, and worked with their art teachers as they developed and completed independent projects with the students. Additionally, a master class and art contest were held for high school art students; the projects were all initiated and supported by the First Community Foundation Partnership of Pennsylvania.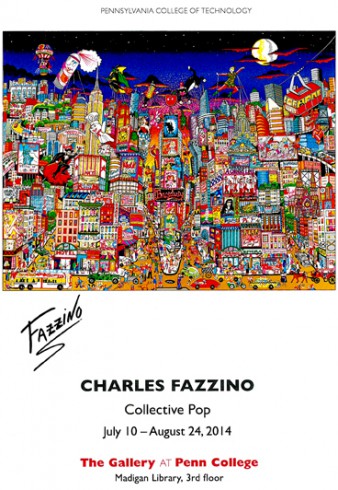 Artist Reception and 75th Anniversary Festivities
Charles Fazzino will be present at the Gallery for an artist reception on Monday, August 18th from 5pm – 7pm. The reception and the exhibition are open to the public. Fazzino will be in town for the unveiling of his Anniversary artwork during the Little League World Series and aside from taking part in the reception at the Gallery at Penn College, he will also take part in poster and artwork signings at the Little League Baseball Museum on Saturday and Sunday, August 16th and 17th.
"I am proud to have my artwork shown at The Gallery at Penn College," stated Fazzino. "I had a great time in Williamsport in February working with the kids and I'm excited to see what they've come up with since my visit. It will be a real treat to have their work shown along with mine. There were some very talented artists among those students."