Grand Central Terminal turns 100 years old this month! Originally completed in 1913, the terminal was a tribute to the magnificence of the rail industry at the time. It's been preserved through time and been through both renovations and revivals…and now the city is planning a year long celebration of its great significance and history. Charles Fazzino has spent the last six months creating his own tribute to this incredible landmark. It will be the lastest addition to his New York Cityscape 3D Pop Art Collection.
Below, we show you the creative process, step by step….ending with the final artwork which will be available as a limited edition work beginning in April.
Step I: Charles spent several months working and re-working the composition of his piece. Below is the final iteration of the concept line that was used as the basis for the limited edition artwork.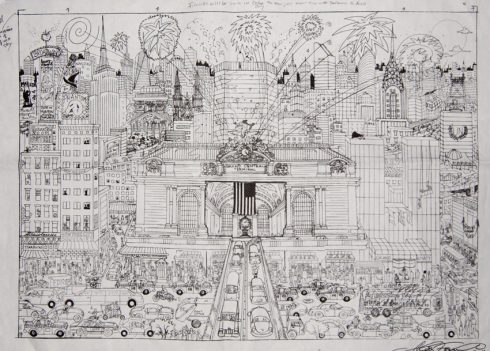 Step I: Fazzino's concept sketch was sent to a master fine art silkscreen printer who traced the line off onto a printing screen and printed out just the final black line of the image.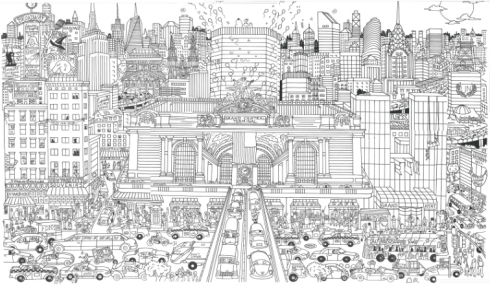 Step III: Fazzino painted in the black line for the silkscreen printer who then spent months tracing off each color onto a different printing screen to create the separations. Then, each color was laid down, by hand, on on top of the other to create the color proof seen below.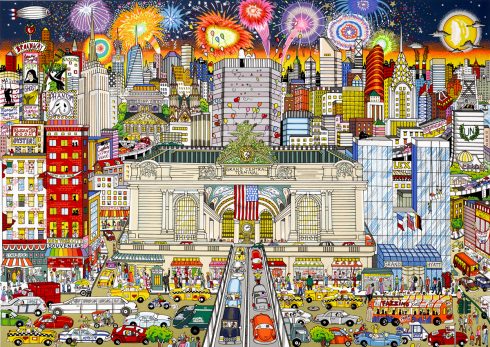 Step IV: The final edition is being printed now and should arrive in our studios by the end of March. So make sure you contact your favorite Authorized Fazzino Gallery or email us for information about reserving a piece from this historical art edition.