The First 3D Pop/Graffiti Fine Art Collaboration
Charles Fazzino is proud of the collaboration with legendary Bronx-based graffiti artists TATS Cru to create a limited edition artwork titled "Hot Town, Summer in the City…1970's NYC." A rendering 1970's New York City in Fazzino's signature 3D pop-art style, complete with subway cars "tagged" by the famed graffiti group.
Fazzino painted this New York Cityscape with The Mural Kings in mind. "I wanted to create a period piece that not only shows what New York City was like around the time of the great graffiti artists, but give the TATS Cru a canvas worthy of their talent," said Fazzino. "I am honored to be working with them and thrilled with the way our styles fit  together so naturally."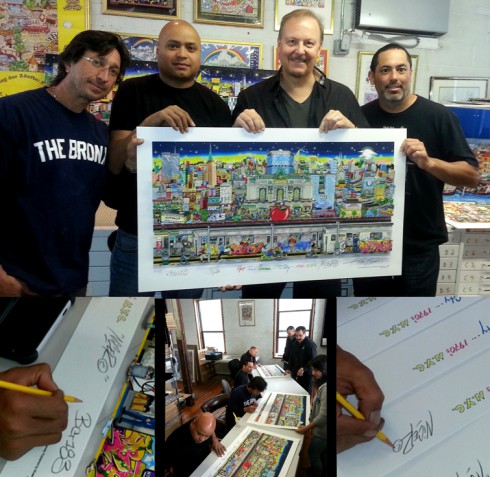 NYC Artwork That Travels Back in Time
The piece is a journey through classic 1970's NYC and includes some of the most famous nostalgic landmarks including the Pan Am Building, Howard Johnson's, Crazy Eddie's, The Roseland Ballroom, as well as this being the first time that Charles Fazzino has rendered the World Trade Center in a limited edition artwork since 9-11.
"I wanted to remind people what it was like then….take them back in time….bring them fond and fun memories. The addition of the TATS Cru art just makes it a more genuine remembrance. Graffiti art was such an important part of popular culture back then and these guys were, and still are, the best."
The artwork has been released as a limited edition in the signature three-dimensional Fazzino style by Fazzino's publishing company, Museum Editions, Ltd.
The limited edition can be purchased through any authorized Charles Fazzino art gallery dealer or you can email info@fazzinocollectors.com for more information.
Watch the Mass Appeal video of Charles Fazzino and the members of TATS Cru discussing their collaboration: