We recently heard a wonderful interview on Diane Rehm's radio show on NPR and we wanted to share it with you. Rehm, a long-time NPR radio host, spoke to noted cartoonist and author Jules Fieffer. Towards the end of the show, Fieffer took a call from someone in the listening audience who queried him about the influence that digital media has had, and will continue to have on the art world. His answer is simply brilliant.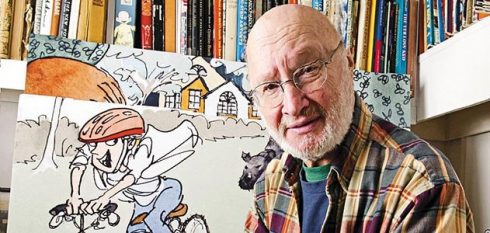 LISTENER: "I'm a big fan of the show. Mr. Feiffer, I just want to first say thank you for the inspiration. You and Ralph Steadman and Quentin Blake and other artists I've been following my whole life have helped me to free up the way I draw, and I've been an illustrator now for a while. And I — we just returned from a conference, a biannual illustration conference, and we're wondering about the future of print media and the ability to just, as artists, have this freedom to draw and write and see it printed on the page and whether that's going to go away.
"Of course we're worried about the — all of the new media that's coming out, even with virtual reality now adding to video games and digital media and so on. And you've seen this world change, and I wanted to get your thoughts on it or what the future might be or how you feel about what kind of a life printed media will have for artists like myself and yourself, who really just love to draw."
FEIFFER: "You're asking the wrong guy because you're talking to someone who calls himself a 19th-century cartoonist and has no technological gifts at all. I can barely use a computer. But I will say this to your question. When I started writing for theater back in the 1960s, when I wrote my first play, "Little Murders," the common thought was theater is dead, it's dying, only commercial theater will exist, only a lot of crap will exist in it and sitcom-style stuff.
"And at the very moment it was dying, suddenly Edward Albee came along, and Samuel Beckett came along and off-Broadway and off-off-Broadway and Lanford Wilson and Jack Gelber and Arthur Kopit, and suddenly you had a rebirth. I discovered that you can't kill, no matter how hard you try, forms that people need to express themselves, and the need to express yourself exists no matter how digitalized and fragmented and technological we get so that these digital forms and ways of expressing — and some wonderful ways of expressing, which I will never learn anything about and don't want to, will go on and on and on, but so will work on paper.
"And just when you think it's out the window, and you can't do it anymore, and nobody wants it, it will have a rebirth. I mean, that's one of the things I've learned."
Technology, as a tool, has done wonderful things for the world of art. Rather than stifle creativity, as many like this listener have feared, it has opened new avenues to artists looking to express themselves. That, in no way, indicates that the art forms that came before are in any danger whatsoever.
There are visual artists who draw and artists who sculpt and artists who collage….and now we can just add another category…artists who create their artwork using computers and advanced forms of technology. The vision behind all of these techniques is the same….the result started in someone's mind. The artist had a mental picture and found a way to re-create that picture to show to the world, whether it was with a pen, paintbrush….or computer.
While Charles Fazzino is not a computer graphic artist, he has been able to incorporate technology to further refine his own 3D art form. "The use of the computer has virtually revolutionized my life. It's allowed me to be so much more efficient and to streamline my process. I can scan images into the computer, pull them apart, put them back together and actually see what something is going to look like before I paint or draw it. It's taken a lot of the guesswork out of translating the pictures in my mind onto paper. But it will never replace my hands. My hands are what makes my artwork mine…my drawings…my adaptations…my interpretations. The computer is a tool that allows me to refine the work my hands are already doing."
Digital art is an enhancement for the world of visual arts…not a replacement for anyone's talent or ability. And in fact, the computer can't do ANYTHING on its own. Art will always be driven by individual creativity….and the visual arts will go on forever!