Charles Fazzino recently released a follow up to his successful aluminum limited edition "Midnight in Manhattan." "Midnight in Paris" is designed to be the second in what will be a multi-piece series and is available in the same size and color options as "Midnight in Manhattan."
"I am so enamored with the way these city pieces are coming out on the aluminum," said Fazzino. "Original Midnight in Manhattan was designed to stand alone but I thought it was so interesting that I've decided to turn it into a series. We're releasing Paris now and I'm thinking about Venice for the next one. They will all be designed to be hung together or separately." Like "Midnight in Manhattan," "Midnight in Paris is available as a black & white print, a full color print, or a blue or green monochromatic print.  All four variations are shown below.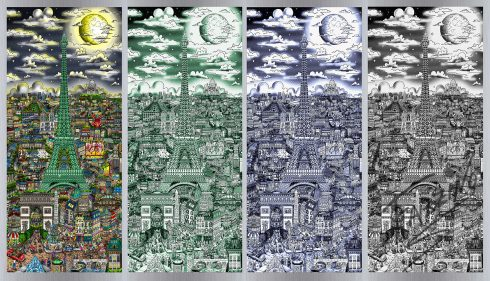 Midnight in Paris Continues Fazzino's Trend Towards Aluminum
It was a few short years ago that Charles Fazzino decided to experiment with printing his images on sheets of aluminum. He had no idea at the time that he was introducing a whole new interpretation of Fazzino to his collector and gallery base. "I knew the aluminum prints looked interesting to me," Said Fazzino. "But I really had no idea how they would be received by my collectors. Turns out that this derivative of my 3D prints has opened up a whole new world for me…both figuratively and realistically. The aluminum prints are popular now all over the world and frankly, we are having a hard time keeping up with demand."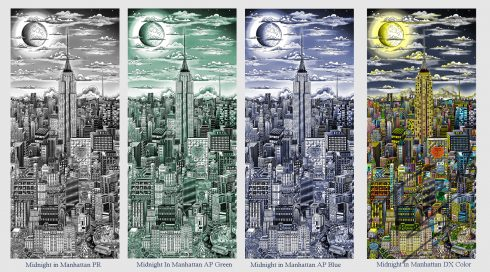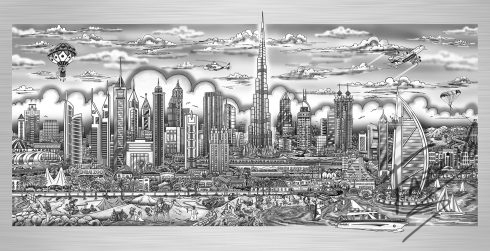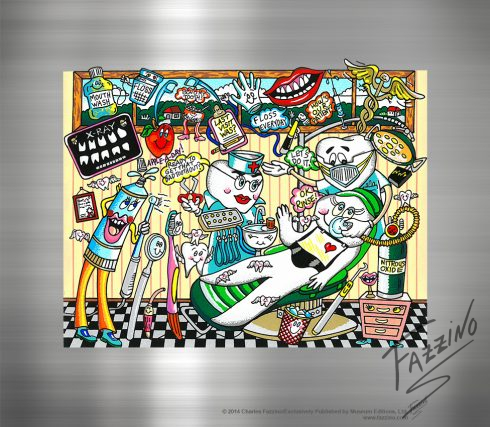 Contact your favorite Authorized Fazzino Gallery or email us at info@fazzinocollectors.com for more information about these Fazzino 3D Limited Edition Pop Art Prints on Aluminum.
Which variation of "Midnight in Paris" is your favorite? Share your thoughts in the comments below or tell us what you think on Facebook or Twitter!