Major League Baseball All-Stars Coming to San Diego!
As he has done for the last twelve years, Charles Fazzino has put together an exceptional art collection for the 2016 Major League Baseball All-Star Game which will take place on Tuesday, July 12th at Petco, home of the San Diego Padres. The Major League Baseball T-Mobile All-Star Fanfest will be held at the San Diego Convention Center, July 8th through Tuesday, July 12th . Fanfest is the largest baseball fan event in the world. Test your arm against the game's greatest relievers, tour an authentic dugout, see all of the World Series rings, and more! And of course, make sure you check out the Charles Fazzino All-Star Game Art Collection.
Fazzino to Appear at the San Diego Convention Center for Fanfest
Fazzino will be on hand each day of the event. He will meet and greet fans at his own exhibition throughout the five days. In addition, his artwork will be featured on one of the commemorative All-Star Game Program Covers and he will be autographing those for Major League Baseball throughout the event as well.
 Charles Fazzino has prepared a spectacular grouping of works for this year's Fanfest. In addition to the Limited Edition and Original works for the All-Star Game, we'll feature his entire MLB collection (hand-painted baseballs, seat backs and original works, as well as limited editions) and  the home plate he's painted for installation on the field during the game's ceremonial first pitch. Here's a sneak preview: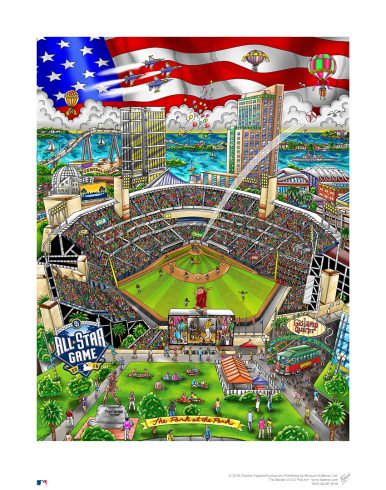 2016 All-Star Game by Charles Fazzino
All-Star Trivia Contest
Make sure you tune in to our
Facebook Fan Page
starting later this month for our bi-weekly MLB All-Star Trivia Challenge. We'll be giving away a bunch of All-Star Games posters between now and game day!