Behind every Fazzino is a clever title…and "Pigeons Droppin'…" is no exception. "The title just came to me as I was inserting all the pigeons into the composition," Said Charles Fazzino. "Pigeons are all over NY…sometimes they can be a nuisance but my art is meant to romanticize their presence….acknowledge their place in the NYC skyline. The reality is that while the pigeons take their place in the art, they aren't the real focus. I had a lot of gold and silver printed in this piece [difficult to see from the digital image] and the textures are truly remarkable."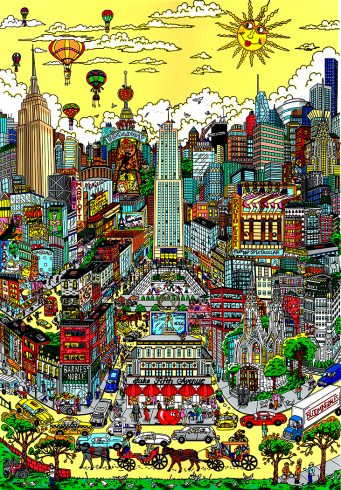 "Pigeon's Droppin' in on NYC" is the quintessential Fazzino New York cityscape, but the palette makes it truly spectacular. The streets are literally lined with gold and the buildings are highlighted in silver. It's a beautifully balanced and unique Fazzino rendition.
Contact your favorite authorized Fazzino Art Gallery for purchasing information for "Pigeons Droppin' in on NYC" or visit our current editions page for all of the currently available Fazzino artwork.
Share your thoughts on the latest piece in the comments below or leave a comment on Facebook and Twitter!