Charles Fazzino returned from an international tour a couple of years ago with an idea to create a version of his 3D limited edition artwork printed on aluminum. After almost a year of development, the first "experimental" Moonstruck Over Manhattan was released. It was so well-received that ever since, Fazzino has struggled to keep up with the demand for his images on aluminum. Reflective Shades of Manhattan Island is his latest endeavor and a follow-up to the almost-sold-out Midnight in Manhattan.
Manhattan in Full Color & Monochrome
In the same vein as Midnight in Manhattan, Reflective Shades of Manhattan Island is available as a full color or blue monochromatic print. "I always love coming up with new ideas. I don't like standing still artistically," said Charles Fazzino. "This time, I played around with shadow and reverse imagery to come up with a monochromatic print that is quite a bit more dramatic than the full color image. It's almost like two different editions. I love the color image but I think the blue is particularly striking. I hope my collectors respond well to both."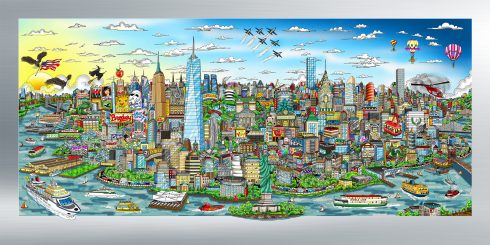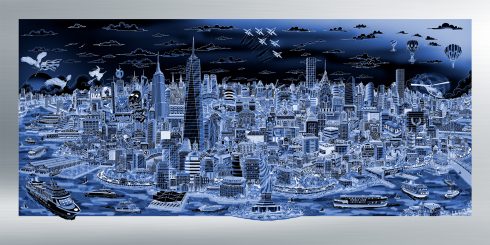 Aluminum Trending
When he first started working with the aluminum, Charles Fazzino really had no idea how it would look. In the end, the aluminum background results in even more eye-popping colors and dramatic effect. The 3D effect is handled differently than it is on paper, allowing for the aluminum to shine through where it makes sense. "We spent a lot of time experimenting with the prints on aluminum," said Fazzino. "I wasn't sure that we'd be able to preserve the look of the metal while still achieving the vibrancy and level of detail for which I've come to be known. In the end, I'm both surprised and proud with how well the artwork has translated to this new medium. It's opened a whole new door of creativity for me and I'm excited to continue developing it.
Contact your favorite authorized Fazzino Gallery for purchasing information for Reflective Shades of Manhattan Island, or visit our current editions page for all of the currently available Fazzino artwork.