Internationally Renowned Pop Artist to Contribute Original Art on Horse Sculpture and Design Event Logo for
Stamford, CT Downtown's Public Art Exhibit in Summer, 2012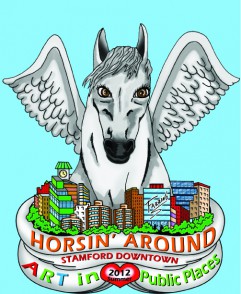 Stamford Downtown, http://www.stamford-downtown.com/, is proud to announce that they have commissioned 3D pop artist Charles Fazzino, https://www.fazzino.com/,  to create the logo and visual identity for this Summer's art exhibit, Horsin' Around Stamford Downtown, Art in Public Places. Not only will Fazzino create the event logo and serve on the board of jurors, but he will also contribute his own talents to painting one of the larger-than-life-sized horse statues that will be placed all around Stamford, CT beginning in June.
"We are so proud to have Charles Fazzino participate in this exciting event. His uniquely painted oversized horse sculpture will be a wonderful landmark for all to see this summer in Stamford Downtown," said Sandy Goldstein, President of Stamford Downtown."
Charles Fazzino added "I am honored to be working with Sandy and her team in Stamford. I've been a big proponent of public art projects for many years and I'm looking forward to seeing the incredible horse sculptures the artists taking part will produce. It's going to be thrilling to see all those horses and all that art in the City of Stamford."
Look for the horses to start appearing in and around town in June. The exhibition will continue through August, after which the sculptures will be sold at auction with a portion of the proceeds benefiting The Ferguson Library in Stamford, CT.
About 3D Artist Charles Fazzino
Charles Fazzino — one of the most popular artists in the world — is most well-known for his unique, detailed, and vibrant three-dimensional style. His work is exhibited in hundreds of fine art galleries and museums in twenty different countries. He is an officially licensed artist of the National Football League and the Super Bowl (2000-present), Major League Baseball and the MLB All-Star Game (2003-present), and the US Olympic Team (2000-present).  He has also recently created official artwork for high profile events, including: the 2011 Centennial Celebration for the City of Fort Lauderdale, the President's Challenge for President's Council on Physical Fitness and Sports, NASCAR Sprint Cup series, NHL All-Star Game, Belmont Stakes, Daytona 500, Indy 500, Andy Roddick Charity Gala, U.S. Tennis Foundation, CMA Awards, Grammy Awards,  Daytime Emmy Awards, NBC's "Today" Summer Concert Series, Rosie O'Donnell's For All Kids Foundation and the President William J. Clinton Presidential Foundation, among many others.
About Horsin' Around Stamford Downtown
Horsin' Around Stamford Downtown, an exciting interactive outdoor sculpture exhibit, will transform the city of Stamford's downtown area into a colorful equine environment this summer. In early June, Stamford Downtown will place 40 oversized, originally designed and painted fiberglass horse statues throughout Stamford Downtown and the Stamford Town Center. The artistic horses will be on display for free public viewing and enjoyment by thousands of area residents and visitors all summer.
Horse Art Highlights Local Connecticut Artists and Benefits Stamford Library
Horsin' Around Stamford Downtown is the fifth art exhibit of its kind produced by Stamford Downtown, a non-profit organization responsible for managing and promoting the Stamford downtown as the region's destination for dining, entertainment, retail, housing, and education.
Stamford Downtown has assembled some of the tri-state's most talented artists to create works of art using the unpainted fiberglass horses sculptures. The artists were chosen from a pool of 200 submissions through a juried selection process. Once a design is chosen by a sponsor, it can take up to four weeks to complete. Artists can choose to work on their horse at Stamford Downtown's Public Art Studio at 61 Broad Street, or at their own  art studios. The public is invited to view the artistic process of turning the blank horse canvas into art at the Public Art Studio.
After the summer-long exhibit, the horse sculptures will be rounded up and refurbished for an art auction.  A portion of the proceeds will benefit The Ferguson Library.
Art in Public Places Helping Connecticut Tourism
Horsin' Around Stamford Downtown builds on the enormous successes of past interactive exhibits, CowParade Stamford 2000, Art-O-Mobiles in 2001, Stamford Safari in 2003 and It's Reigning Cats & Dogs in 2010.  Those exhibits brought record -breaking tourism and spending dollars estimated in the hundreds of thousands to the downtown CT area and over $400,000 was raised for charities as a result of the four art auctions.
On June 6, Stamford Downtown will host a kickoff party and viewing for sponsors, artists and the public at the Stamford Marriott.  For more information about Horsin' Around Stamford Downtown, call 203-348-5285 or visit
#             #             #
Media Contacts:
For Stamford Downtown: Annette Einhorn, Annette@stamford-downtown.com, 203-348-5285
For Charles Fazzino: Julie Maner, Museum Editions, Ltd., Jmaner@fazzino.com, 914-654-9370