OpSail 2012 has wrapped up in New Orleans and is now headed to New York, May 23-30, 2012 for Fleet Week.
Visiting ships included the amphibious assault ship USS Wasp, the destroyer USS Mitscher, and the training frigate USS De Wert; the HMS Montrose from Great Britain, the HMCS St. John's from Canada, and the FS Germinal from France. Tall ships included the USCG Barque Eagle, and Operation Sail (OPSAIL) ships, the KRI Dewaruci from Indonesia, and the Guayas from Ecuador.
There were many exciting events including ship tours; New Orleans based community service projects, and lectures and tours about the War of 1812. Two Blue Angels air shows were scheduled but had to be cancelled due to inclement weather. Military drills and training exercises on board the ships were also a part of the week's events.
Upcoming ports of call include:
June 1-12, Norfolk
June 13-19, Baltimore
June 30-July 5, Boston
July 6-8, New London
Can't make it to an OpSail2012 event this year? You can still look like you did with an official OpSail2012 poster and commemorative tee-shirt designed by 3D pop artist Charles Fazzino!  The tee-shirt comes in a variety of sizes with the Poster image featured on the back and the Official OpSail2012 emblem on the front:
The Official OpSail2012 Poster: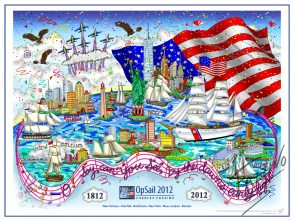 See the OpSail 2012 collection at the OpSail2012 Store.
See the entire Fazzino collection at www.Fazzino.com