Super Bowl  50 Celebrations
We know the big question on everyone's mind is "WHERE CAN I SEE THE SUPER BOWL 50 ART COLLECTION AND MEET CHARLES FAZZINO DURING SUPER BOWL WEEK."  The "NFL SHOP" at the NFL Experience driven by Hyundai in Moscone Center West will feature the entire Fazzino art collection. The Shop opens on Saturday, January 30th and is open through Super Bowl Sunday, February 7th. Charles Fazzino will be on hand for several hours each day beginning on Wednesday, February 3rd through Saturday, February 6th.
In addition, a few NFL superstars will be stopping by to sign autographs with Fazzino including The San Francisco 49ers Vance McDonald (Wednesday, February 3rd at 5:30pm), The Minnesota Vikings Andrew Sandejo (Thursday, February 4th at 6pm), and the NY Giants Rashad Jennings (Friday, February 5th at 6pm). The Store is open to the public and you DO NOT NEED an NFL Experience Ticket to Enter.
On Wednesday, February 3rd, Fazzino will also conduct an interactive art workshop with the crowd attending the NFL Experience. C'mon down and work with The Master of 3D Pop Art!
Charles Fazzino is also joining New York Giant Rashad Jennings and three other NFL greats at a reception featuring the unveiling of the Super Bowl 50 artwork alongside the artwork for  The Rashad Jennings Foundation "The Locker Room Project."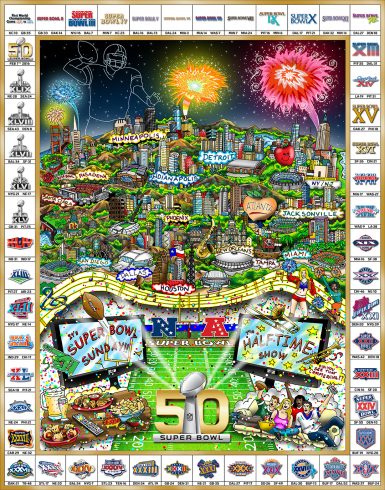 Who: NY Giant Rashad Jennings, San Francisco 49er Vance McDonald, Oakland Raider Andre Holmes, and Oakland Raider Jamize Olawala
What: Unveiling of Charles Fazzino's Officially licensed NFL commemorative artwork for Super Bowl 50 & commemorative artwork to launch The Locker Room Project, a new NFL playerled school student athlete mentorship initiative led by NY Giants RB Rashad Jennings
When: Tuesday, February 2nd, 6pm-8pm
Where: Locker Room by Lids in Macy's Union Square, San Francisco, CA
Join us at any of these events, contact your favorite authorized Fazzino gallery or email us at info@fazzinocollectors.com if you want more information about purchasing artwork from this one-of-a-kind, historic pop art collection.