I was saddened to hear the news over the weekend about the passing of artist Thomas Kinkade at the much-too-young age of 54. I haven't commented on the recent  premature deaths of some of my contemporaries…including James Rizzi (61 years old)  in 2011 and Steve Kaufman (49 years old)  in 2010…but i felt compelled at this point by all of the national media coverage of Thom's life and career. Thom, like James and like Steve, was controversial in both the art and pop culture worlds. None of the three were controversial for their choice of imagery, however, but rather for their level of success. Much of the coverage the last few days has centered on the debate about whether or not Thomas will be remembered as a fine artist or one that was too commercial. I ask…why is there a difference?
For some reason, there is a widespread belief that in order to be respected as a "museum-quality" artist in this country, you must avoid commercial success at all costs. I've never understood that. How many artists can say they've touched as many people with their work as Thom…or James…or Steve. What an honor to have your work hung in so many households….to affect so many people with your art. And yet, it's just that level of popularity that causes the high brow art world to, in a sense, look down on these masters as somehow inferior to "museum-quality" artists. How many people would recognize the names of any of these so-called "museum-quality" artists if they were to have their obituaries printed in the newspaper?
Artists like Thomas Kinkade have jumped the barricade between fine artist and pop culture icon. He was both….something rarely achieved. Why, in music and theater and almost any type of artform is it a blessing to be popular? In art, it can be the kiss of death to a career and a barrier to gaining the respect of the community. I heard an interview over the weekend with a major contemporary art museum curator that said Thom's work will most likely never make it into the musuems because of itscommercial nature….I do believe the same thing was said many times about Andy Warhol and Norman Rockwell. And yet, the beat goes on.
It's interesting to note that the same distinctions are not always made internationally. Takashi Murakami recently talked about just this issue in an interview….how he has become so revered and celebrated BECAUSE of the commercial nature of his work. He is celebrated all over the world, but if he'd started in the US, his work might not have garnered the same level of respect.
I mourn the loss of all three of my contemporaries. They were all very influential in their circles and made great contributions to the art world. They spread the message of art…and affected the lives of so many. They will all be missed.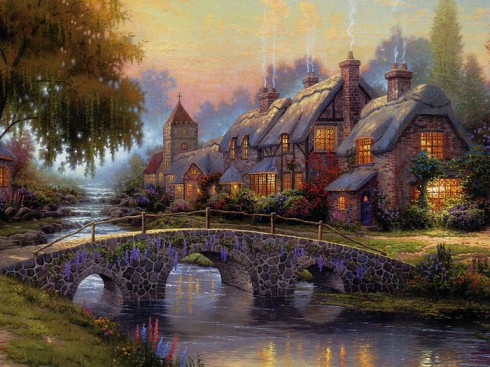 "Along the Lighted Path" by Thomas Kinkade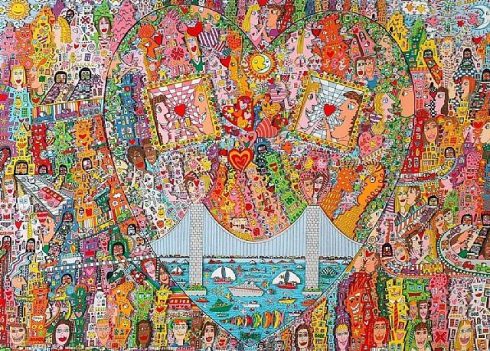 "The Best Art is a Good Heart" by James Rizzi
" The Rat Pack" by Steve Kaufman