It's Our Eighth Edition of TRAVEL WITH FAZZINO: Israel
It's time to jet across the planet to see one of the world's most historic places through Fazzino's eyes: Israel

A Long Tradition of Jewish Art
One of the most often asked questions about Charles Fazzino is, "Is He Jewish?" It's often assumed that he is because of the breadth of his Jewish and Israel-themed art collection. The reality is that he is not Jewish but he has painted an entire collection of art about the people, the religion, and the place. "Way back when i was at the School of Visual Arts in NYC, i loved to eat at the deli's on the lower east side. I was already painting city scenes so a lot of my paintings turned into renditions of that area of New York, featuring the people and the culture, most of which was Jewish in nature. People started buying these paintings and talking to me and teaching me more about their lifestyle. I also met a lot of gallery owners who were Jewish and they further encouraged my exploration. I have grown to have an incredible amount of respect for Jewish religion and culture. I am fascinated by it and am always in awe about the historical significance of that area of the world."
In 2008, Fazzino released a limited edition celebrating the 60th Anniversary of the State of Israel. It is titled, "For Israel, Forever" and commemorates many of the milestones in the country's short but important history.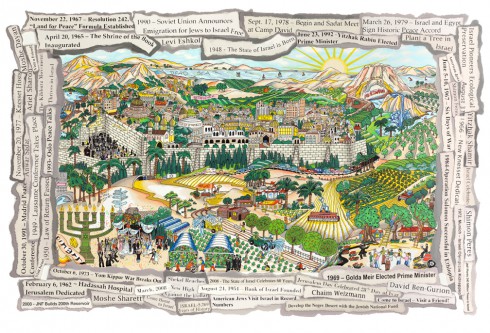 "A Dream For Peace" was one of the most popular Charles Fazzino artworks of all time. Published in 1997, it depicted Israel and Masada on a background of the Dead Sea Scrolls. The imagery, as well as the title, struck a nerve with many people and it was sold out within months of release.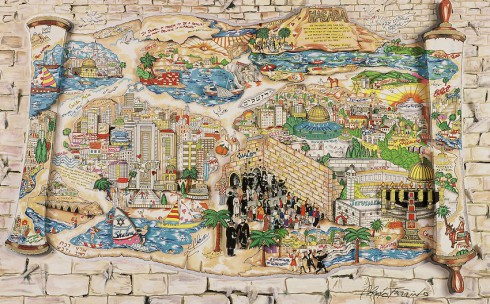 In 1999, Fazzino created the first of what would be a four-piece series titled, "The Celebration Series: A Celebration of Life, A Celebration of Love, A Celebration of Spirit, and a Celebration of Heritage." "A Celebration of Love" was actually a functional ketubah and many couples gave it center stage during their wedding ceremonies. In the end, Fazzino held back 36 pieces from each of the 4 editions and joined them to create 36 "Celebration Murals."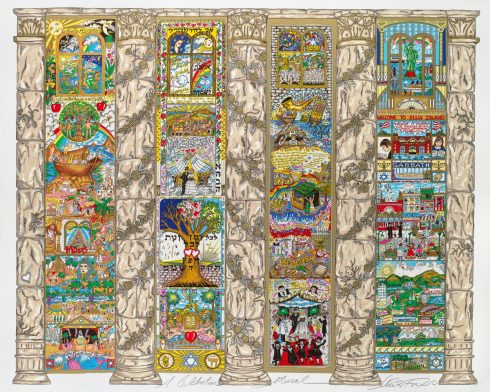 Iconic Jewish Collection
Fazzino has also created editions in the shapes of Jewish Stars and Menorahs, whimsically drawn to speak the significant moments and experiences of Jewish Life.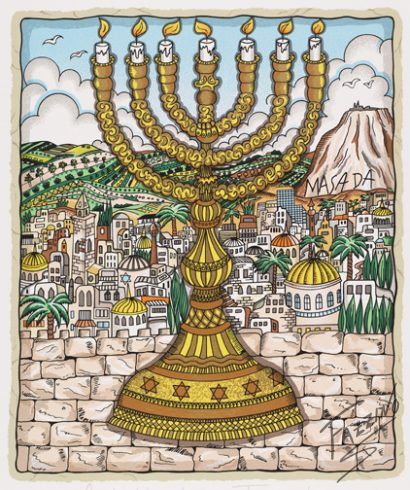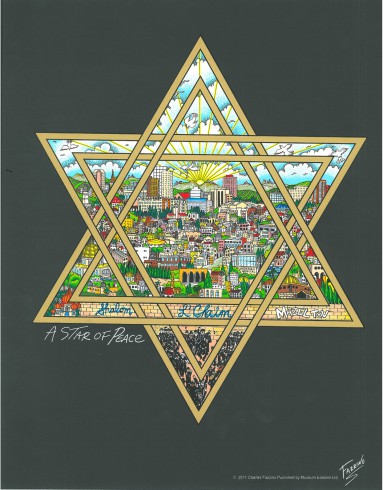 Working with Jewish Organizations
Fazzino has also used his artwork to help raise funds for Jewish Causes. In 2010, he worked with the Chabad organization to celebrate the world's Chanukah Menorahs, and in 2012, he painted a tribute to the Hineni Heritage Center.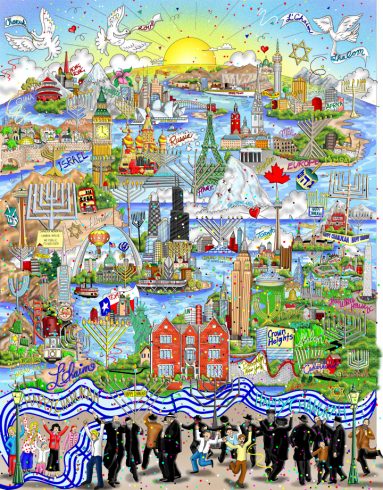 When was Your Last Trip to Israel? Share Your Thoughts and Photos!
We'd love to hear from you about your experiences in The Holy land. Share some pictures of yourself near any of the landmarks Fazzino has rendered on our Facebook Page. And be sure to stop by for our next edition of Travel with Fazzino!