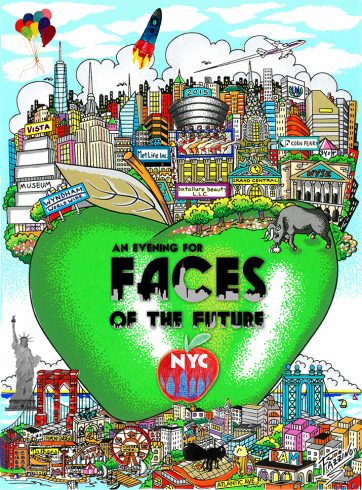 Charles Fazzino is proud to have been asked by Vista Vocational & Life Skills Center to create an artwork commemorating their annual "Faces of the Future" fundraiser in New York City.
Vista is an incredible organization, dedicated to "providing resources and services to assist individuals with disabilities to achieve personal success." Central to Vista's philosophy is the knowledge that the spirit, talents, and hopes of our students are the strengths upon which to build. At Vista, a person's disability is not the defining factor for the individual, whether it is called an autism spectrum disorder, a learning disability, epilepsy, or traumatic brain injury. Instead, perseverance, resilience, and self-confidence are key.
The Vista Arts Center is an important part of the Vista mission – providing arts programming for a diverse  population of adults. Involvement in the arts promotes self-expression, individual creativity, and an atmosphere of achievement and learning, all of which is so important in nurturing the human being as a whole. "I'm honored that Vista used a piece of my artwork to promote this wonderful event. I'm even more thrilled that we were able to work in some of the artwork created by clients of Vista who take part in programs offered by the Vista Arts Center. It's truly heart-warming whenever I have the chance to do something positive through art… it's a powerful thing."
Faces of the Future is an annual cocktail function benefiting the Vista Endowment Fund, a supporting organization of Vista Vocational. The event takes place on October 15th at Three Sixty in NYC and posters of the Fazzino image will be given to all attendees.