Unveiling Ceremony for the 9/11 Memorial & Museum
Charles Fazzino took part in a very special unveiling ceremony this week: the unveiling of the artwork he was commissioned to create for the 9/11 Memorial & Museum on the twentieth anniversary of 9/11. He was joined by a very special group that included 9/11 Memorial & Museum CEO Alice Greenwald, NY Mets All-Star Pete Alonso, New York Yankee Great Bernie Williams, Former NY Mets owner Jeff Wilpon, Former Chief of NYPD Joseph Esposito, and Former Commissioner of NYPD Salvatore Cassano. Fazzino created this artwork with the goal of preserving the visual history of the terrible events of 9/11, and celebrating the resilience of his beloved hometown, its people, and the entire community.
"I, like so many others, was permanently scarred by the events of 9/11," said Fazzino. "I have been equally amazed and inspired by all that has risen from the ashes. My work is meant to celebrate the hope of a people and the promise of the future: Twenty Years Later."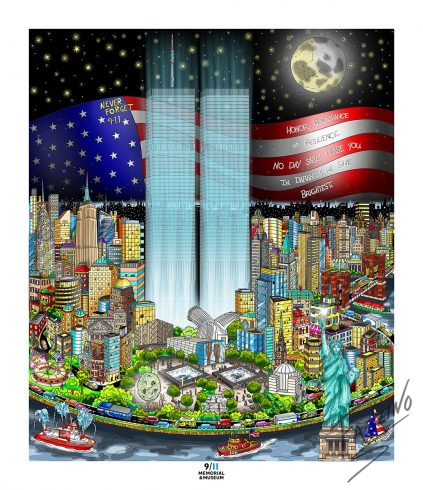 Art is Understanding
9/11 Memorial & Museum CEO Alice Greenwald opened the ceremony:
"Art is a way of coming to understand the world around us, and when we are confronted with the unimaginable, it can be a source of comfort as well as insight. Our very first special exhibition was titled "Rendering the Unthinkable: Artists Respond to 9/11," and it presented works in various media, all of them helping us to make sense of unfathomable loss and a world profoundly altered.

As evidenced by works in our collection, artistic responses in the aftermath of the attacks ranged from the realistic to the elegiac, from heartbreaking to hopeful. Even young children expressed their feelings in drawings and paintings, many of them genuine, unfiltered expressions of gratitude and admiration for the service and sacrifice of our first responders. Whatever the medium or the maker, works of art provided an essential sense of hope and inspiration at a time when we needed them most.

Charles' latest piece – which we'll be unveiling in just a few moments – does just that… at a moment when our city is, once again, coming out the other side of yet another challenging time.    Titled "9/11: A Time for Remembrance, Twenty Years Later," this work was created especially for the 9/11 Memorial & Museum… and it – like so much of Charles Fazzino's oeuvre – is filled with intricate depiction and a signature vitality that rejoices in the city that is near and dear to Charles Fazzino's heart.

But this is also a work that invites us to look closely and give ourselves over to both remembrance and affirmation… celebrating the resiliency that New York, and New Yorkers, are known for."
Raising Funds to Support the Memorial
A portion of the proceeds from the sale of this artwork will benefit the mission of the 9/11 Memorial & Museum, and each piece comes with an official 9/11 Memorial & Museum commemorative pin for framing. In addition, all net proceeds from the sale of items from a product line adapted from the work and available exclusively from the 9/11 Memorial & Museum shall benefit the mission. These products, which include a tote bag, a commemorative mug, and more can be seen and purchased at the  9/11 Memorial & Museum Store.
The artwork is on display at the 9/11 Memorial & Museum. You can contact your favorite authorized Fazzino gallery or email us at info@fazzinocollectors.com for purchasing information.
(All photos courtesy of Nick Carter)