The History of Car Art
Cars inspire art. Sometimes its the other way around. Many see cars AS art. They can be elegant, flashy, utilitarian, compact, or massive, but just like an impactful piece of artwork, their shapes, sizes and colors can tell a story and convey emotion. Since they were invented in the early 20th century, cars have been wonderful fodder for artists of all styles and genres. So many have incorporated cars into their works, creating unique and dynamic pieces that celebrate the beauty and power of these wonderful machines. Andy Warhol, as he did with so many other "everyday" items, set the stage in the pop art world for what was to come with his famous BMW M1 in 1979. The car was the central figure in several of Salvador Dali's most well-known works.
The Inspiration Behind Fazzino's One-of-a-Kind Car Art Pieces
Charles Fazzino recently caught on to the car art craze, bringing his own distinctive style to the genre. In the past, he has often incorporated cars into his three-dimensional paintings. The 2005 release "Twentieth Century Fox at the Drive-In" is a prime example. The 2009 release "Get Your Kicks on Route 66" captured the wistful feeling many folks get when thinking about taking that historic drive…in a historic car. But in 2022, he decided to actually render his creations in three-dimensions. He began scouring the internet for classic metal model cars that spoke to his sense of nostalgic longing for the good old days. He began, as one would expect, with the classic yellow NYC taxicab…what better way to bring his 3D creations to life than to use a 3D model as his canvas.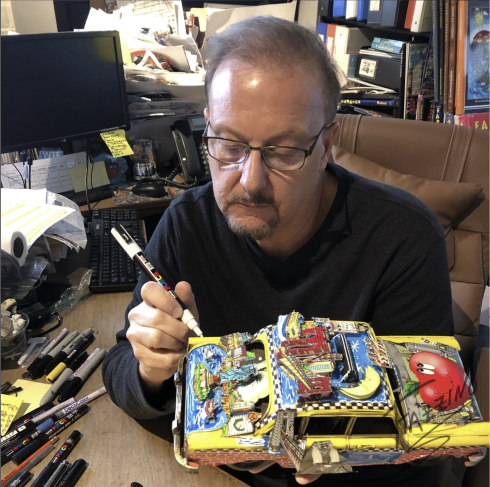 "I love cars and I love New York City," said Charles Fazzino. One day, the thought just hit me…why not bring the two together and paint my art ON a car. At first it was purely an experiment. I have a collection of really old metal car and soldier sculptures but they are way too small to paint on. So, I started just searching the internet and found these wonderful, solidly built, one-of-a-kind car sculptures. I ordered a few and just started playing around. It was kind of like magic. My artwork enhances the personality and the story already being told by each of these sculptures."
The Making of a Fazzino Car Sculpture
The completed 3D cars are unmistakably Fazzino, and the process used to create them varies by vehicle depending on inspiration. First Fazzino studies out the model and determines a theme. After that, it's an artistic free-for-all. Paints, brushes, crystals, cutouts, collages, and 3D objects all come together in a flurry, resulting in a distinctive new creation.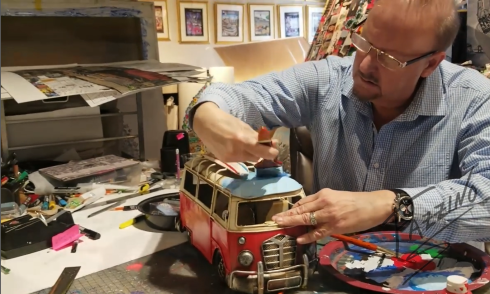 Every element on the sculptures is thoughtfully created and sculpted to the curvature of the underlying model. "Sometimes, these are a bit like putting a puzzle together," Charles explains. I'm trying to tell a story in a very small space, incorporating as many visual cues as I can pile on." The process resembles the building of an actual car on the production line. Each element added enhances the look and feel of the finished work.

Explore the Car Art Collection
The collection is limited so far. Only about a dozen car sculptures have been created. But the themes are notorious and classically whimsical…typical of the Fazzino touch.
The Philly Cheesesteak VW Bus
You can't help but smile at Charles's thoughtful inclusions that suggest the flavor and fame for which Philly is most known.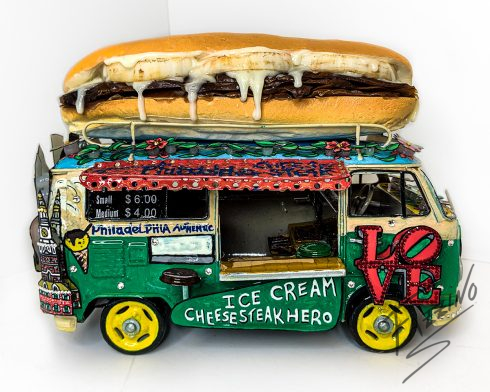 Taxi Cabs
It was a natural for Fazzino to turn first to the NYC taxicab. He's created a series of them which, in total, begin to tell the story of his beloved home town. The medium is unfamiliar, but the artwork is unmistakably quintessential Fazzino, capturing the sights and sounds of the most famous city on earth.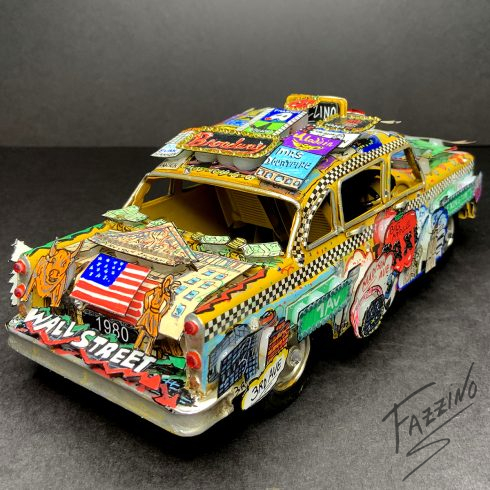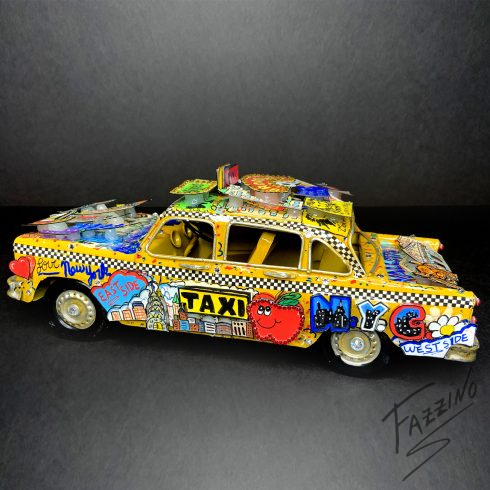 The Broadway Taxi Car Sculpture
The newest piece in the car art collection is none other than a return to the originals…a classic NYC taxi cab, this one focused on Broadway. In this piece, Charles once again captures the sights and icons that make Broadway so recognizable, featuring characters from popular shows and iconic street signs.
The Aloha Bus Sculpture
With the Aloha Bus Sculpture, Fazzino puts tongue firmly in cheek, shouting "cowabunga" and encouraging the free-flowing, beautiful, laid-back Hawaiian lifestyle.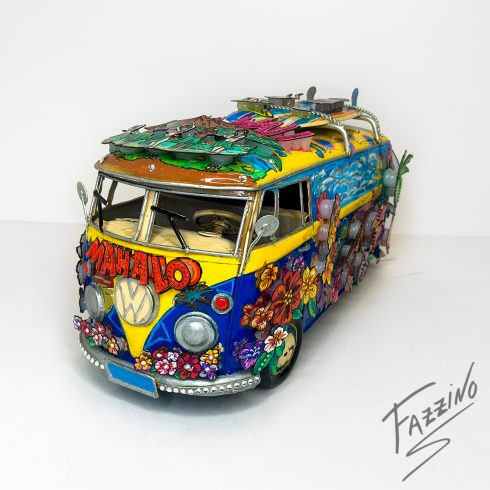 Alpine VW Bug Sculpture
This one's almost like a classic car commercial, touting the VW Bug as the car of an alpine adventurer. Honestly, who has ever thought of driving a VW Bug up a mountain to go skiing? Well, evidently Fazzino has.

Rock VW Bus Sculpture
The classic VW bus on its way to Woodstock…you know the story. Fazzino tells it his way and on his terms, pointing out some of his favorites along the way…Hendrix and Morrison…and touting the summer of love as a glorious time in the history of rock 'n roll.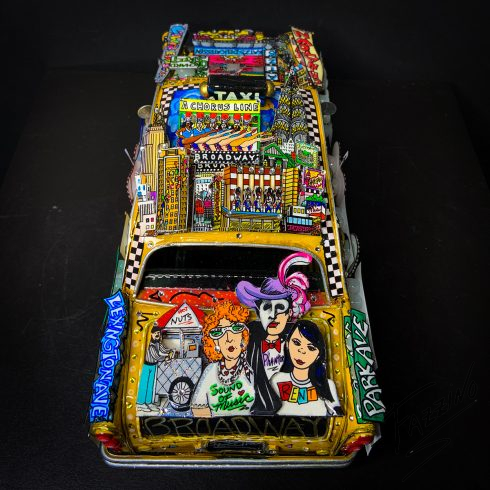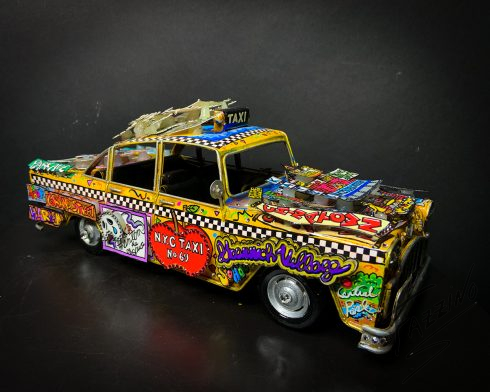 Check Out More of Fazzino's Art
Collectors have been snapping up these new car sculptures almost as fast as Fazzino can make them. But we encourage you to check out these beautiful pieces and the rest of Fazzino's art over in the gallery. To stay in the know about new art, including car art releases, as well as events, you can sign up for the Collectors Club!