On July 19th, Charles and his Daughter Heather Fazzino joined the City of New Rochelle's Municipal Arts Commission to unveil two original sculptures commissioned as part of the city's "Stacked!" public arts project. Shaped as the letters "NYNR," these sculptures are part of an overall larger branding effort by the city as it undergoes a massive downtown development. The Fazzino sculptures were formally installed on the corner at the cross streets of North Ave and Huguenot Street . Several notable dignitaries including Mayor Noam Bramson, Development Commissioner Luiz Aragon, and County Executive George Latimer were present for the dedication ceremony.
"We are thrilled to contribute original pieces to New Rochelle's burgeoning art scene," said Charles Fazzino. These sculptures, which reflect New Rochelle's rich history and bright future, hold special significance to me as my studio is located here. We are seeing firsthand the transformation New Rochelle is undergoing and it's exciting to be part of this change."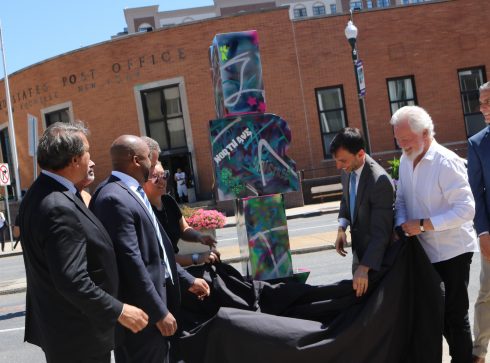 The unveiling of Heather Fazzino's NRNY sculpture
Heather and Charles each decorated the provided 100lb, 7 foot 3D Fiberglass "NRNY" sculpture in his/her individual style and connected them to the vision and history of the city of New Rochelle. Charles Fazzino's piece pays homage to the rich artistic history of New Rochelle through the inclusion of homegrown characters, such as Mighty Mouse and Woody Woodpecker, and iconic American artist Norman Rockwell. By contrast, Heather Fazzino's edgy street art style views New Rochelle's history through a modern lens that captures the enerty of the city's creative future. . These sculptures are the first of many installments of the "Stacked!" series schedule to hit the streets of downtown later this year.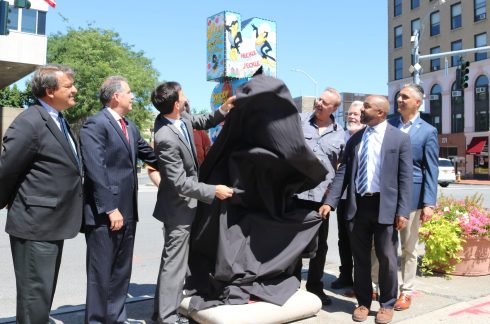 Charles Fazzino unveiling his Pop Art NRNY sculpture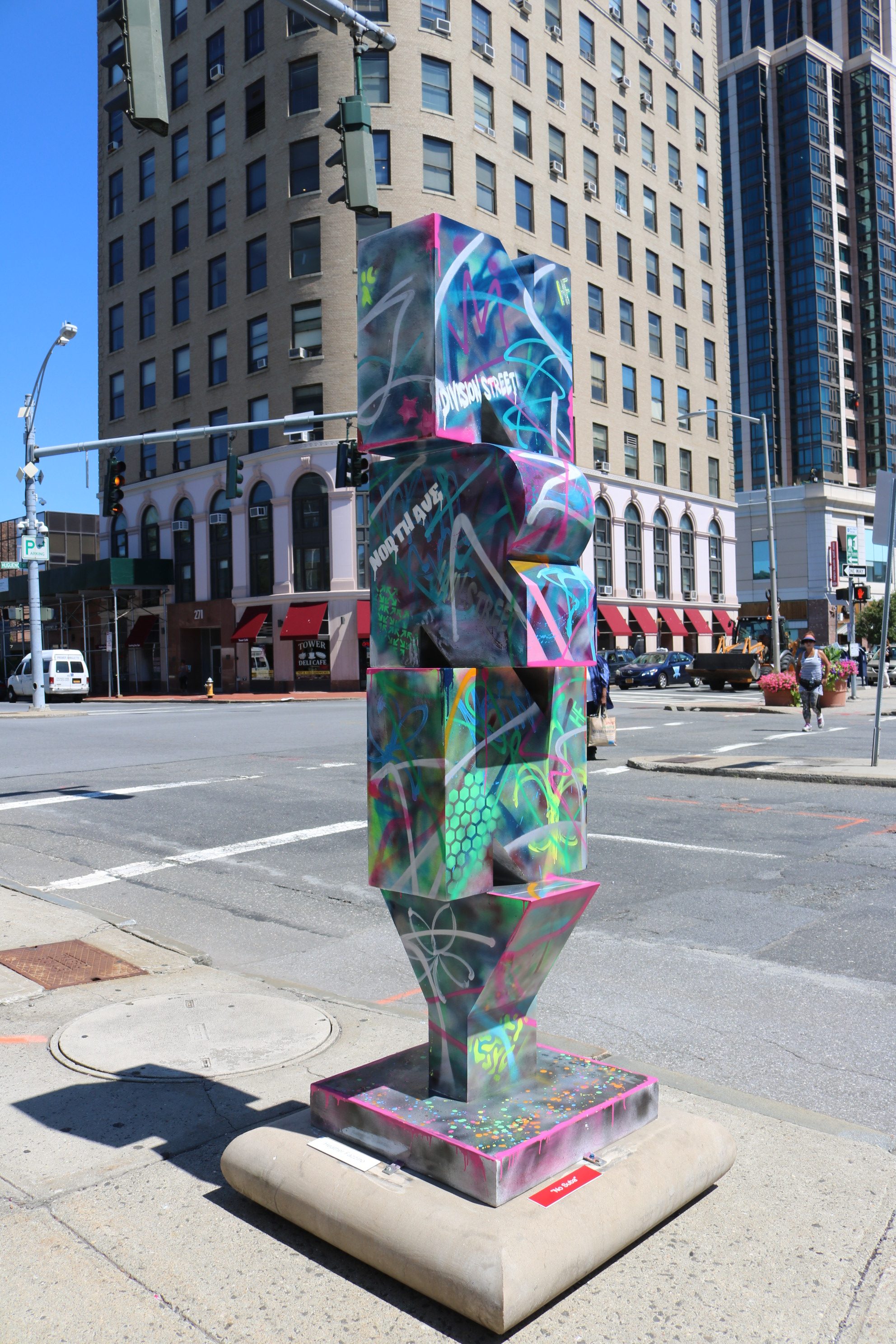 NRNY x HLF by Heather Fazzino

Heather is "the future" of the New Rochelle art scene, and her street art claims the room with her use of bold colors and patterns. Although graffiti based, her work is also very vibrant and intricate like her father's famous creations. If you're coming across this sculpture at night make sure you take a look at the street names that will illuminate with glow in the dark spray paint.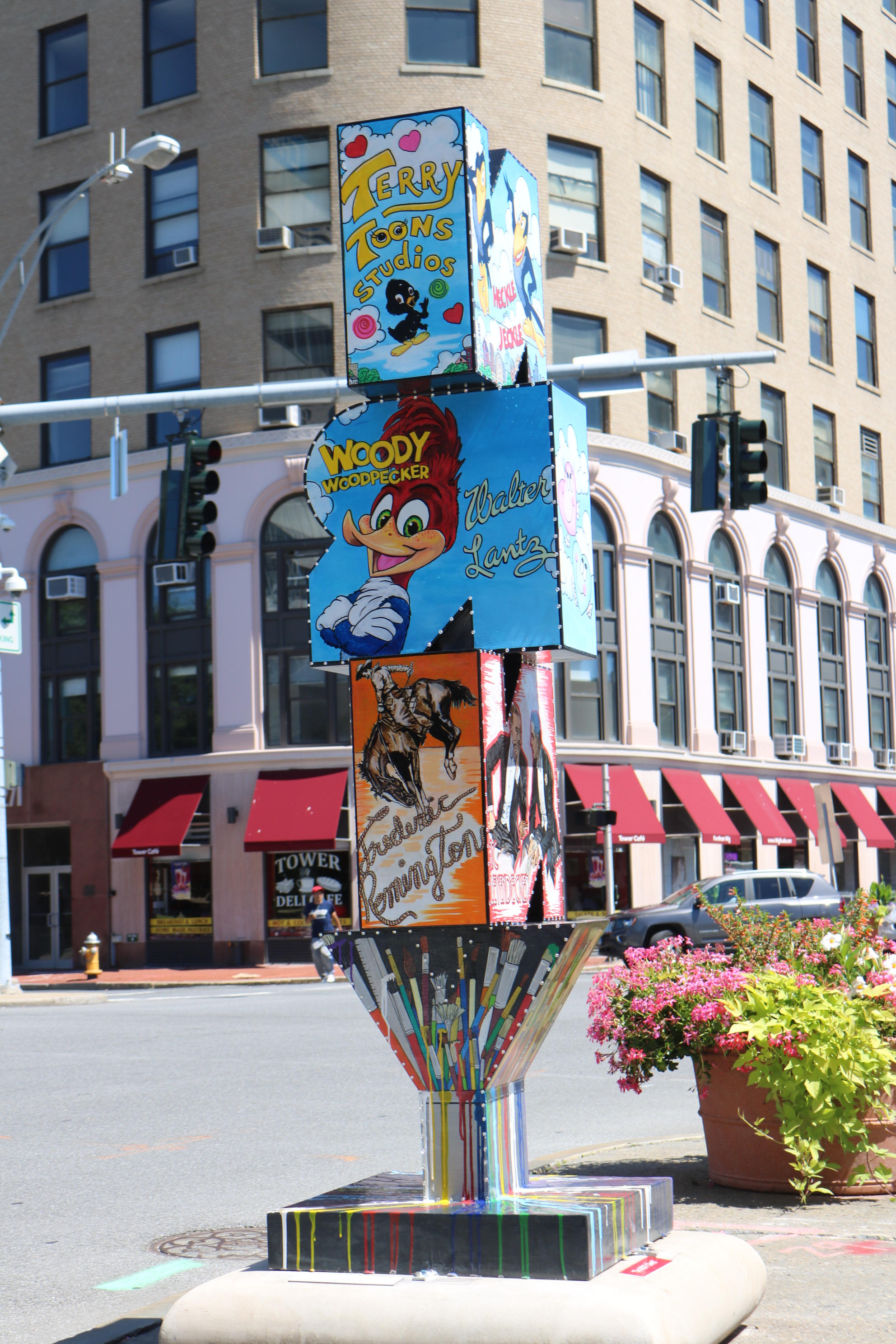 New Rochelle's Art History by Charles Fazzino


Charles sculpture touched upon the history of famous artists who have lived or worked in the city, as he does today. Frederic Remmington, Hanna and Barbera, and Norman Rockwell are a few artists that inspired him through his early years. His sculpture is an homage to these early masters. Hand painted and Embellished with Swarovski crystals, this sculpture is nothing short of the Fazzino treatment.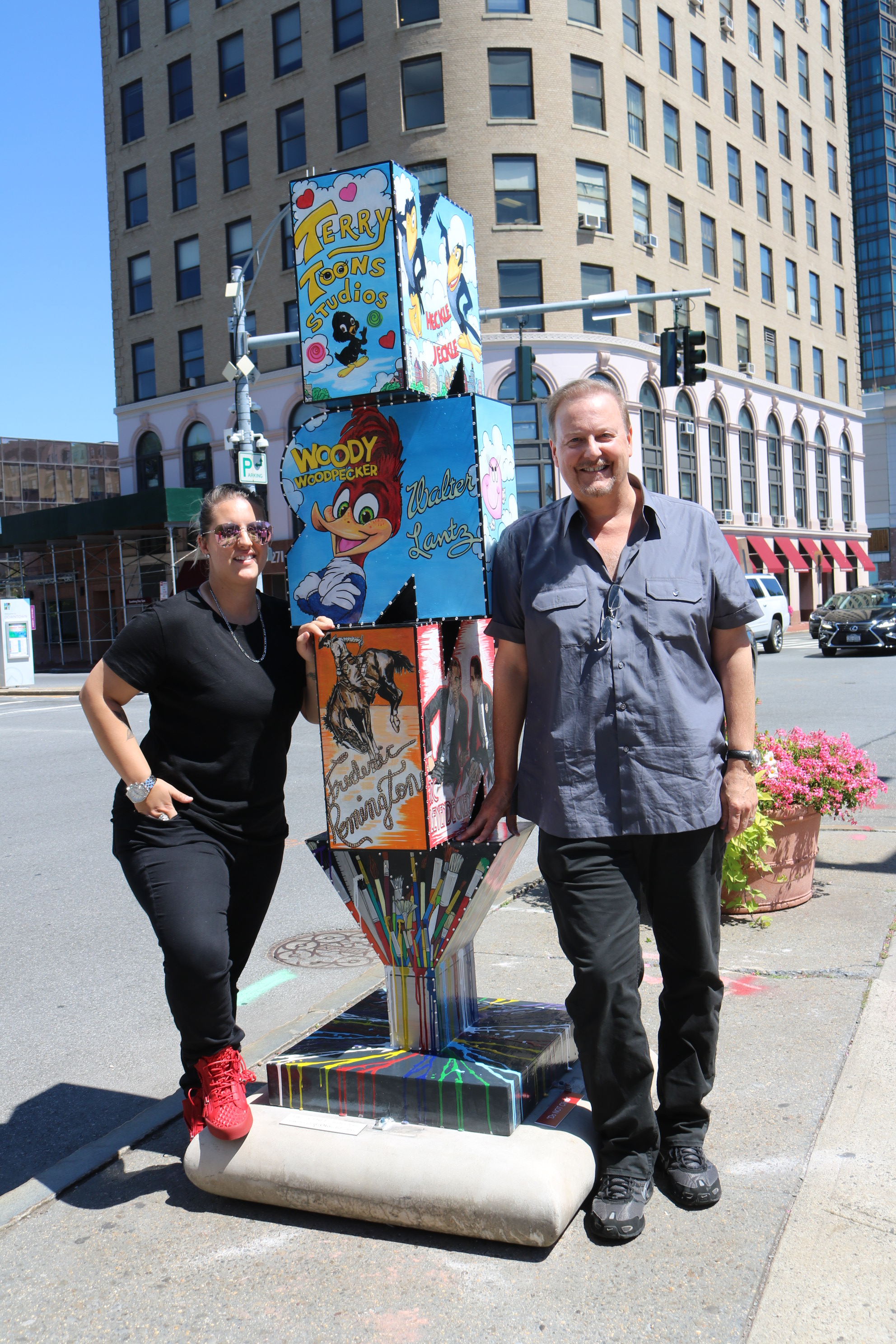 Have you seen these sculptures?
If you do make sure you snap a photo and Instagram the artists @Charles_Fazzino and @HLFazzinoArt