Along the East River started out as a bit of an experiment. Measuring 72″ x 16″, this is the first mural-sized release from Charles Fazzino since 2015. It's a look at New York City from the East River, taking in the tip of Manhattan all the way up to the George Washington Bridge. This die-sublimation print on aluminum is available in three different variations, each one with its own dramatic effect.



"I wanted to push the envelope and see what a large panorama would look like on aluminum. It was just fabulous! The aluminum just shines through. I was so excited, so we released it as a limited edition."

– Charles Fazzino
Fazzino's First Bronze
The Little Bronze Apple Sculpture is Charles Fazzino's first endeavor working with bronze as a medium. Due to the level of detail and the difficulty the foundry had in achieving that detail in bronze, it took almost two years for the final piece to come to fruition. It's a testament to Fazzino's dedication to upholding the quality and intricacy of his work and the foundry's willingness to experiment with different techniques and styles to achieve the desired outcome.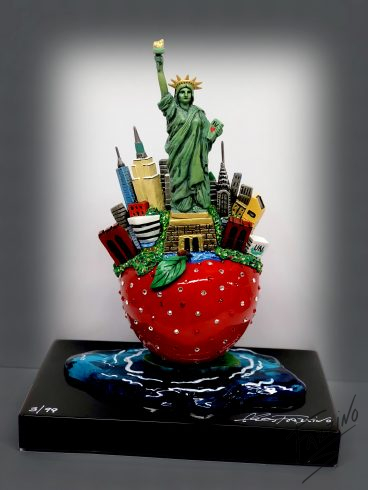 "Sculpture is very challenging for me. I'm not willing to sacrifice the detail in my work and finding techniques and sculpting partners who can and are willing to execute my colors and concepts is very difficult. This piece took more than a year of intense development and I'm very proud of it." 

– Charles Fazzino
Purchase Information
For more information on either "Along the East River" or "The Little Bronze Apple Sculpture" releases, please contact an authorized gallery or email info@fazzinocollectors.com.