ArtsFest 2013 Kicks-off with a Charles Fazzino Public Art Installation
It's almost time for ArtsFest! Aside from the four opportunities to tour Charles Fazzino's private studio, you are also invited to the official New Rochelle ArtsFest 2013 kickoff! Earlier this year, the city commissioned Charles Fazzino to create a sculpture to commemorate the city's 325th Anniversary. It was unveiled at the Anniversary Gala. On Friday, September 27th,  the New Rochelle Arts Council will kick off the festivities by holding a dedication ceremony at City Hall for the permanent installation of the Fazzino sculpture. Meet us at City Hall (515 North Avenue) at 4pm for the ceremony!
Enter the New Rochelle ArtsFest Fazzino 325th Anniversary Scavenger Hunt
If you're planning to attend ArtsFest over the weekend (September 28, 29), make sure you enter the "Fazzino 325th Anniversary of New Rochelle Scavenger Hunt."  You can pick up your game card and rules at any participating venue. You have to visit at least eight (half) of the participating ArtsFest venues and obtain a sticker from each one. Once you've filled half your card, you can turn it in to be entered to win a Charles Fazzino 3D limited edition of New Rochelle or a commemorative 325th Anniversary poster.
Here's a Sneak Preview of the Game Card: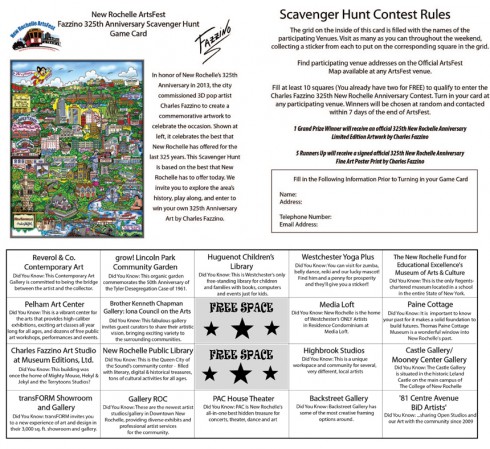 We hope to see you there!!