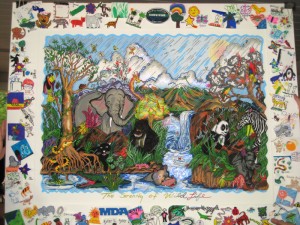 I went to one of my favorite events of the entire year earlier this week – MDA Summer Camp. Every summer, The Muscular Dystrophy Association hosts over 90 week-long camps around the country for children with Muscular Dystrophy and related diseases. It's an incredibly magical experience. The kids have a fantastic time, experiencing some freedom, having fun, and building lifelong relationships. To some families affected by Muscular Dystrophy, summer camp is the vacation of a lifetime. I have been lucky enough to attend four such camps and each time, I've worked with some of the most talented kids I've ever seen to create some wonderful works of art. This year, I again partnered with the A&P and Food Emporium and attended camp on A&P Day when dozens of A&P employees volunteer their time and effort to meeting the kids and helping out.
Every year MDA Camp has a different theme…this year it was the television show SURVIVOR. So, my staff and I prepared a project to do with the kids that would have something to do with this theme. So, in just about 2 hours, and with the help of more than 40 disabled children, we put together an original artwork based on one of my limited edition releases titled SERENITY OF THE WILDLIFE.  The kids drew all of the elements that are 3-D on the matting of the artwork and they helped me glue up the artwork in the center. As always, MDA Camp was a rewarding experience for me and these kids just touched my heart. They all show such courage and are truly inspirations to all of us!
In the interest of continuing to promote and raise money for the MDA, I want to remind you about the recyclable grocery bags I designed. They are being sold at The Food Emporium throughout Manhattan to benefit the MDA. You can read my earlier blog about them for more information. Please make sure you pick one up. If you're not located in the area, you can order them by mail by calling the Food Emporium Catering Department at 212-381-0885.