Baseballs are round and smooth and white…they're just begging for color and design and excitement. For those with the right creative spirit, they are the perfect canvas to re-purpose in the name of art!
You can hit a home run creating your own baseball artwork and design by following our step-by-step guide to prepping, decorating, and showcasing your baseball-inspired arts and crafts!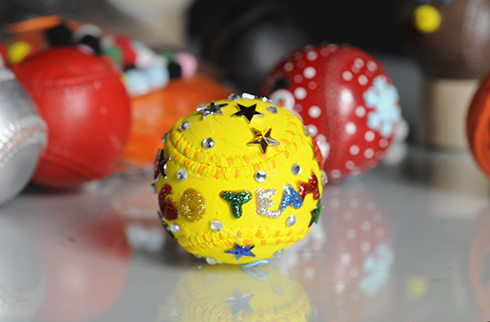 Preparing the Baseballs
Before you begin the decorating process, it's important to properly clean your baseball canvas. This will not only brighten up the exterior of the ball, but provide a smooth surface that is easier to paint, glue, and draw on.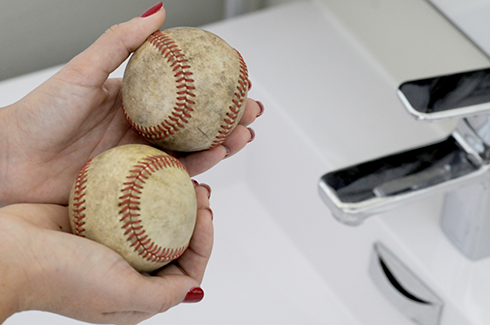 The first step to cleaning off your baseball is to run it under luke-warm water to loosen any compacted dirt.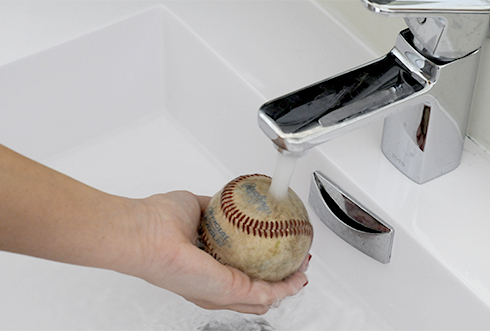 Second, find a small scrub brush or toothbrush to get dirt out of the ball's stitching. Add a dab of cleaning solution or soap to your hand, lather it into the ball, and take your scrub brush to bristle away additional buildup.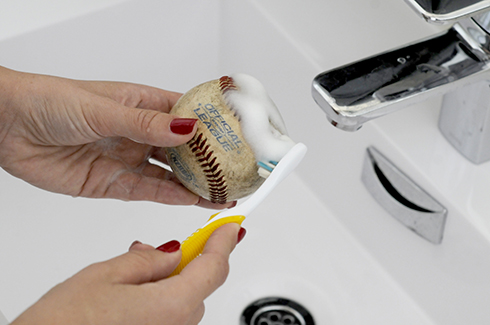 Here are a few recommended cleaning products to use when washing your baseball:
Diluted bleach and liquid dish soap.
A mixture of water and vinegar.
Dr. Bronner's liquid soap.
Moist baby wipes or towelettes.
A small amount of toothpaste.
Foam hand soap.
Once your baseballs are scrubbed and rinsed thoroughly, pat dry each ball with a hand towel. Depending on what resources are available to you, choose one of the following drying methods to ensure the baseball canvas is totally dry before you begin to decorate: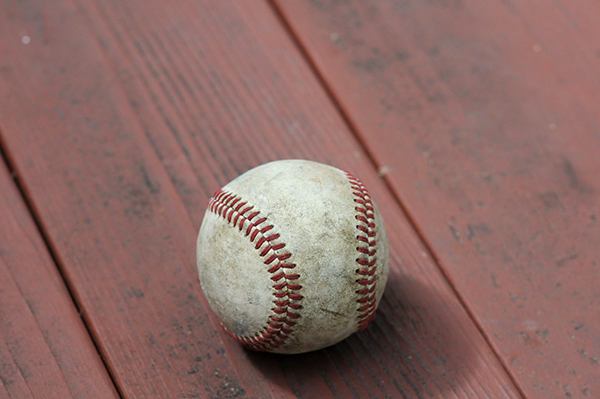 Leave in direct sunlight (recommended).
Place in front of a fan or dehumidifier.
Use a hand dryer or blow dryer.
Heat in an oven to 180 degrees for 3-4 hours (be very careful and check it frequently).
Must-Haves
Before you get started you will want to gather these items:
Glue or glue stick.
Glue gun.
Bristle brushes.
Foam brushes.
Rags or paper towels.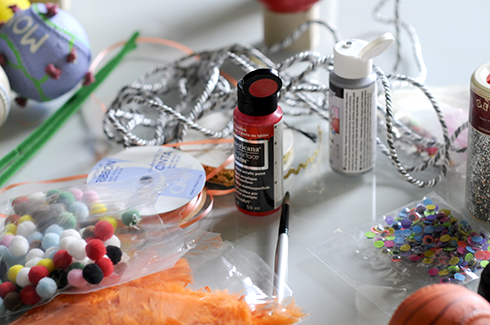 Painting Your Baseballs
When it comes to giving a bit of life and color to the canvas of your baseballs, water-resistant paint or spray paint are great options. Certain colors will need more than one coat to cover marks or flaws, so let each layer of paint dry before adding another. Be sure to pay special attention to the stitching. You may even want to paint around it and leave the original red exposed.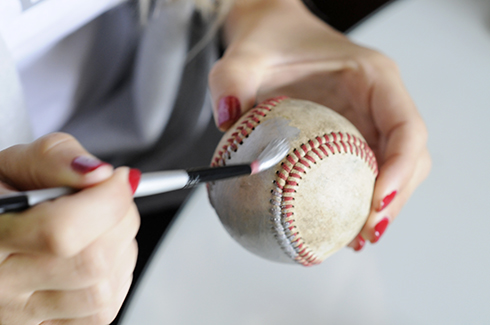 Cut a few toilet paper tubes in half so you can prop the baseballs up to dry before you hit the other side of this. This will make it easy to paint several at once.
Grab the Craft Bin
Okay team, it's time to get creative with your crafting. From seasonal inspiration, channeling your team spirit, or simply designing whatever bright and bold designs come to mind, bring your "A" game to the baseball design playing field! The best part about decorating baseballs is the ability to use scrap materials from Halloween costumes, dance recitals, and leftover crafting supplies. Here are a few go-to craft supplies we dug up to create a few sample baseballs for inspiration.
Markers
Use markers to highlight the stitching on the baseballs, to draw images or write text. Thin ones are great for detailed work, line art or coloring in small areas. The thick ones are great for coloring in larger areas or to go over things you want to hide.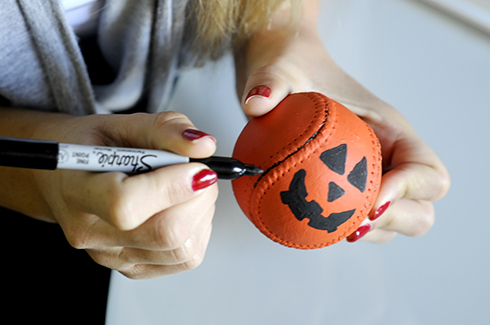 Pipe Cleaners
These always seem to be hanging around the house. Use them for things that need to stick up from the surface of the baseball, like a stem or imitation hair. Since they can be bent, they could also be used to wrap ribbon around or other types of fabrics.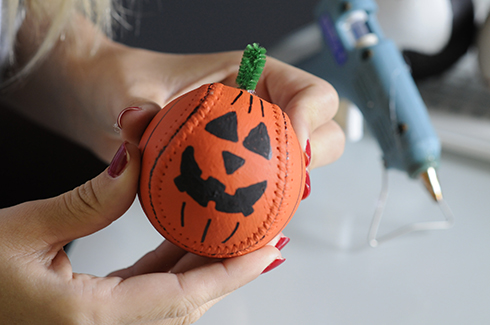 Glitter & Glitter Glue
Glitter is just plain fun. Use glue or glue stick to affix the glitter to specific areas of the baseball or roll it the glitter when the paint is tacky (not too wet). If glitter is something you regret as soon as you open the can, stick to glitter glue. It is much easier to work with and gives you a bit more precision in application.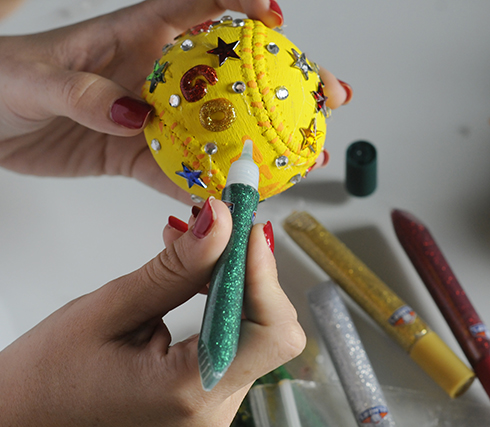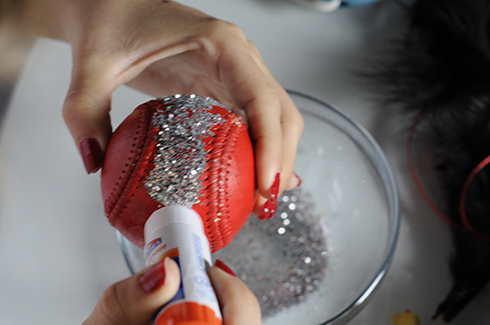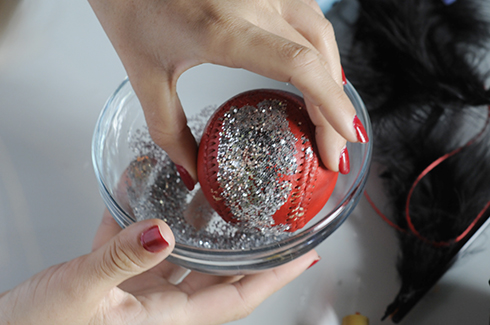 Googly Eyes
Sometimes all you need is googly eyes – they are just fun. Use them to bring to life just about any creature. You can get the traditional white and black, or colored ones.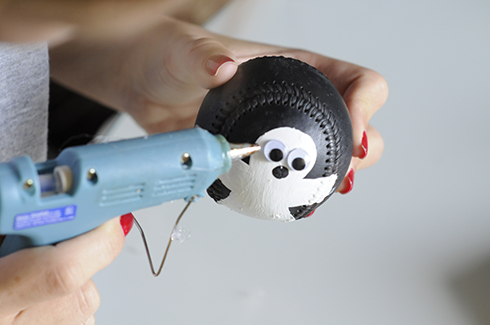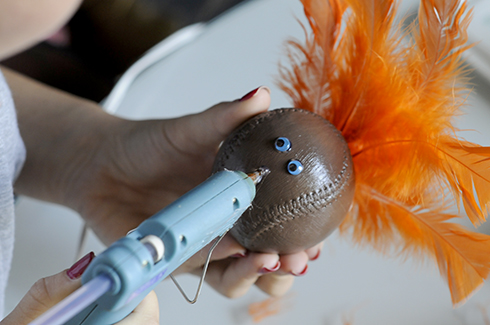 Feathers
These can be used to mimic actual feathers for making birds or creating angels, or they can be used for hair or to create texture.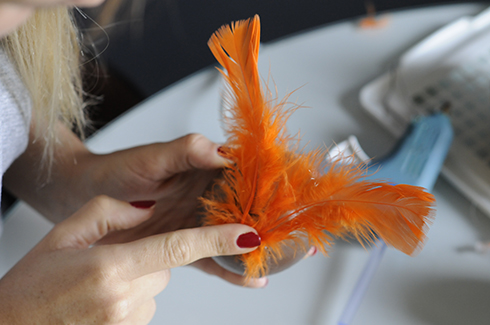 Pom Poms
Poms poms come in a variety of sizes and colors and can be used to add texture and 3-dimensionality to your baseballs. Use them for noses, eyes or ears, for hair or for clothing.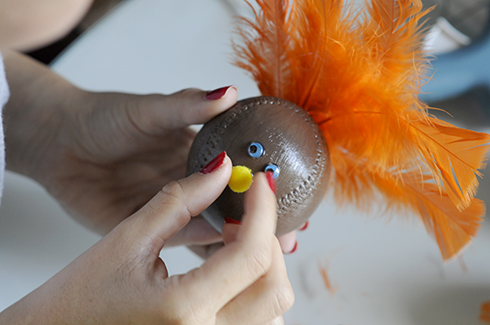 Crystals & Gems
Nothing says classy and glamour like a little bling.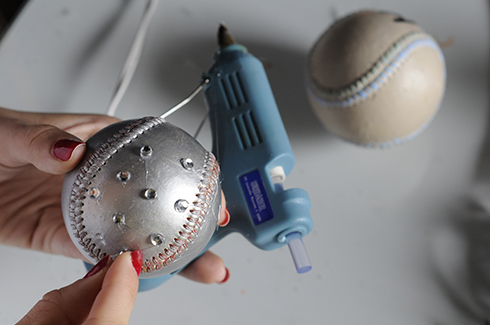 Ribbons
Add a bow, trim or other details with ribbon.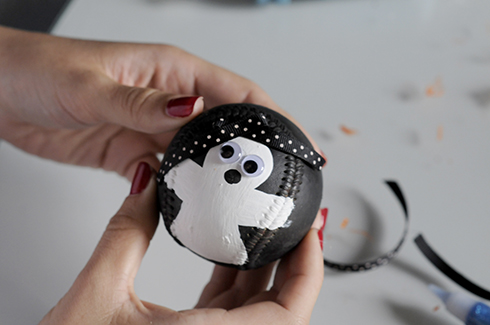 Other Crafts
If it's a craft item, there is a creative way to use it for baseball art.
Themed stickers.
Scrap paper.
Felt.
Buttons.
Stencils (use tape to hold it down along the curve of the ball).
Remember to experiment and have fun – you can always pull something off and redo it.
Pitch a Themed Baseball
Although baseball is not a year-round sport, decorating them can be! Crafting with baseballs is not only a fun activity for teammates and baseball lovers to take part in, but they also make great seasonal gifts. Get creative with your theme – from holiday celebrations, end of the season awards, and birthday gifts!
Holidays
Create pumpkins, ghosts, turkeys, goblins or ghouls. Dress up a snowman for the holidays with snowflakes or give someone roses for Valentine's Day.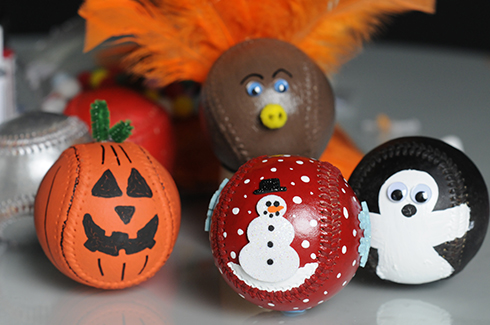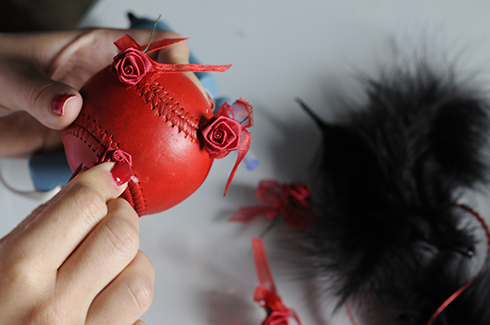 Gifts for Mom or Dad
Mother's and Father's Day gifts or just to show appreciation for your loved ones.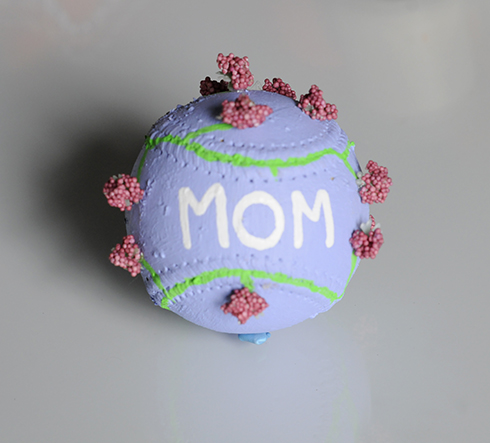 End of Season Gifts & Awards
Give your coach or teammate a much deserved thank you or award – include their name and number.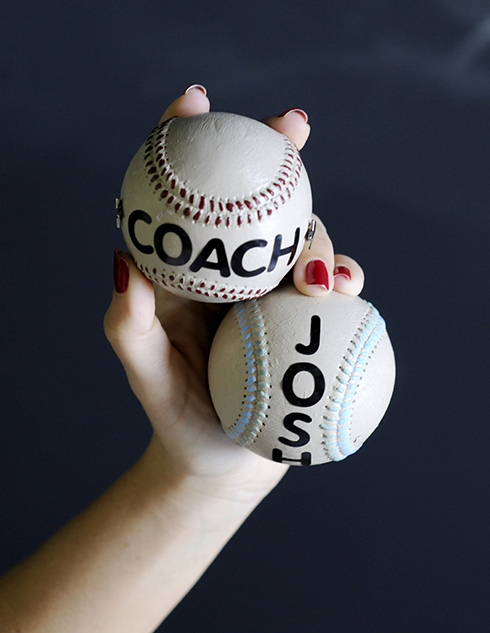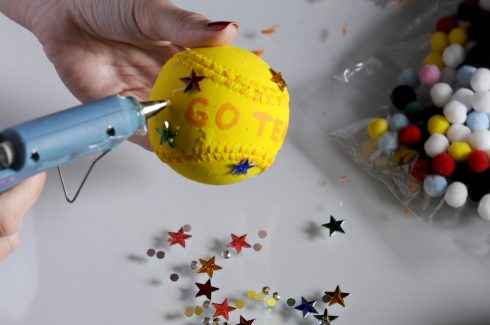 3D Baseballs with Charles Fazzino
If there's one thing that makes Fazzino's artwork one of a kind, it's his pop-art style and eye catching designs. As do his 3d pop art limited edition, his hand-painted baseballs tell a story. His method often involves splitting the baseball into its various quadrants, using each one to tell a different part of the story. For example, if he's creating a baseball commemorating the New York Yankees, one panel might show Yankee Stadium, while another depicts the New York City skyline, and another might celebrate all of the famed franchise's historic achievements. Of course, a baseball wouldn't be a "Fazzino baseball" without eye catching crystals, acrylic paint glitter, 3D elements, and bright vibrant colors! Here is how Fazzino baseball art gets created.
It all starts with a baseball, new or old.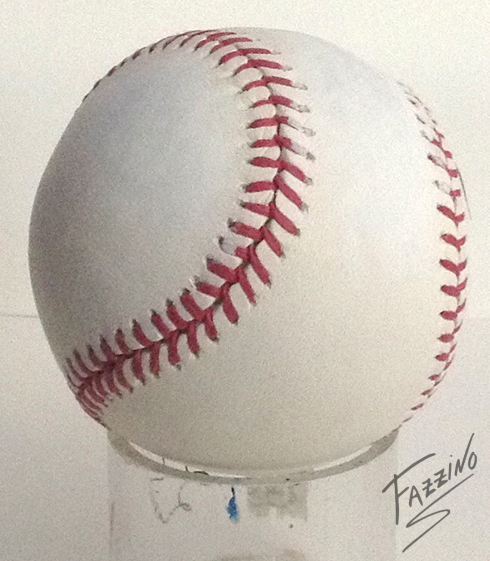 To begin, Charles sketches out his design in pencil. It might take you some practice to be able to draw your design on the contours of a baseball. Charles tends to hold the baseball in his hand and turn it as he is drawing, rather than leaving it on a stable surface and trying to draw on it like that.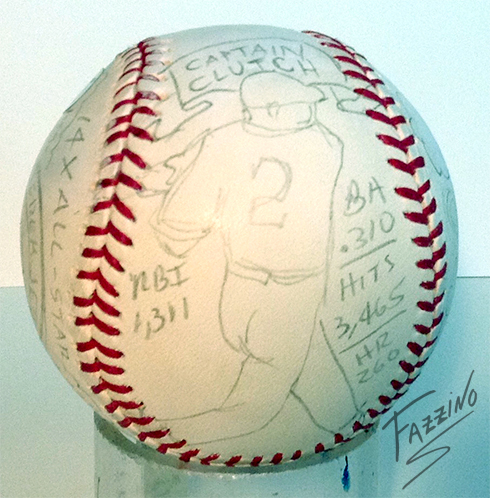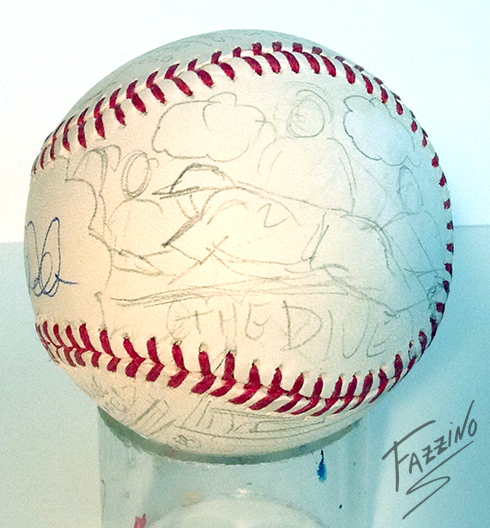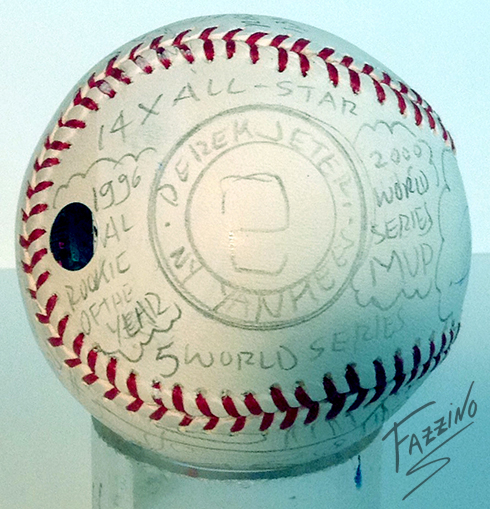 After the sketch is complete, he then begins the coloring process. He uses paint markers to line the design and then color it in. The markers are more precise than a paint brush would be and they allow him to create detail in such a small space.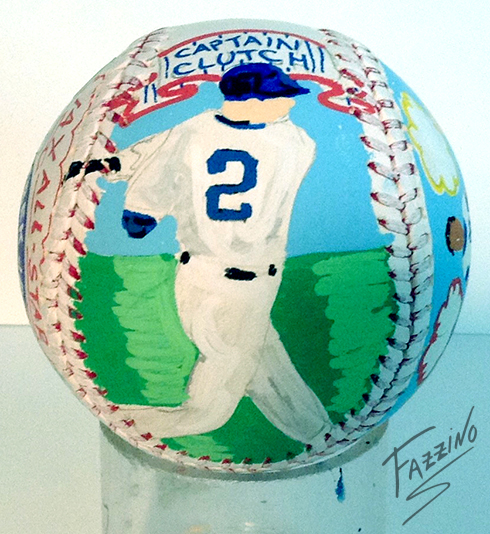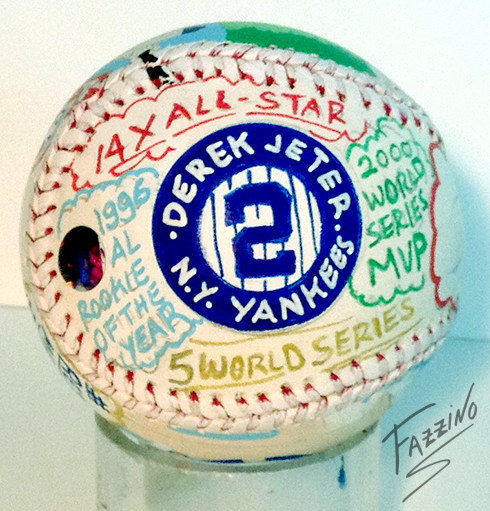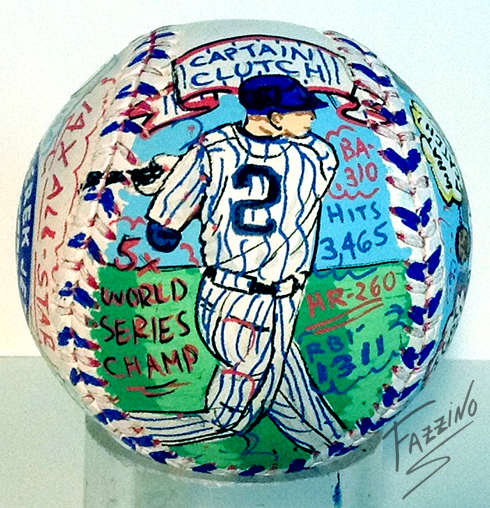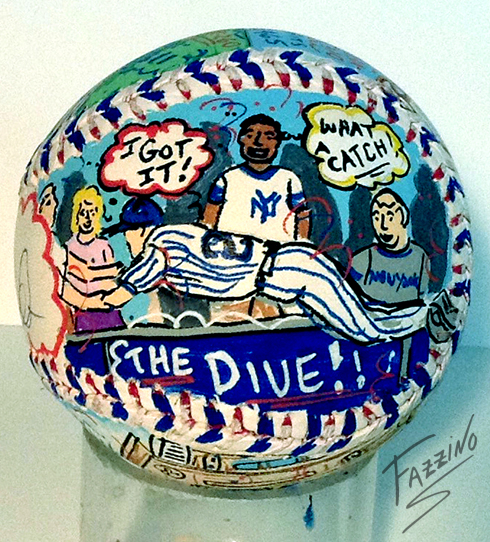 Once the coloring process is done, he then adds the 3D elements to the piece to give it some flare. He uses Swarovski Crystals just like those used on his original paintings and limited edition pop art. Each is applied by hand with a tweezer.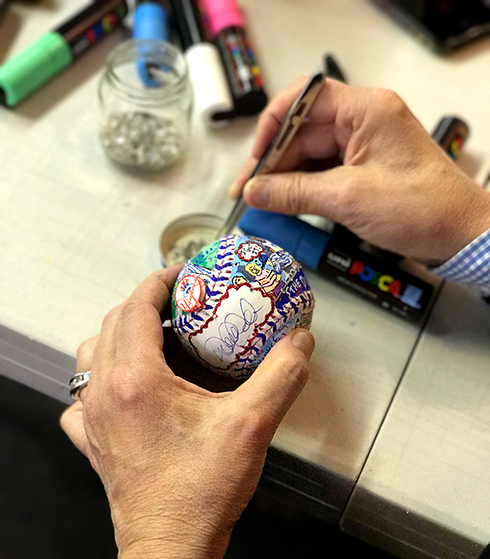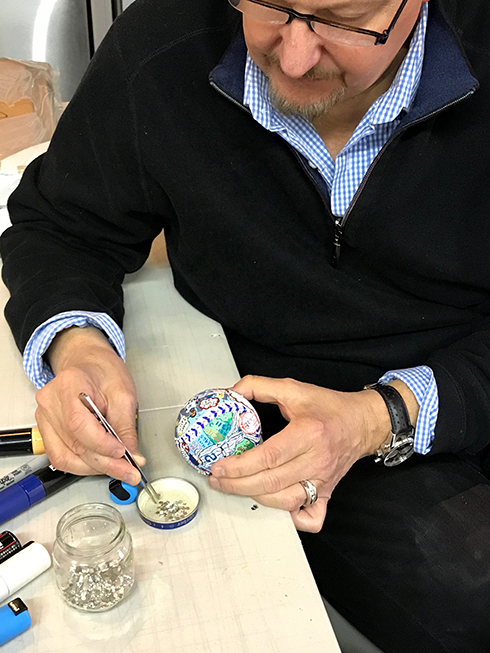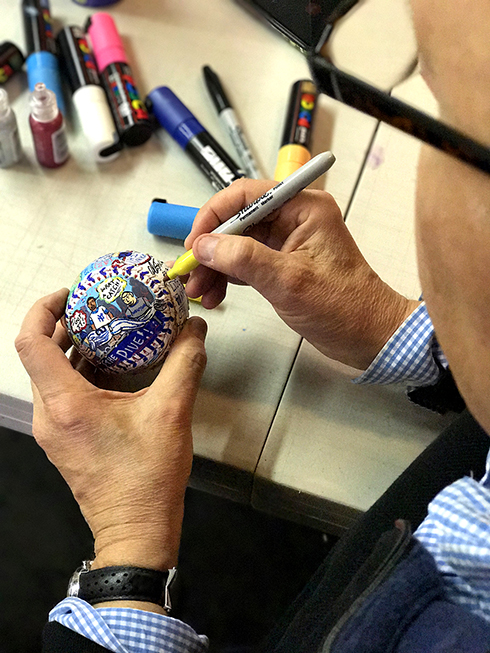 And with a few touch ups, Charles has finished his design! Check out the final product below! In this case, it's a Derek Jeter-themed NY Yankee baseball autographed by the former Yankee captain himself!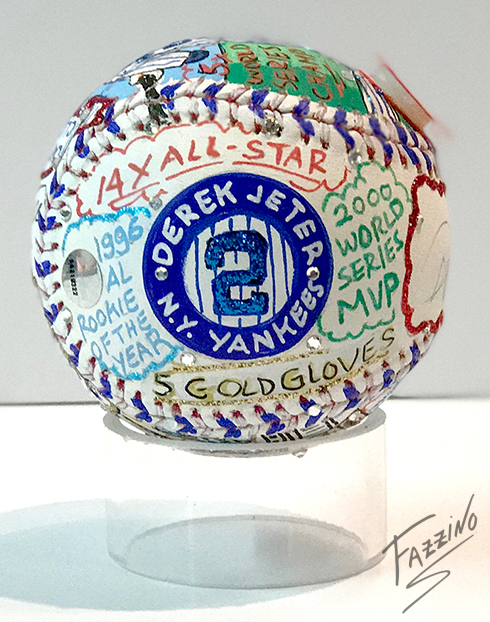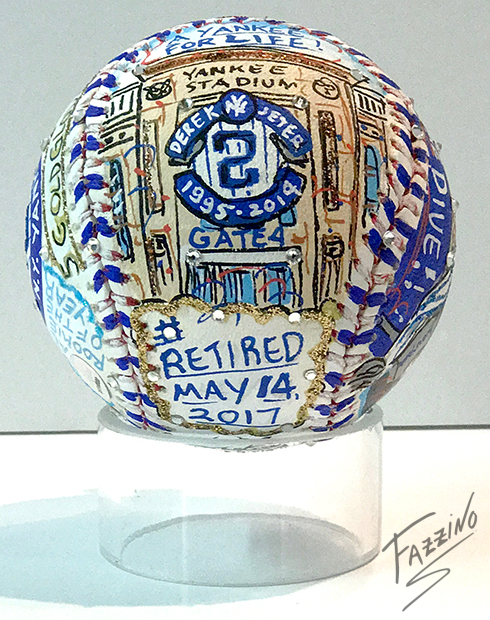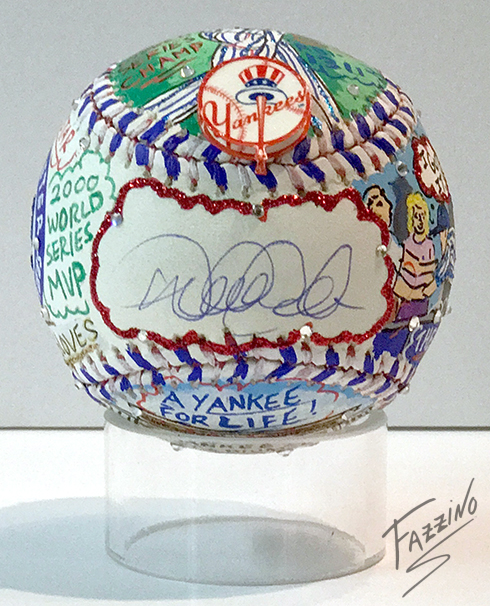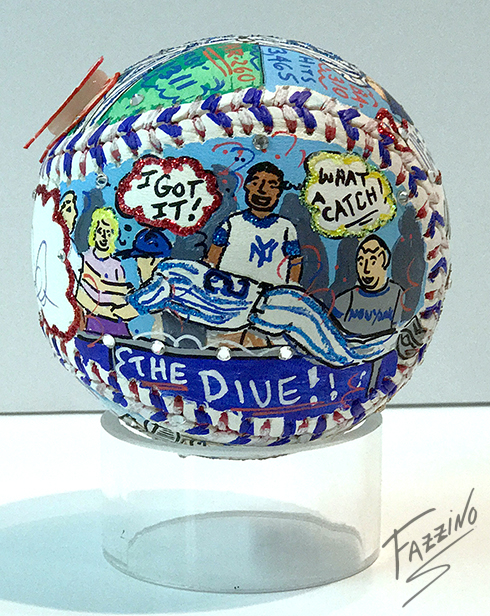 Play Ball!
With baseball in full swing, now is the time be like Fazzino … and re-purpose your new or used baseballs into some incredible pieces of art. Get inspiration from your favorite MLB team, local little league, or fellow teammates to create a game winning ball that channels your love for the art of the game!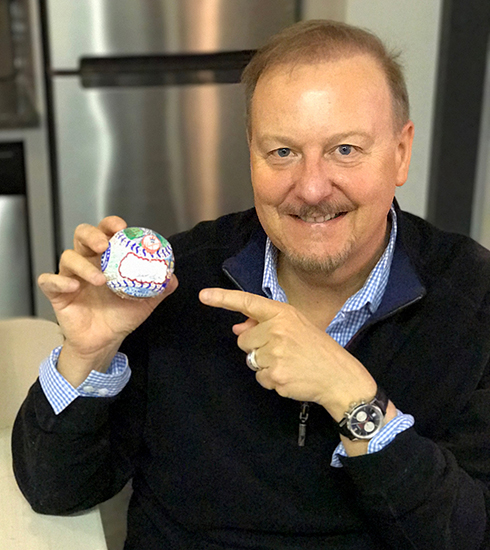 An in the spirit of Charles Fazzino's All-Star, Ball-Star Baseball Contest, go to bat for a little fun and creative competition when it comes to decorating new or used baseballs and enter our contest!