The fifteenth annual Doodle For Hunger to benefit St. Francis Food Pantries and Shelters is slated to take place on Thursday, November 6th, at Pier Sixty in NYC. Founded in 2000, "Doodle for Hunger" is a fun and exciting auction of signed original works of art by artists, entertainers, athletes, politicians, and business celebrities. St. Francis Food Pantries and Shelters will host an elegant buffet cocktail party, Doodle preview, and silent auction followed by a live auction! This year's Guest of Honor is none other than former NY Yankee closer Mariano Rivera. Tony Orlando will be on hand to entertain the crowd. Master of Ceremonies Ernie Anastos will be joined by celebrity auctioneer Tony Lo Bianco.
Celebrity Art Auction
Doodle for Hunger is the brainchild of Executive Director Joe Sano. He has spent years cultivating relationships with corporations and celebrities alike, collecting hundreds, if not, thousands of original autographed drawings. That's what makes the Doodle for Hunger so incredibly unique. Nowhere else in the country will you find an auction containing so many original works by celebrities. The auction will include original drawings by Lady Gaga, Cybill Shepard, Cardinal Dolan, John Travolta, Tom Hanks, Donald Trump, Yoko Ono, Penny Marshall, and so many others. Of course, Charles Fazzino will also be adding his annual Doodle to the collection. Here are some samples:

Contributing to and Attending  Doodle For Hunger
Charles Fazzino has been contributing doodles and artwork to this event for many years. (See his 2009 & 2011 doodles!) This year, he is also contributing a small mini print edition celebrating the Guest of Honor, Mariano Rivera. If you are interested in attending and bidding on Fazzino's Doodle, or any of the hundreds of others, you can buy tickets to the event  purchased through the Doodle For Hunger website.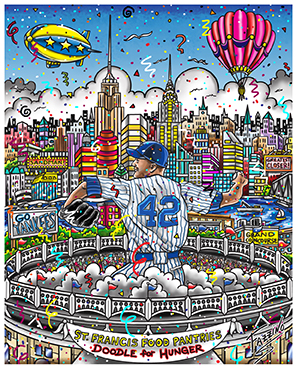 "Father Francis, Joe Sano, and the St. Francis Food Pantries have given a helping hand to thousands of New Yorkers in need," said Charles Fazzino. "I'm proud to support their efforts. I've even been able to enhance my own art collection by bidding on doodles at the auction. They truly put together a wonderful collection of celebrity art. It's a fun event and very worthwhile. I urge you to attend if you can. You'll never forget it.