Today's Featured Gift of the Day – Carry-On Luggage by VisionAir

On the Eleventh Day of Fazzino, we offer 20% off a "Apple-y In the Center of it All….at Night" carry on!
Regular Price: $250.00
20% Off Today ONLY: $200.00 plus shipping & handling
To Order: Visit the Official Fazzino Gift Shop and use PROMO CODE: FAZZINODAY11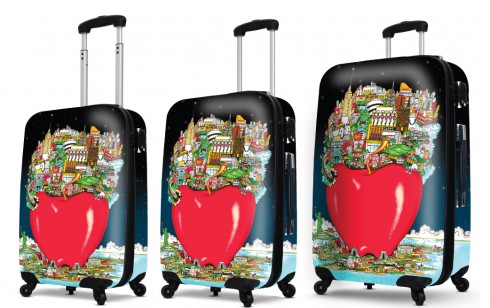 Product Info:
The "Apple-y In the Center of it All….at Night" case is the most vivid, highest quality, hard side suitcase ever made and features the quintessential Fazzino image of New York City or the "The Big Apple." The 22″ carry-on is perfect for both business and leisure travel.
Shipping Info:
Domestic: Order by Dec 15th for Christmas Delivery
International: Order by Dec 11th for Christmas Delivery
Win a "Apple-y In the Center of it All….at Night" 22″ Carry-On
We're giving one of these carry-ons away for FREE. Just answer our holiday question of the day by midnight tonight in the comments below or on any of Fazzino's social profiles (Facebook, Twitter or Instagram)! You'll have the chance to be our randomly selected winner.
Answer this Trivia Question:
In the start-stop film from 1974 "A Year Without a Santa Claus" Which character steps in for the weary and discouraged Santa to save Christmas Eve?
Visit the Charles Fazzino Official Gift Shop for even more holiday gift ideas and Thank You for playing along with our TWELVE DAYS OF FAZZINO.
WE WISH YOU A HAPPY, HEALTHY, AND JOYOUS HOLIDAY SEASON!!