December 12, 2017
On the Twelfth Day of Fazzino: 3D Scrabble World Edition
Today's Featured Gift of the Day – 3D Scrabble World Edition

On the Third Day of Fazzino, we offer 20% off a Fazzino World Scrabble Board Game!
Today is the last day of Fazzino giveaways! The 3D Scrabble World Edition combines the world's favorite word game with the unique three-dimensional pop art style of Charles Fazzino. This is perfect for the Fazzino collector in your family! Remember today is the last day for discounts! Use promo code FAZZINODAY12 to receive 20% off a Fazzino World Scrabble Board Game!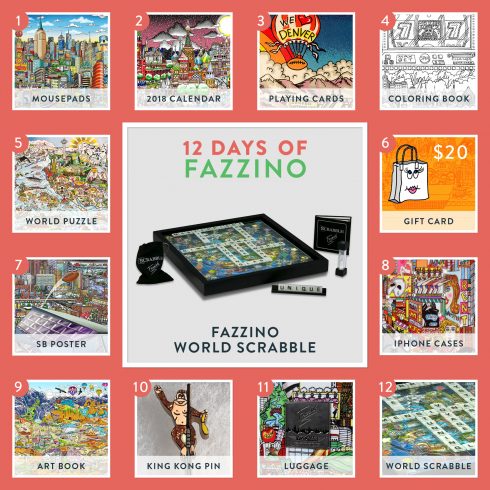 Regular Price: $599.00
20% Off Today ONLY: $479.20 plus shipping & handling
To Order: Visit the Official Fazzino Gift Shop and use PROMO CODE: FAZZINODAY12
Product Info:
Each visually striking set includes custom layered 3D Fazzino Scrabble artwork wrapped in the border of an elegant black wood frame with a tempered glass top. The board and pieces are also designed as one-of-a-kind game items, and include a set of over-sized glass SCRABBLE tiles with fabric backing, deluxe score book with embroidered fabric cover, and four over-sized wood tile racks. The set also features a timer with customized wooden end caps for optional timing experience. This special edition collectible board game will be limited to only 2,000 made, and each one is hand-signed and numbered by Charles Fazzino.
Shipping Info:
Domestic: Order by Dec 15th for Christmas Delivery
International: Order by Dec 11th for Christmas Delivery
Win a 3D Scrabble World Edition Boardgame
We're giving a Scrabble Limited Edition Boardgame away for FREE. Just answer our holiday question of the day by midnight tonight in the comments below or on any of Fazzino's social profiles (Facebook, Twitter or Instagram)! You'll have the chance to be our randomly selected winner.
Answer this Trivia Question:
Name that Movie:
Released in 1998, Starring Jonathan Taylor Thomas
His character faces an impossible journey when he is left stranded in the desert thousands of miles from home
Only a few days left until Christmas
Visit the Charles Fazzino Official Gift Shop for even more holiday gift ideas and Thank You for playing along with our TWELVE DAYS OF FAZZINO.
WE WISH YOU A HAPPY, HEALTHY, AND JOYOUS HOLIDAY SEASON!!