Charles Fazzino has teamed up with Winning Solutions to create a The World Monopoly Edition Board Game. It's a follow up to the wildly popular New York Edition released in 2016. Lucky for you, we're giving one away to one lucky Fazzino fan! Board game lovers, now's your chance to win!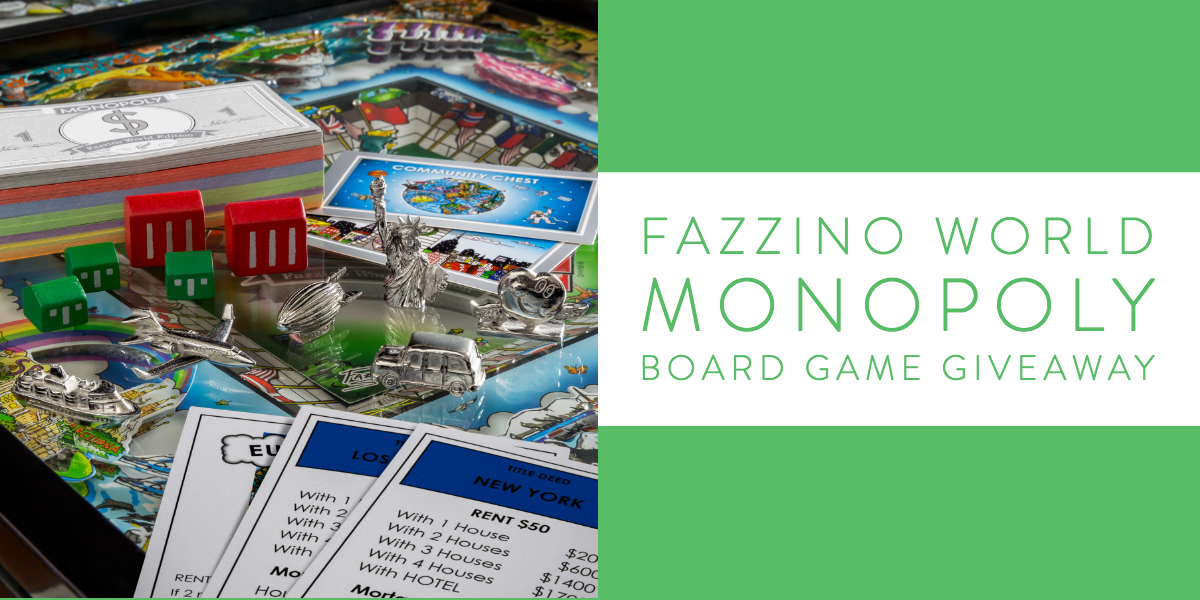 The Giveaway: One Black Edition Fazzino World Monopoly 
The most iconic cities in the world sparkle with the unique three-dimensional artwork of Charles Fazzino in this limited edition boutique game. Only 2,000 units of The Black Edition are being produced.
Each unit is numbered and hand-signed by Charles Fazzino, then carefully adorned with crystals, layered inside a black solid wood frame, and topped with tempered glass.
Featuring six Fazzino-designed diecast metal Monopoly tokens: Cruise Ship, Private Jet, Blimp, Statue of Liberty, London Taxi Cab, and Heart.
Includes exclusive Monopoly Title Deeds, Chance and Community Chest cards, and money designed by Charles Fazzino, as well as painted wood houses and hotels.
The Black Edition is packaged in a stunning silver-foil box and includes a matching parts box to neatly store all of the game components, as well as the Certificate of Authenticity. The stunning blend of pop art and Monopoly will look as beautiful on your wall as it will showcased on your coffee table!
How to Enter
Starting on May 1st, 2019, we'll be posting images of the Monopoly Board locations with a hint about each location, three times a week on our Facebook,  Twitter, & Instagram accounts.
So, what does it take to win? Participants need to comment on the Instagram posts tagging two friends and their guess of the Monopoly Board location based on the hint & image provided. It's that easy! One randomly selected winner will be announced on July 3rd, 2019! Keep a look out for teasers of what location will come next on our Instagram stories. We'll also be using hashtags on Facebook, Twitter and Instagram like: #Fazzinopoly #Fazzinogiveaway #Monopoly #Monopolyboardgame
Surprise Gift 
In addition to your chance to own a piece of Monopoly Board Game history, we will reward you for any purchases over $50 you make in the Fazzino gift shop during the entry time of the giveaway. Spend more than $50 and you'll receive a free surprise gift from our "Fazzino Community Chest". Keep an eye out on our social channels for this special offering. 
The Rules
Entry Details
Opens May 1st, 2019 and ends July 1st, 2019 11:59 PM EST.
Winner will be announced July 3rd, 2019.
Charles Fazzino reserves the right to make changes to the above dates. Participants will be notified via our Instagram page of any changes made.
Participants are encouraged to share the giveaway with their friends and family.
Prize Details
Grand Prize (one randomly selected winner) will receive one Fazzino World Monopoly Board Game Black Edition.
Winner will be featured on the Fazzino blog and social channels.
Winner will notified via Instagram messaging.
Prize will be shipped within 1 month of winner verification.
Charles Fazzino is not responsible for any change in entrant's mailing address, email, and/or telephone number. If any prize is returned as undeliverable, if winner cannot be verified, or if winner is otherwise unable to accept the prize as stated, prize will be forfeited and may be awarded to an alternate winner.
Giveaway Rules
Open to all US and International fans.
Entrants must have a valid Instagram account.
You may submit more than one entry but each entry must be unique with different people tagged.
Entries are submitted on the Charles Fazzino Instagram page.
Charles Fazzino is not responsible for server unavailability, computer or any other electronic telecommunications malfunction.
Let's Play! Advance to Fazzino Instagram and follow our page.