Recently, I took a RIDE. That shouldn't sound so out of the ordinary, but this wasn't just any old RIDE. I had the opportunity to get on the newest attraction in NY's Time Square / Theater District, THE Fazzino RIDE.
A Ride Even a Seasoned New Yorker Can Love
Like many typical New Yorkers, when confronted with a list of "must dos" for the city, I fail or should I say, I fail on my own. Born and bred in the city, I can't say I have ever woken up on a Saturday and said "I think I shall go act like a tourist". In fact, like many, I have avoided the tourist attractions and have been known on occasion to even mock the awestruck visitors to our city; standing on a corner, map in hand, glazing up at the skyscrapers. The only times I have been to the Empire State Building Observation deck or Dared go to Rockefeller Center during the holiday season is when I have had a friend visiting from out of town.  Yes, the New York snob in me cringed when I heard myself saying,"Yes, I'll go on a guided interactive tour in New York".
It was good to have the inner snob proved wrong.
Extraordinary, Interactive Guided Tour Fun Time
So I pulled myself up by my bootstraps and headed for the center of Times Square the other evening. After picking up my tickets for the RIDE  at Madame Tussauds, I waited in line for the bus to arrive. Now I was already prepped that this was no ordinary bus. And yes, I had seen the original RIDE around before despite my desire to avoid congestion in New York.  I knew it was big. I knew it was bright. I was not expecting to see a moving work of art bedazzled with an uncountable number of crystals and various scenes of New York. Familiar with the pop art of Fazzino, THE RIDE was instantly recognizable as a moving canvas.
If it wasn't original enough on the outside, I was suitably impressed when I entered and took my seat. THE RIDE is not a typical bus; think Cash Cab meets Broadway Theater blended karaoke with tour guides. Video screens, flashing lights and plush seats facing huge windows present the New York streets as a stage. THE RIDE itself talks, and even a virtual Charles Fazzino voice pipes in to explain interesting bits about his feelings about New York and how it inspires his artwork. I settled in for what proved to be a surprising RIDE.
A "New" New York Seen and Heard
Now, I live in New York. I work in New York. I write about New York. I thought I knew all there was to know about the city, but even I found that there was more to learn about from our tour guides Scott and Jackie. However, interesting facts about NY aside, it is what one sees out the window that is the show.  Scott and Jackie were of my kind and I was quickly put to ease as they too mocked both NY lifers and tourists getting them to interact with THE RIDE.
I found myself oddly enchanted when a seemingly ordinary street performer on a corner turned out to have a headset and the music was piped into the bus. Even more delightful was when he took requests from us as the head set worked both ways. I knew the words and somehow my inner cynic quieted down and allowed me to join in a very bad rendition of Tainted Love.
I participated in the "RIDE Wave" – a maneuver guaranteed to get the attention of the crowds on the street. Riding though Times Square, we are amused by the crowds on the street corners who are in turn amused by us, snapping pictures and waving back. Suddenly New York is not as impersonal as every likes to think, but filled with people just delighted to be a part of this incredible microcosm of humanity. By time we got to Columbus Circle, my heart had thawed as the Columbus Circle Ballerina light up in the darkness, twinkling with grace… it really was beautiful.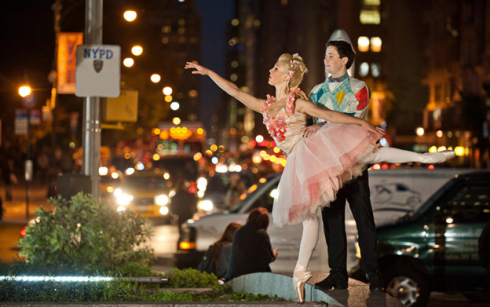 It was the final curtain call of THE RIDE that, to quote Dr. Seuss, caused my "small heart to grow three sizes that day!"
Loving NY; Loving THE Fazzino RIDE
Returning to the drop off point (THE RIDE goes down 7th Avenue), the many video screens turn 100% karaoke with the classic rendition of Frank Sinatra's "New York, New York". The whole bus is pumped up by now, giddy, and singing along. But the best part is that now, the speakers on THE RIDE are broadcasting out and the crowds of 7th Avenue turn their attention to a huge bus blasting music and some pretty horrible singing.
It was magic. I got all verklempt, I got weepy eyed, and I fell in love with New York all over again thanks to Fazzino and thanks to a talking bus that is called THE RIDE.
****
Scott Austin Brooks is a New York City blogger. Born and bred in Manhattan, his writings frequently can be found on Glenwood's Manhattan Living blog.