FOR IMMEDIATE RELEASE
The FAZZINO RIDE Received Nomination for 2013 Drama Desk Award

Unique, Fazzino-Themed Bus Tour of New York City Nominated in Unique Theatrical Experience Category
New Rochelle, NY – –The Charles Fazzino, 3D Art-version of the popular New York City attraction called THE RIDE has been nominated for a 2013 Drama Desk Award in the category of Unique Theatrical Experience. The Nominations were announced on April 29th and the 58th Annual Awards Ceremony will take place on Sunday, May 19th at 8:00pm at The Town Hall in Manhattan. The Drama Desk, an organization founded in 1949, is made up of theater journalists and critics and honors both Broadway and Off-Broadway productions.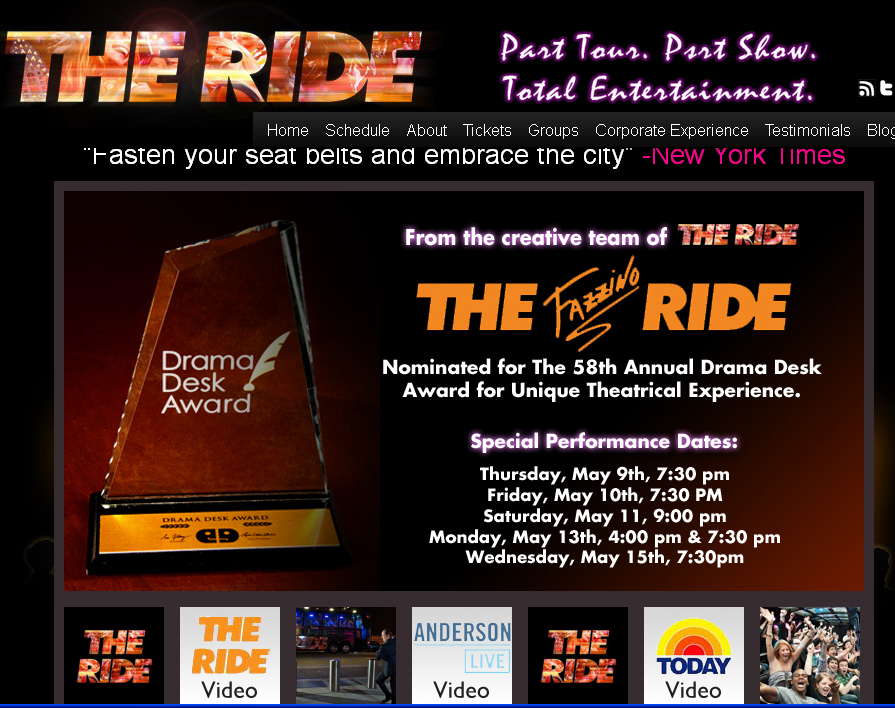 "In my wildest dreams, I never imagined The Fazzino RIDE being nominated for an award such as this one," commented Charles Fazzino.  "And we're in the same category with Cirque Du Soleil which is an incredible honor. I'm so grateful to Richard Humphrey (The RIDE) and Jim Erlick (The Erlick Group) and all of the people who contributed to the idea of the Fazzino RIDE. I had so much fun working on it. That was award enough. This is simply fantastic!"
In response to the nomination, the Fazzino RIDE is returning to the tourist attraction's current running schedule for one week only:
Thursday, May 9, 2013 @ 7:30 pm
Friday, May 10, 2013 @ 7:30 pm
Saturday, May 11, 2013 @ 9:00 pm
Monday, May 13, 2013 @ 4:00 & 7:30 pm
Wednesday, May 15, 2013 @ 7:30 pm
Tickets can be purchased at The RIDE Box office at Madame Tussauds on 42nd Street in Times Square in New York City or visit The RIDE Website for reservations and information.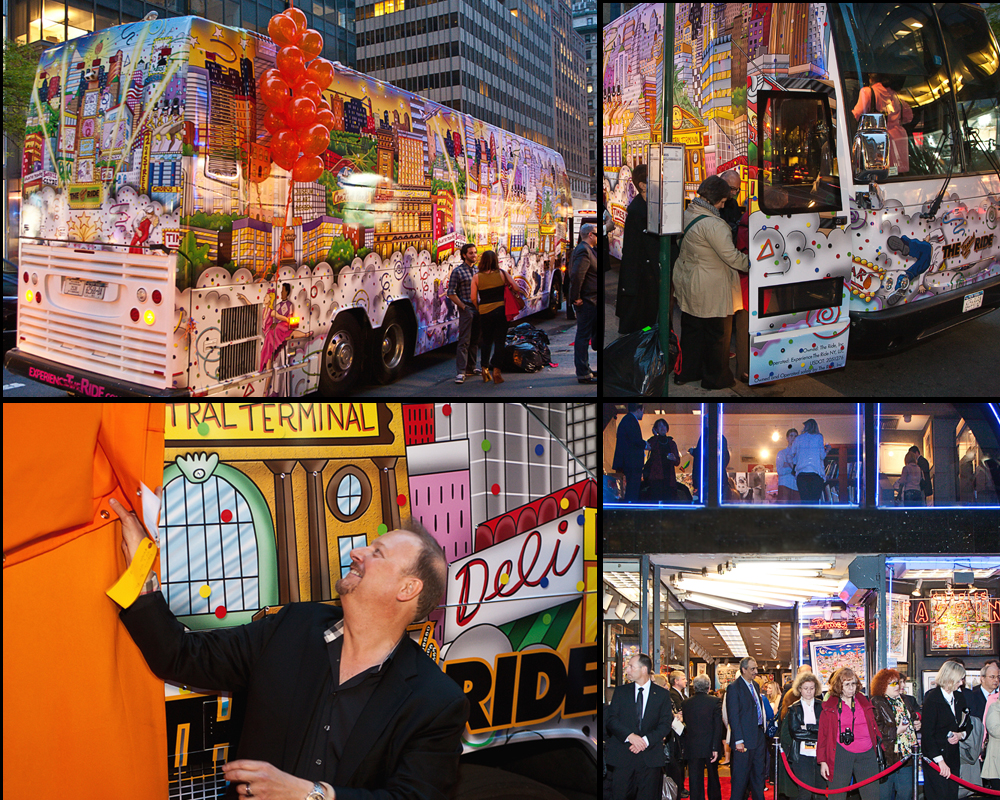 About Charles Fazzino
Charles Fazzino — one of the most popular artists in the world — is most well-known for his unique, detailed, and vibrant three-dimensional style. His work is exhibited in hundreds of fine art galleries and museums in twenty different countries. He is an officially licensed artist of the National Football League and the Super Bowl (2000-present), Major League Baseball and the MLB All-Star Game (2003-present), and the US Olympic Team (2000 to present) .  He has also recently created official artwork for high profile events, including: the 2011 Centennial Celebration for the City of Fort Lauderdale, the President's Challenge for President's Council on Physical Fitness and Sports, NASCAR Sprint Cup series, NHL All-Star Game, Belmont Stakes, Daytona 500, Indy 500, Andy Roddick Charity Gala, U.S. Tennis Foundation, CMA Awards, Grammy Awards,  Daytime Emmy Awards, NBC's "Today" Summer Concert Series, Rosie O'Donnell's For All Kids Foundation and the President William J. Clinton Presidential Foundation, among many others. You can view more of Fazzino's work at www.fazzino.com.
Media Contact
For Charles Fazzino: Julie Maner, Museum Editions, Ltd., Jmaner@fazzino.com, 914-654-9370