Just returned from the All-Star Game in Kansas City. What a whirlwind! I ate at some fabulous restaurants, visited Fanfest several times, and made the media circuit.
Fazzino at FanFest
FanFest is always a great experience for me because I get to introduce my work to people that may have not seen it before. Many of my collectors or those who are at least familiar with my work, sometimes don't even realize that I do a lot of sports artwork for many different teams and events, such as MLB's All-Star Game and Super Bowl etc. So it's always fun for me to show another inspiration for my work which is popular sporting events and national sports teams. You never really know who's going to stop by my booth at FanFest every year, so it's always a really great surprise when both current and former players visit the booth. This year I had the pleasure of meeting Jeff Montgomery (former Kansas City Royal), Greg Pryor (former Kansas City Royal) and former Chicago Cub, Fergie Jenkins. My good friend Reggie Jackson also came by to say hello as well.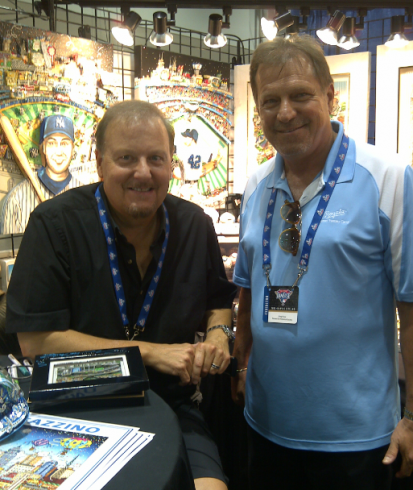 Greg Pryor and I, at MLB FanFest
The Media Circuit
During my trip, I was on Kansas City's local FOX 4, and had a great interview with MLB.com and FOXsports.com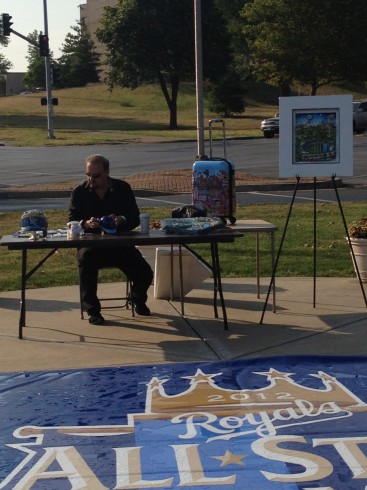 On set outside of FOX4 TV Station in KC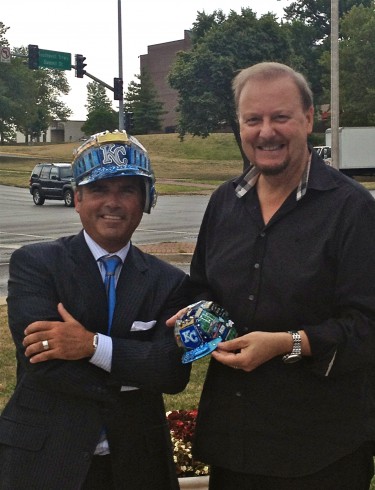 Myself and Mark Alford of Kansas City's FOX 4 News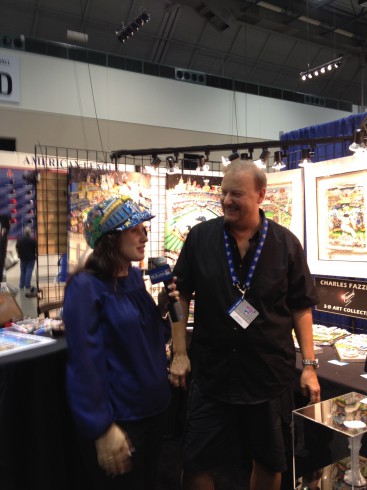 My interview with Tara Gore of MLB.com – she puts on the helmet every year!
Fabulous Restaurants
As most people know, Kansas City is known for their amazing barbecue. Everyone seems to have their own favorite BBQ restaurant in Kansas City, where each type of BBQ is a little different. Some people say Gates BBQ is the best, some say Arthur Bryant's is the best.  Since I love to try new restaurants everywhere I travel, I decided to go to Fiorella's Jack Stack BBQ. If you decide to take a trip to "The K", I most definitely recommend Jack Stacks. The Ribs and Pulled Pork were to die for! I also suggest their warm carrot cake dessert, it's by far the best carrot cake I've ever had.