AHRC NYC's ArTech Studio Encourages Artists with Disabilities to Express Themselves Creatively
by Scott Dodson, Communications and Website Manager, AHRC New York City
In March, 2019, Charles Fazzino posted an article announcing his selection as the official artist for the 70th anniversary of AHRC New York City, (AHRC NYC,) an organization committed to finding ways for children and adults with intellectual & other developmental disabilities to live their lives to their fullest potential. Charles created a wonderful commemorative work of art to celebrate the occasion, sharing a canvas with artists with disabilities who also love creating artwork for self-expression.
The art pieces that form the perimeter of Charles's 70th anniversary creation were made by artists who created their works through an AHRC NYC hands-on studio program named ArTech, which supports the creative expressions of adults with intellectual and developmental disabilities.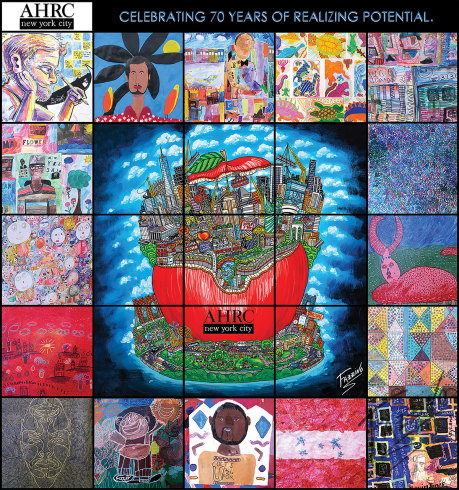 The Story of ArTech
The ArTech studio was opened in December of 2016 in AHRC NYC's Howie Stone Adult Day Center in the Westchester Square neighborhood of the Bronx. "When the studio opened, the vision was that we have a multidisciplinary approach," explains Dhanashree Gadiyar, (aka Dhanni,) who manages the program. Each weekday, dozens of artists can be found creating artwork within the facility, using a wide range of traditional and technological tools to express themselves. While many of the artists gravitate toward pen and paper or paint and canvas, others are learning to use technology to create new works, using iPads, 3D printers, and virtual reality to expand their notions of what art can be and how it can be seen publicly. "We have a very open studio atmosphere," says Dhanni. "All we require is that artists want to make art in some form, and we give them different choices [for creating their art] and then they become a part of the studio." At the current time, about 50 artists with disabilities are participating in ArTech, some of them visiting the studio once per week from other AHRC NYC programs, each taking a unique approach to their artwork.
Below are some samples of work created by artists of ArTech Collective: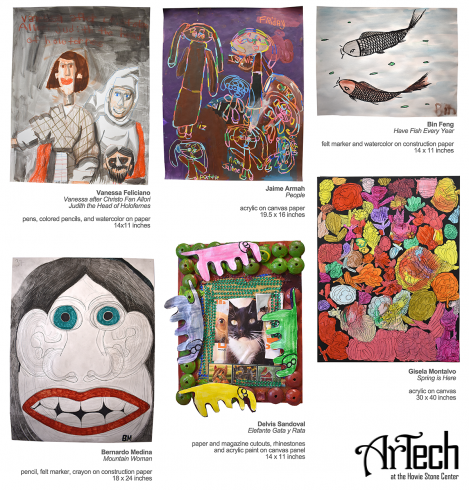 Artists Finding Partners and Opportunities in the Community
Since the advent of ArTech, the artists and the AHRC NYC staff who support their creative efforts have been partnering with local community organizations in an effort to exhibit their talents and get to know their neighbors.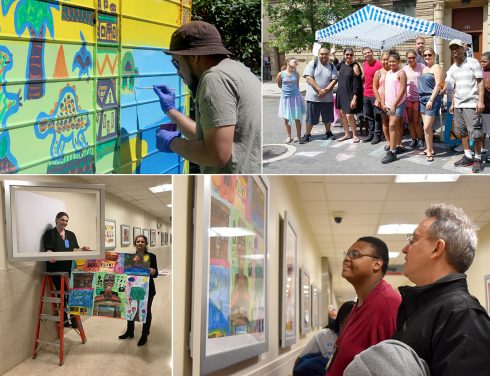 Some artists are taking weaving classes and volunteering in the garden space at Kelly Street Garden. Others are displaying their artwork in local cafes. In 2017, ArTech was selected by the NYC Park's Green Thumb Project to create a community mural in collaboration with graffiti artists, Evan Bishop and Katori Walker. In 2018, several of the artists were invited to exhibit a set of self-portraits at the ARTViews Gallery at Montefiore Medical Center in the Bronx.
"This year I began painting on a piano at Sing for Hope," says Jayson Valles, who along with artist, Cory Tyler, created design proposals to decorate pianos for Sing for Hope , which each year invites artists to paint murals on pianos that are ultimately donated to local schools, healthcare facilities and community organizations. In January, Jayson and Cory were informed that their applications had been accepted and they were invited to begin creating their works of art in a studio, alongside 32 other artists from across New York City. Jayson created a detailed New York City skyscape to adorn his piano canvas.
Cory's piano featured dozens of enlarged prehistoric creatures, imagery typical of his art portfolio. "Art makes me feel good about myself and I enjoy sharing it with other people. It's important to express yourself through your art," he explains. "It shows the viewer about the personality of the artist."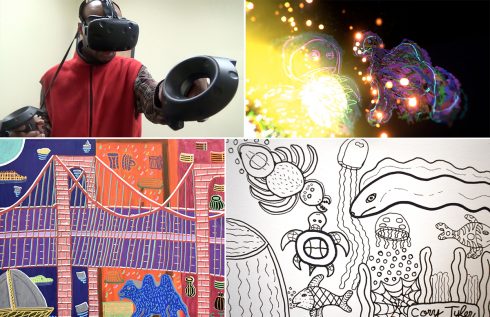 Cory continues to experiment with different art media, and recently made use of technology available in the ArTech studio to collect his animal characters into a three-dimensional virtual zoo, which can be viewed using a virtual reality headset. As is the case with each of the ArTech artists, AHRC NYC staff members have encouraged Cory to follow his own instincts and curiosities when choosing the subject matter and medium of his artwork. He does this naturally. Having drawn since his early childhood, Cory has developed a recognizable style, using consistent shapes and patterns to tone his drawings, adding flare to his tiny animals with various line weights.
Different Tools May Yield Different Self-Expressions
Finding a personal art style and preferred medium does not come easy for some of the artists in the group. Some have a desire to create, but they have not necessarily had a lifetime of practice or exposure to art materials, and that's where the ArTech staff offer their support.
"Artists have so many different things that they're inspired by, so many ideas," says Maeve D'Arcy, one of the Art Specialists who works with artists who visit ArTech from AHRC NYC programs across the five boroughs. "I try to be the person who can help with materials or questions or experimenting." A painter in her own right, Maeve brings conventional painting terminology and knowledge of contemporary artists into the ArTech studio, teaching the artists to experiment with different mark-making techniques, color theory, scale and size. By learning new techniques, the artists are in a better position to realize their own potential to express themselves.
Repetitive mark-making is a theme of Antony Robert's paintings, and he has learned to try out new tools and techniques as a result of working with Maeve. "He's just so prolific, and there's not enough surface for him to cover," says Maeve. "The most surprising thing is how much the artists we support are willing to experiment and take risks in their work, and that's been helpful for me as an artist as well."
Tapping into the Collective
The majority of the ArTech artists visit the Bronx studio location from various AHRC NYC programs in all NYC boroughs. Each has his or her own approach to creating work, but they often work together, whether they collaborate on a single art piece or work together in art-related activities in the community. Over time, the staff and artists have begun to conceptualize ArTech as an art collective, sharing updates publicly through social media and submitting their work to outside exhibition venues, sometimes as a collective group. This newfound status has led the group to request a new means for exhibiting their work, which will come in the form of a portfolio website representing the ArTech Collective. The new website is currently being designed, and we will share an update when it's up and running. Stay tuned…