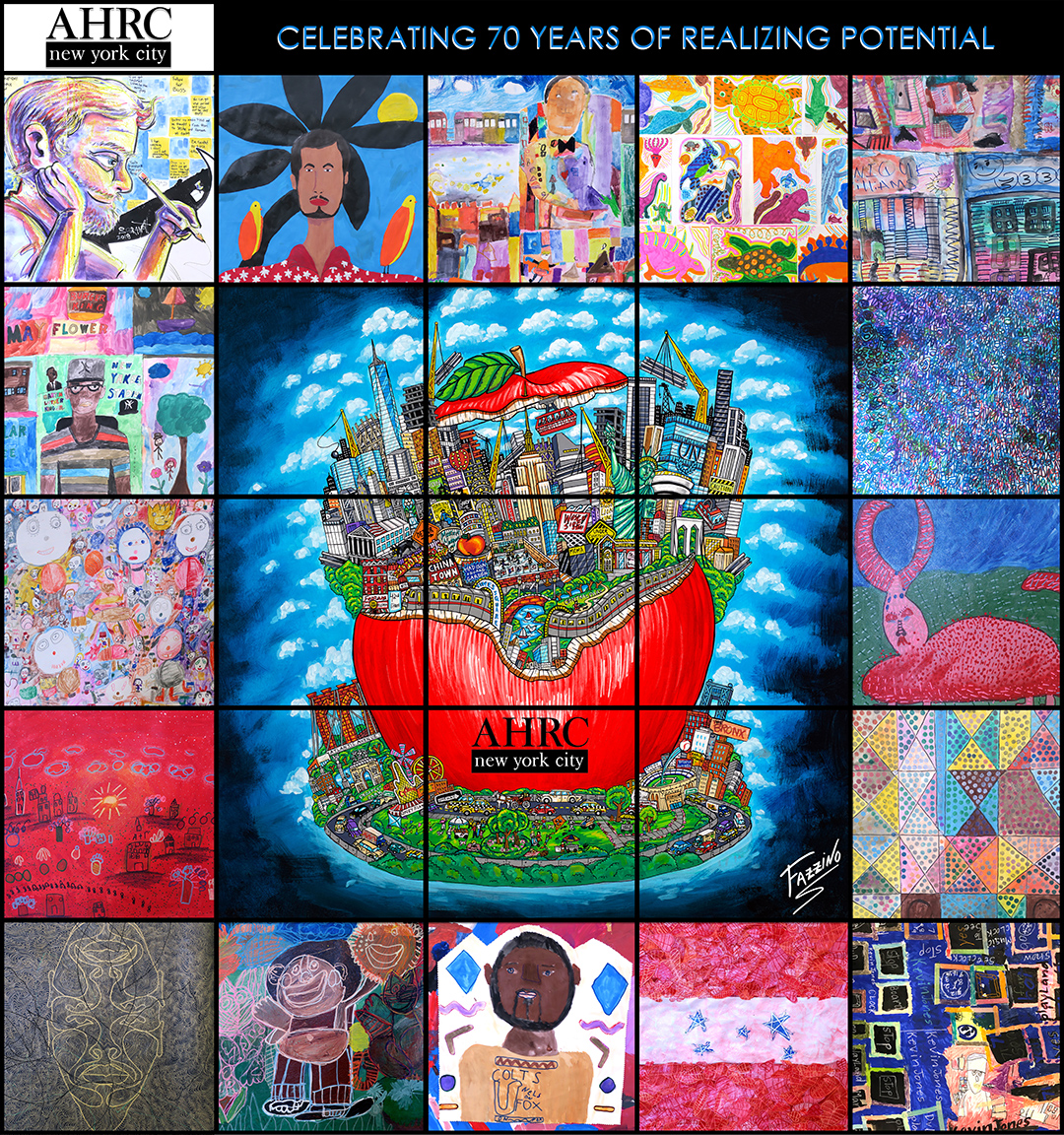 AHRC NYC to Celebrate 70 Years of Realizing Potential
Charles Fazzino is proud to have partnered with AHRC to celebrate the organization's 70th Anniversary. He will also be attending the 70th Anniversary Dinner which is scheduled for Saturday, April 13, 2019 from 6:30 – 10:00 p.m. at the Grand Hyatt New York (42nd St between Park & Lexington Ave). AHRC is a wonderful family-governed organization committed to finding ways for children and adults with intellectual & other developmental disabilities to live life to their fullest potential. They offer individuals a wide range of programs, services and support, tailored to meet their specific needs.
"AHRC originally came to my attention because it focuses on the importance of art, as a creative expression for people with developmental disabilities. They understand the impact of art and how meaningful it is to these individuals; it's inspiring. I wanted to be a part of that. AHRC NYC does amazing work for people with intellectual and other developmental disabilities. I'm thrilled that my commemorative artwork will benefit such a wonderful organization." – Charles Fazzino
The bright, whimsical and wonderfully detailed art will be used throughout this anniversary year on invitations, posters, billboards and other materials. In it, Fazzino's quintessential NYC Big Apple is surrounded by autobiographical paintings created by AHRC NYC self-taught artists who participate in ArTech. They are: Jayson Valles, James Tillary collaboration with Anton Spivack, Cory Tyler, Monique Williams, Antony Ferguson, Jeffrey Holloway, Shanice Valez, Gisella Montalvo, Carlos Sotomayor, Diana Varela, Kevin Jones , Wayne Anderson, Jeremy Gonzalez, Carol Fields, and Teaching Artists Ben Granoff and Carlos Encarnacion Vazquez.
Proceeds of Charles Fazzino's Official AHRC NYC artwork will benefit AHRC NYC. Posters will be available at the Annual Dinner in April or by contacting Shirley Berenstein at AHRC.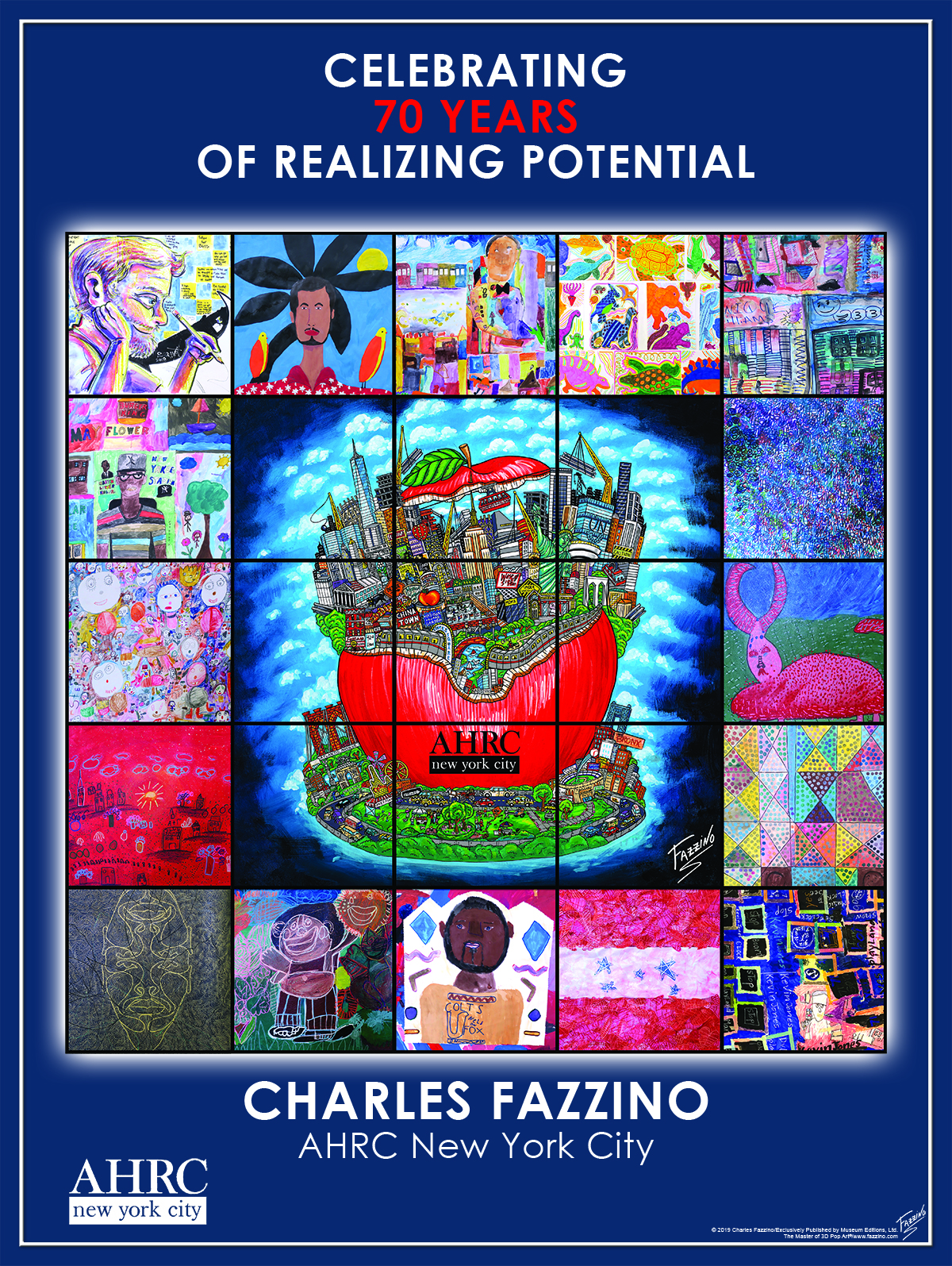 About AHRC New York City
Each year, AHRC New York City touches the lives of over 15,000 individuals with intellectual and developmental disabilities throughout the five boroughs. The array of services offered by the organization is unsurpassed.
The organization that created the first schools, workshops, day treatment programs and community residences, continues to meet the needs of its children and adults with intellectual and developmental disabilities and their families.
Today, with a membership comprised of thousands of individuals – primarily persons with intellectual and developmental disabilities, their families, friends and professionals in the field – AHRC New York City is one of the largest nonprofit organizations in the city. It is governed by a Board of Directors, two-thirds of whom are relatives of persons with developmental disabilities, working together with a staff of 5,000 dedicated professionals.
As part of the AHRC + ArTech family, the Howie Stone Adult Day Center opened it's doors November 17th, 2016. Since the debut, the New York City location blossomed into a remarkable facility for dozens of creative minds. With a variety of mediums to choose from and a group of art professionals dedicated to its success, it's easy to see why.
"[ArTech is] something that you will not see anywhere else in AHRC NYC or any other place that serves people who have a special way of needing to express themselves. You look at the walls here and this place speaks for itself." – Harriet Golden, Director of Adult Day Services
"Charles Fazzino is unequivocally the Master of 3D Pop Art and we are thrilled that he has committed his time and talent to be the Official Artist of the AHRC NYC 70th Anniversary and Annual Dinner." -Marco R. Damiani, CEO of AHRC NYC
AHRC 70th Annual Anniversary Dinner Information
Jeanne Sdroulas is the Dinner Chair for AHRC NYC's 70th Annual Dinner and the co-honorees are George Oliphant, Host of NBC's George to the Rescue, Jane Ridley, Senior Features Writer of the NY Post, Greg Costa, Director of Operations for Levy Restaurants at the TMobile Arena, Meri Krasner, AHRC Board Member, and Elly Rufer, Founder of the NYC Fair.