Charles Fazzino Leads Educational Workshops for Little League International 75th Anniversary Celebration
Charles Fazzino is headed to Williamsport, PA. (home of Little League International) at the end of the month to lead a series of educational events meant to celebrate the 75th Anniversary of Little League Baseball and enrich the artistic experience for hundreds of students, teachers, parents, and administrators.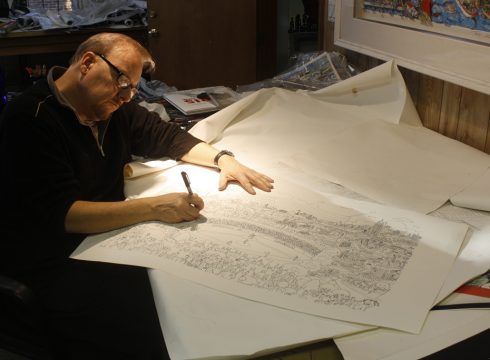 The trip will include an assembly for more than 1,000 fifth grade students affectionately titled "Fazzinopalooza."  In addition, he will lead a teacher development seminar, a high school art interactive workshop, and a second workshop during which he will work on the actual official 75th Anniversary artwork with a select group of fifth graders. The finished painting will be unveiled in August during the Little League World Series and be installed at the World of Little League: Peter J. McGovern Museum.
"I am excited to be working on this project with Little League and the communities that have supported the organization since its founding 75 years ago," said Fazzino, who is based in New York. "It's a special opportunity to be able to create a work of art that will commemorate this momentous occasion and recognize the importance of Little League as an international institution, while working with the students and teachers in Little League's backyard."