FOR IMMEDIATE RELEASE
Famed Pop Artist's Works Can Be Viewed Easily on Mobile Devices
New Rochelle, NY– April 1, 2012– Charles Fazzino, internationally renowned 3D pop artist, has a new canvas upon which to present his artwork… smart phones and tablets. Fazzino has launched a mobile version of his eye-popping website, www.fazzino.com, with many of the features fans have come to appreciate.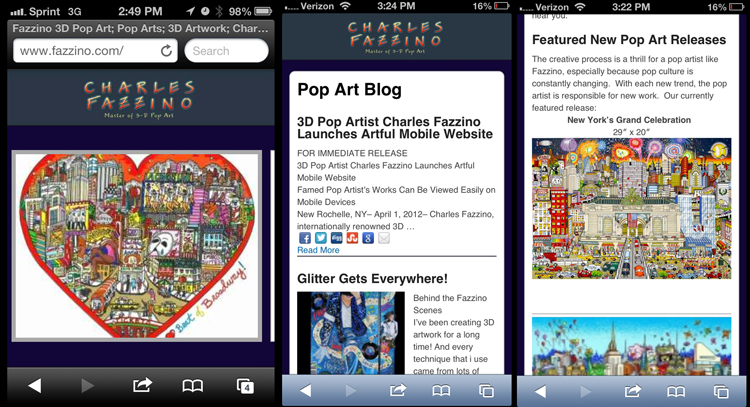 Color Your Own Fazzino on Tablets
Among the many popular features of the Fazzino website is the "Color Your Own" art pages.  Site visitors can use virtual markers to create their interpretation of a Fazzino original featuring the latest releases from the pop artist.  "Kids have really taken to the Color Your Own fun," says Fazzino. "And I think parents and adults will find themselves caught up in coloring on their tablets for some good creative relief."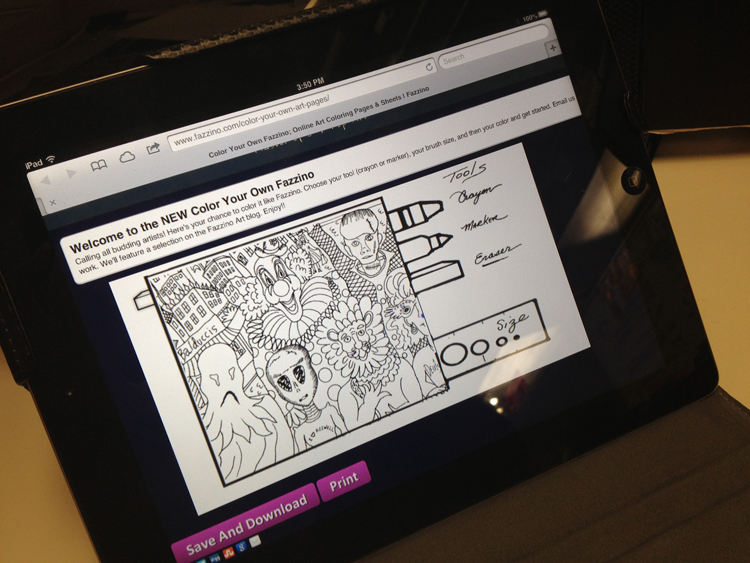 Get All the Fazzino Art You Need… Right at Your Fingertips
Want to join the Fazzino Collectors Club? Use your mobile device.  Want to get information about purchasing a Fazzino print?  Use your mobile device. Eager to see the new releases? View them on your phone or tablet. Looking for one of your favorite Fazzino classics like "An All-Star Tribute to Yankee Stadium," or "Balloons and Butterflies Over New York?"  You'll easily find all this and more on your device.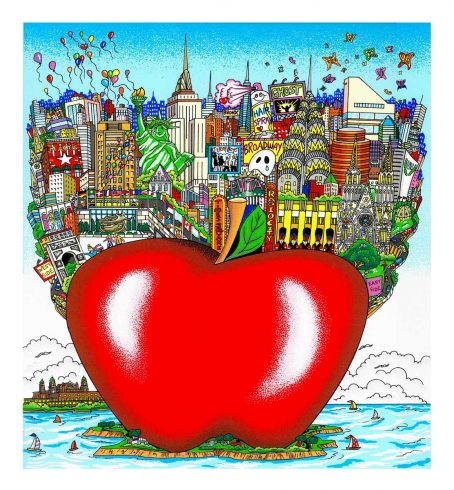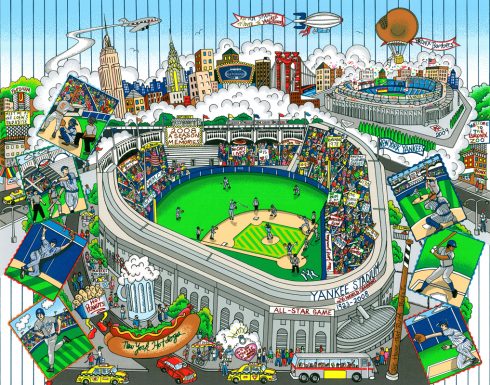 "We wanted to make our mobile site just as simple to navigate as our website. You should e able to find your favorite pieces and discover new ones quickly and easily," said Fazzino.  "We accomplished that…and it's fun."
Mobile device users can simply launch their phone or tablet's browser and visit:  www.Fazzino.com for the new mobile site. Using the browser's bookmark feature, Fazzino fans can revisit the site easily to see what's new with their favorite 3D pop artist.
About Charles Fazzino
Charles Fazzino — one of the most popular artists in the world — is most well-known for his unique, detailed, and vibrant three-dimensional style. His work is exhibited in hundreds of fine art galleries and museums in twenty different countries. He is an officially licensed artist of the National Football League and the Super Bowl (2000-present), Major League Baseball and the MLB All-Star Game (2003-present), and the US Olympic Team (2000-present).  He has also recently created official artwork for high profile events, including: the 2011 Centennial Celebration for the City of Fort Lauderdale, the President's Challenge for President's Council on Physical Fitness and Sports, NASCAR Sprint Cup series, NHL All-Star Game, Belmont Stakes, Daytona 500, Indy 500, Andy Roddick Charity Gala, U.S. Tennis Foundation, CMA Awards, Grammy Awards,  Daytime Emmy Awards, NBC's "Today" Summer Concert Series, Rosie O'Donnell's For All Kids Foundation and the President William J. Clinton Presidential Foundation, among many others.
Media Contact
For Charles Fazzino: Julie Maner, Museum Editions, Ltd., Jmaner@fazzino.com, 914-654-9370