18 Holes at a Tee Time
"Linking the World…18 Holes at a Tee Time" is Charles Fazzino's first golf-themed 3D pop art release since the year 2000 when he released "A Hole in One Behind Bush 13." "Linking…." takes a bit of a more sophisticated look at the game of golf, honing in on some of the world's most famous golf courses. From Pebble Beach in California to Hirono Golf Club in Tokyo, and from Dubai Creek to Marina Bay in Singapore….it's a golfer's paradise.


"I only started doing paintings of the whole world a few years ago," said Fazzino. "And lately, I've been hearing more and more of a demand for another golf image but one that focuses on the beauty of the course landscapes and the majesty of the game. I thought that combining the world with golf would make a really nice image. I think it fit together really well and conveys the worldliness and global popularity of the game."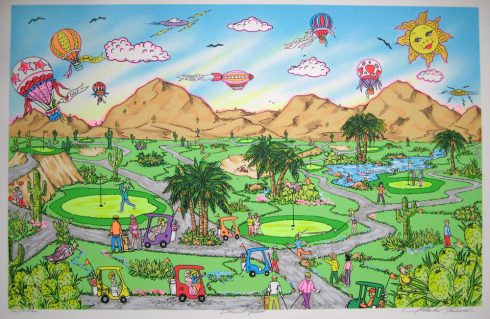 Fazzino's first artwork (above) on golf was "Desert Green" in 1993.
Contact us for more information on this new release and be sure to check out other sports inspired art pieces.