What Happens in Vegas – Stays in Vegas…Unless you're Fazzino!
This NEW Limited Edition 3D pop art on Aluminum brings the bright lights of Las Vegas, Nevada to you, in the comfort of your own home! You can see Elvis Impersonators, Eat at the Hard Rock Cafe, and Stay at the Stratosphere Hotel & Casino, all in Fazzino Style. If you have never taken a trip to gamble or have a blast on the strip, you will want to after seeing this newest art release!
Midnight in Vegas on Aluminum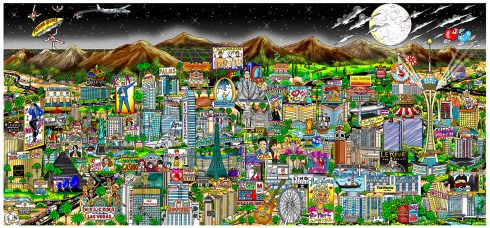 Deluxe Aluminum Edition
Edition Breakdown: 125 DX
Approximate Image Size: 34.5″ x 15″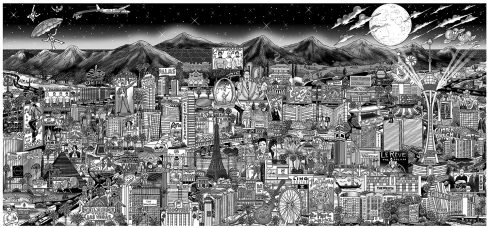 Premier Aluminum Edition
Edition Breakdown: 125 PR
Approximate Image Size: 34.5″ x 15″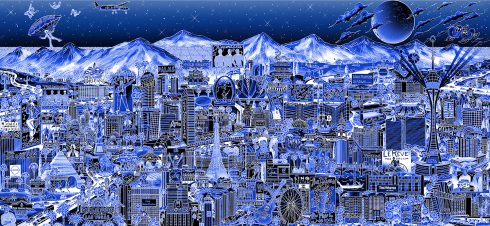 AP Blue Aluminum Edition
Edition Breakdown: 125 AP Blue
Approximate Image Size: 34.5″ x 15″
" Throughout my many years as an artist, capturing the places I have traveled to has been a constant passion of mine. I love Las Vegas and have watched the strip evolve over my more than 30+ years painting it. I take pride in all of my pieces of art and hope they truly reflect the place and tell its story. I hope to either inspire travel or spark memories and all I think of when I see this piece is Viva Las Vegas!" – Charles Fazzino
Fazzino Las Vegas Inspired Artwork
Vegas Vacation
2003 Sold Out Release

Viva Las Vegas
1990 Sold Out Release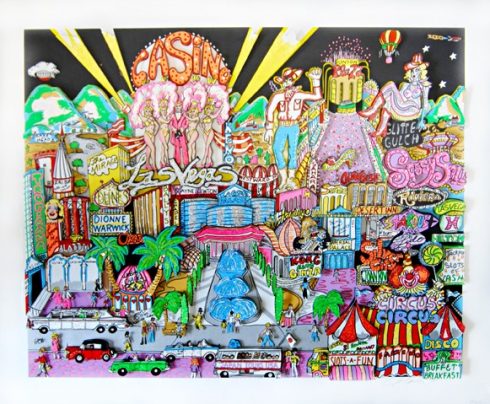 Welcome to Fabulous Las Vegas
1999 Sold Out Release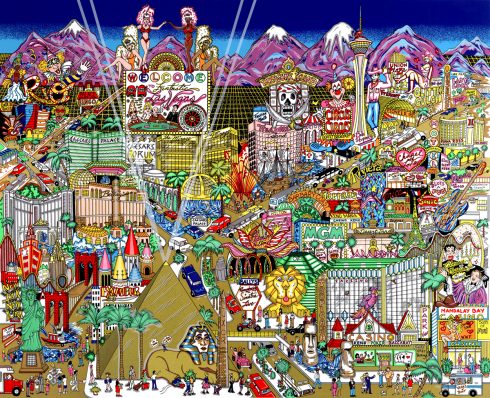 For more information on Midnight In Vegas – or for purchasing information please contact an authorized gallery,
or email info@fazzinocollectors.com with your inquiries!
Make sure you Tweet, Instagram, Facebook Message, etc. to show us your Fazzino Vegas Artwork so we can stay connected via Social Media!
#Fazzino or #MidnightInVegas
Fazzino Cell Phone Cases
Just inCASE you didn't know! …
The official Charles Fazzino Gift Shop is fully stocked with Cellphone Cases that display some of your favorite Fazzino pop art designs. These hardcover polycarbonate cases embellished with Swarovski Crystals are available for the following phone styles and sizes:
Galaxy S6,
iPhone 6
iPhone 6+
iPhone 7
iPhone 7+
iPhone 8
iPhone 8+
Visit the Fazzino Gift Shop Today!