The Opening Ceremonies for the XXII Olympic Winter Games are TODAY! Let the Games begin!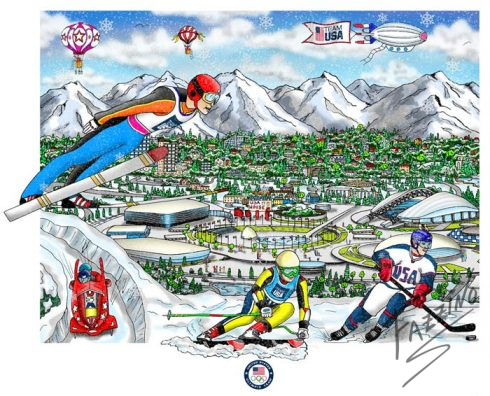 Commemorative Olympic Artwork
Charles Fazzino celebrates his 8th Olympic Games with a commemorative pin set and limited edition artwork. "I have been painting the Olympic Games since the year 2000," said Fazzino. "It was always my dream to be able to celebrate the incredible achievements of our country's athletes. The camaraderie; the majesty; the competition; the patriotism…I want that all to come through." This year, the pin collection is available through direct purchase and the artwork can be seen at any Authorized Fazzino Gallery.
Facebook Contest: Play to Win!
You can win a set of pins by participating in our Facebook Fan Contest running now through Monday.
How to Play: To enter leave a comment on our Facebook Page guessing the total number of medals the US team will win. The person who guesses or is closest to thenumber, without going over, will win. If there are multiply correct answers, a random drawing will select the winner.
The deadline for entries is Midnight EST, Monday February 10th.
The winner will be announced Monday February 24th.
You can also view the entire Fazzino Olympic Art Collection.
GO USA!