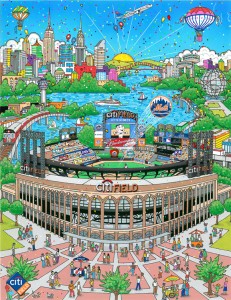 It's opening day at CitiField and the Mets are taking on the Marlins…well…right now!
I have been over to the stadium a couple of times before the beginning of the season because i'm honored that the Mets have included my artwork in their new NY Mets Hall of Fame and Museum. The team has built a gorgeous new museum attached to what was (and still is) the main team store last year. They have devoted an entire glass case in the museum to my artwork and i'm looking forward to painting more baseballs and sculptures to continue filling it up. The picture below is "in progress" while they were still building the new attraction. The baseball pop art above is the image i created for the grand opening of the stadium last year and it's also part of the exhibit. YOu can see it larger, along with the rest of my baseball collection on the basebal pop art page on my website.
I hope you have the chance to get down there to see it. It's quite something and i'm very proud of it…and my association with the Metss.
M…E…T…S….Mets, Mets, Mets!