Internationally Renowned 3D Pop Artist Fazzino Designs New Luggage
Line for Revolutionary Luggage Newcomer
Fazzino by Visionair to Debut at 2015 International Travel Goods Show
For Release:  March 2, 2015
New Rochelle, NY – –Revolutionary newcomer to the luggage industry, Visionair is taking on the Charles Fazzino line and introducing the most vivid, highest quality, most functional set of Fazzino hard side suitcases ever made. The first set to be released will debut at the 2015 International Travel Goods Show in Las Vegas from March 10 – 12th. It will feature the quintessential Fazzino image of New York City…The Big Apple. The design will come in three different sizes – 22″ carry-on, 26″ spinner, and 30″ spinner.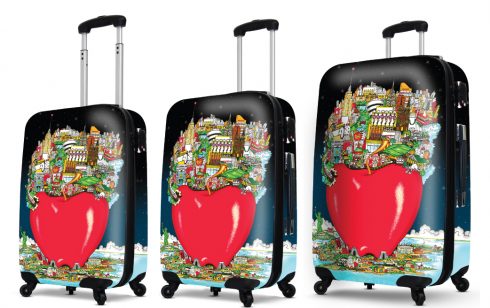 "We are thrilled to be adopting the Charles Fazzino luggage line into our collection of highly stylized, yet functional and durable travel goods," said company CEO Tom Nebeling. "Our mission is to distinguish ourselves and our products based on customer service, quality, and uniqueness. We have spent almost a year sourcing the most durable materials, the best quality manufacturers, and the best printing processes to design a product that is worthy of exhibiting the art of Charles Fazzino."
The cases feature ergonomically designed internal aluminum telescopic trolley system with an easy push-button locking and release for easy one-handed use. They are lightweight, impact resistant and have a durable glossy finish. The polycarbonate absorbs the force, protecting your belongings and bouncing back to the original shape. The interior is fully lined with multi-function tie-down straps and zippered dividers to keep items organized. A TSA accepted 3-digit combination lock comes built-in and the state-of-the-art 4 wheel spinner systems stands up to abuse, yet provides the smoothest movement possible over any surface.
This new collection exhibits wonderfully unique design and a whimsical sense of fashion that will delight any distinguished traveler and enhance the travel experience.  The set will be rolled out in stages, with the 22″ carry-on planned for in-store availability in Summer of this year. It is available for order at fine luggage retailers everywhere and by emailing Visionair direct at Valerie@Visionairluggage.com.
See Visionair at the 2015 International Travel Goods Show in BOOTH #1045
About Charles Fazzino
Charles Fazzino — one of the most popular artists in the world — is most well-known for his unique, detailed, and vibrant three-dimensional style. His work is exhibited in hundreds of fine art galleries and museums in twenty different countries. He is an officially licensed artist of the National Football League and the Super Bowl (2000-present), Major League Baseball and the MLB All-Star Game (2003-present), and the US Olympic Team (2000 to present).  He has also recently created official artwork for high profile events, including: the 2011 Centennial Celebration for the City of Fort Lauderdale, the President's Challenge for President's Council on Physical Fitness and Sports, NASCAR Sprint Cup series, NHL All-Star Game, Belmont Stakes, Daytona 500, Indy 500, Andy Roddick Charity Gala, U.S. Tennis Foundation, CMA Awards, Grammy Awards,  Daytime Emmy Awards, NBC's "Today" Summer Concert Series, Rosie O'Donnell's For All Kids Foundation and the President William J. Clinton Presidential Foundation, amo ng many others. You can view more of Fazzino's work at www.fazzino.com.
About Visionair
Visionair Luggage was created to satisfy the need for dependable, fashionable and leading edge travel goods. They have designed distinctive, innovative luggage that will set new trends for today's traveler. Their mission is to redefine and revolutionize how you travel. See the entire collection at www.visionairluggage.com.
Media Contact:
For Charles Fazzino: Julie Maner, Museum Editions, Ltd., Jmaner@fazzino.com, 914-654-9370
For VisionAir: Valerie Nebeling, valerie@visionairluggage.com, 212-842-9142
###