Wow! What a weekend. And i haven't even been able to sit down and finish my blogging from Indy until now! What an incredible game….I apologize to my Patriot-fan collectors, but i am so excited for the NY Giants. I know several of those guys personally and they have worked so hard and come back from so much this season. It was a fairytale ending and i was proud to be a part of it.
On Friday, I led an interactive art project at The Huddle in the Super Bowl Village. Hundreds of people showed up to take part and we created a fabulous piece of artwork together. The Indianapolis Arts Council is looking for a permanent home for it in the city as part of their Super Bowl Legacy.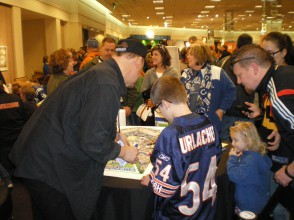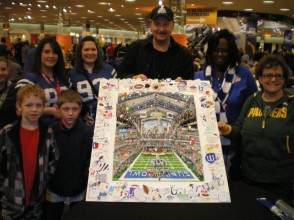 On Saturday, it was a full day at the NFL Experience followed by a wonderful evening at the Taste of the NFL. If you've never had a chance to experience that event, you are REALLY missing something. The food was incredible. The guests were wonderful. The entertainment (Sara Evans) was spectacular. I usually run out of words to use when trying to describe how fabulous that event it. This year is no exception.  My favorite was definitely the Crabcakes being made by the chef representing the Baltimore Ravens. YUM!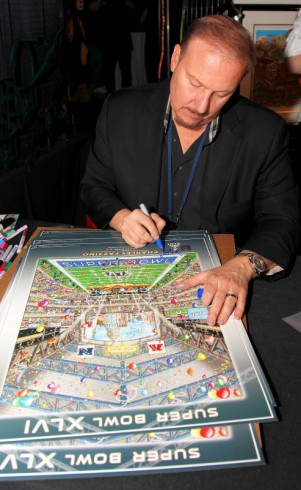 Sunday, of course, was one of the most incredible football games i've ever seen!!! And there's nothing more to say about THAT!
On Monday, i had the great honor of unveiling my Giants Championship artwork with NY Giant Antrel Rolle at Sofrito. Owner JR Morales was kind enough to host us once again at his amazing restaurant in NYC.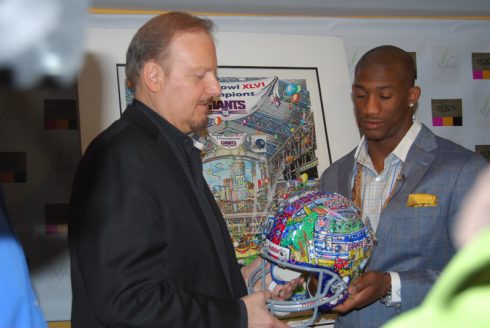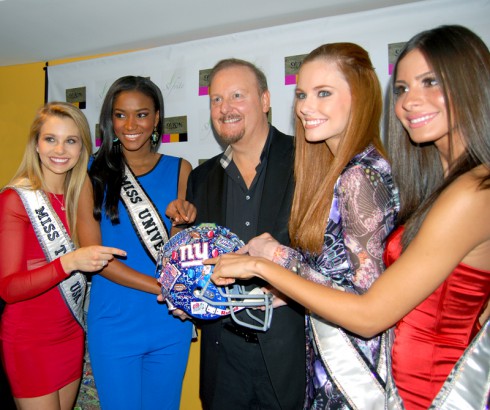 Now i guess we try to get back to "normal." I have a bunch of new projects i'm working on now so stay tuned for more news.
–Charles