Super Bowl XLVIII will be played at MetLife Stadium, home of the NY Giants and NY Jets, on Sunday, February 2, 2014. This historic game will be the first Super Bowl ever played in a cold-weather town in an open-air stadium. The excitement is building as are the expectations for an incredible Super Bowl in New York! Charles Fazzino recently released his official art collection for the Big Game, his 14th Super Bowl art collection. It was unveiled at a star-studded event at the Holiday House to benefit the Breast Cancer Research Foundation in December. Both the BCRF and the NY/NJ Super Bowl Host Committee's Snowflake Foundation will benefit from the original works unveiled.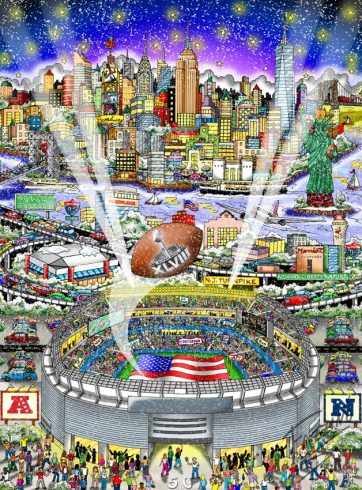 Super Bowl Boulevard 2014 Celebration
The big question on everyone's mind is "WHERE CAN I SEE THE SUPER BOWL COLLECTION AND MEET CHARLES FAZZINO DURING SUPER BOWL WEEK."  Traditionally, the Fazzino Super Bowl art collection has been on display at the NFL Experience. However, this year, the Experience is being replaced by Super Bowl Boulevard, a four-day, outdoor grand celebration of all things football running right down the middle of Broadway from 34th Street to 47th Street. The NFL SHOP AT SUPER BOWL, MACY'S HERALD SQUARE will be a 30,000+ square foot NFL merchandise extravaganza. It will be the largest NFL Shop at Super Bowl ever and that's where you'll find Fazzino! His exhibit will be right in the middle of the store which opens on January 17th and stays open until Monday February 4th.  Appearances by Fazzino, along with Giants greats Sean Landeta and Antrel Rolle, and NY Jets superstar Quinton Coples are in the works – days and times to be announced.
You can also visit your favorite authorized Fazzino Gallery or email us at info@fazzinocollectors.com about purchasing information for the Charles Fazzino Super Bowl XLVIII Art Collection.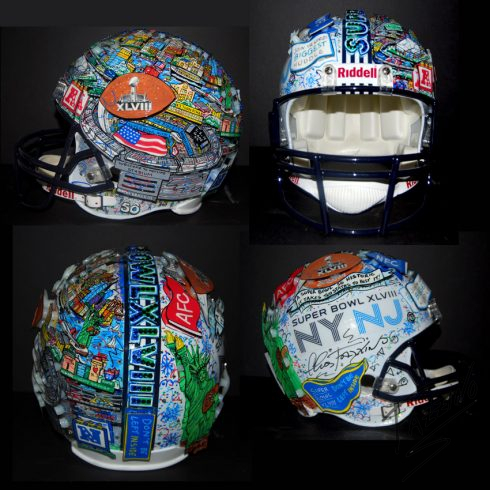 Super Bowl 2014 Event Information:
WHAT:  THE CHARLES FAZZINO SUPER BOWL XLVIII ART COLLECTION AT THE NFL SHOP AT SUPER BOWL, MACY'S HERALD SQUARE
Dates: Sunday, Jan 17 – Monday, Feb 4
Time: 10AM – 10PM daily
Location: 4th floor of Macy's in Herald Square (34th Street & Broadway)
Collection: Limited Editions, Fine Art Posters, Mini Prints, Hand-Painted Helmets
Come check out the largest NFL Shop at Super Bowl ever! Meet Charles Fazzino and take part in his interactive art project during Family Day on January 25th. Meet Sean Landeta! Meet Antrel Rolle! Meet Quinton Coples! Times and days to be announced so stay tuned.