Fazzino at The Art of Pop & Comics at Coral Springs Museum of Art
Several hundred people turned out for the opening night reception of the Art of Pop & Comics Exhibition at the Coral Springs Museum of Art on Thursday, March 5th. Highlighting the show are five new originals from Fazzino, all pertaining to the theme of the show: "A Cartoon Celebration of the Masters," "A Simpson's Selfie," "Felix the Cat in Outer Space," "Batman and Batgirl," and "Spiderman III."
"A Cartoon Celebration of the Masters" is the most ambitious work in the show. An homage to the Masters, Fazzino seamlessly folded some of our favorite cartoon characters into the most famous scenes painted by some of the Masters, including Vincent Van Gogh, Georgia O'Keefe, Leonardo da Vinci, Edvard Munch, René Magritte, Salvador Dali, Andrew Wyeth, Joan Miró, Jackson Pollock, Claude Monet, and Georges Seurat. "This is a tribute piece," said Fazzino. "The paintings I chose from the Masters are so incredibly recognizable….as are the characters now interwoven throughout them. It's a meeting of two worlds with two different languages that come together in this one, intricately assembled, composition."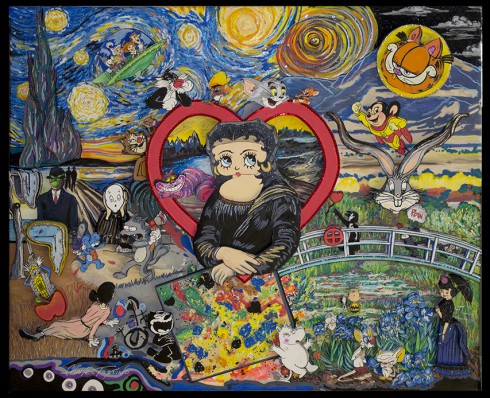 "I wanted to choose some characters that aren't necessarily the most popular today, but that everyone can relate to," said Fazzino about his original titled "Felix the Cat in Outer Space," "Felix was one of my favorites growing up and I actually remember one episode when he went into space and his bag of tricks turned into a satellite."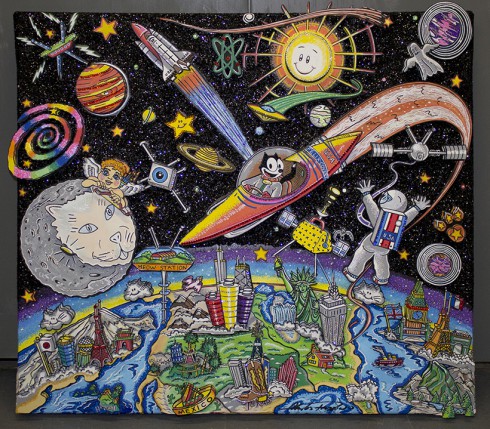 "A Simpson's Selfie" highlights how so many of our cartoon characters have evolved to be almost human-like. "Who couldn't' see the Simpsons touring NYC in a taxi and taking a bunch of selfies," stated Fazzino.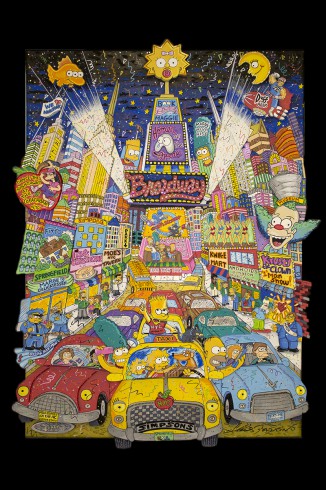 Of course, the exhibition was rounded out with the obligatory superheroes (Batman, Batgirl, and Spiderman) and a celebration of our good friends Popeye and Olive Oil.
The exhibition runs from March 5th through May 23rd at the Coral Springs Art Museum located at 2855 Coral Springs Rd, Coral Springs, FL. Telephone is 954-340-5000.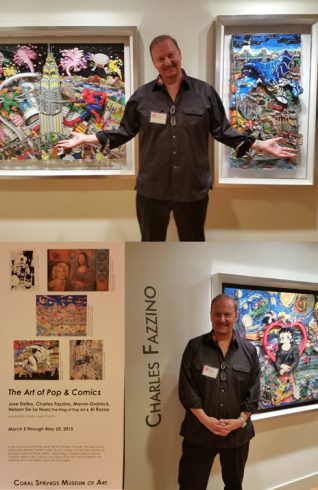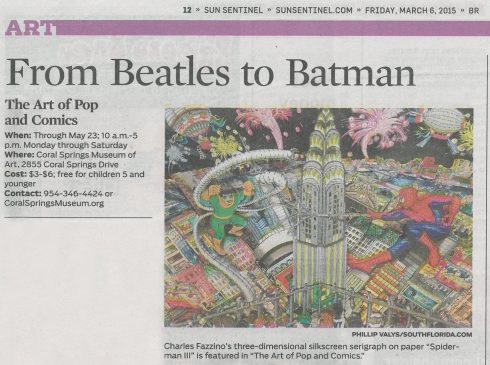 Guest Curator Lenore Stern Morris