Fazzino re-enters the world of popular culture with a particularly timely diptych: Batman Rules the Night & Superman Saves the day.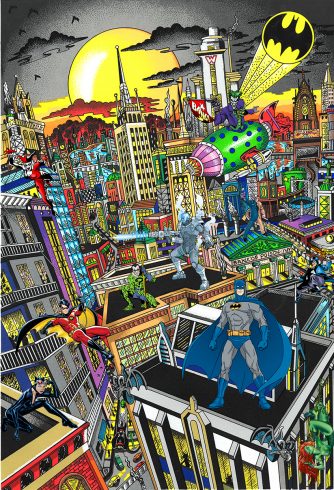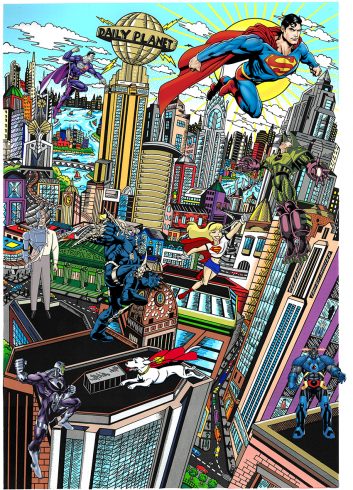 Batman and Superman Compete for Your Wall Space

"I did a piece a number of years ago called Batman: The Dark Knight," commented Fazzino. "Ever since then, I have wanted to return to the world of DC Comics. And with the release of the move Batman v Superman, it just seemed like the right time. We had so much fun putting these together and I love the juxtaposition of the Batman nighttime piece and the Superman daytime piece. They work great together or separately. That was my goal from the beginning."
Both pieces meld together different generations of super villains, but in the world of Fazzino, Batman and Superman conquer all! Fazzino takes us from the classic Riddler, Joker, Lex Luther, and Brainiac to the more recently introduced characters like Poison Ivy, Doomsday, and Darkside. The 3D Fazzino style brings them all to life in a unique and compelling way.
Batman: The Dark Knight
While this is the first limited edition Fazzino has released with Superman as its subject, Batman Rules the Night is actually the second appearance for the caped crusader in a Fazzino composition. Batman: The Dark Knight was released in 2009. Collectors have anticipated the new series ever since!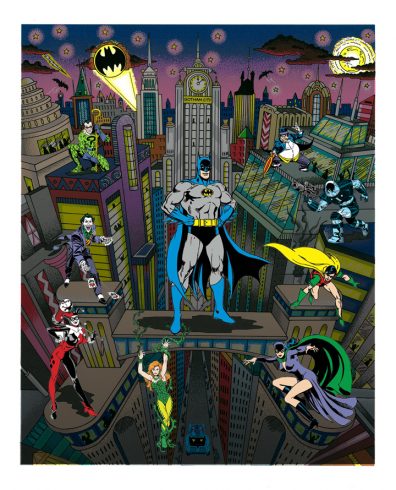 Contact your favorite authorized Fazzino Art Gallery for purchasing information for "Batman Rules the Night" or "Superman Saves the Day" or visit our current editions page for all of the currently available Fazzino artwork.