Can you believe it, it's almost time for ARTSFEST 2018! New Rochelle's Council City of the Arts-sponsored annual ArtsFest, a weekend-long festival highlighting the best art, music, and theater the area has to offer. Since we think that Charles Fazzino's studio is certainly one of the VERY BEST things in New Rochelle, we're opening our doors to the public! If it is your first year attending then, we welcome you and if it's your 10th time, we can't wait to see you again!

Free Studio Tours
Open to The Public!
Date: 10/20/18 – 10/21/18
Time: 11am – 6pm

This year, the city will come alive with art exhibits, live music, great food, incredible performances, shopping, and tours of artists' studios throughout the downtown area for the entire weekend!
Each day, there will be something different to enjoy and it's all FREE.
We will join in the fun by opening our doors each day from 11am – 6pm. Come see Charles Fazzino's latest and greatest works of art. Enjoy a behind-the-scenes studio tour, spend some time with the artist, and even participate in our interactive project. Highlights will include a new collection of both originals and limited edition 3D releases, never-before-seen dioramas and some incredible works-in-progress.
VIP Collectors Club
Ticketed Event
Date: Friday 10/19/18
Time: 5pm – 10pm
This will be our second annual VIP Collectors Club event. Last year we hosted our first exclusive ticketed reception & dinner to kick off the Artsfest weekend with Charles Fazzino! It was a SMASH hit to say the very least, and this year we're spicing things up even more. This event, limited to 50 people, requires an RSVP and the purchase of a ticket and will be a another grand event.
Attendees will be treated to:
An Extensive Private Studio Tour
A Private Reception & Dinner with Charles Fazzino at Posto 22 Restaurant
A Special Fazzino Wine Tasting
An Exclusive Fazzino SWAG bag
A Very Special Tribute to Motown Performance by Emilie Surtees
Come join us for this incredibly special once in a lifetime event. But don't wait too long to RSVP. Last year's tickets sold out very quickly! With the event being such a success last year, we expect the tickets to sell even faster this year!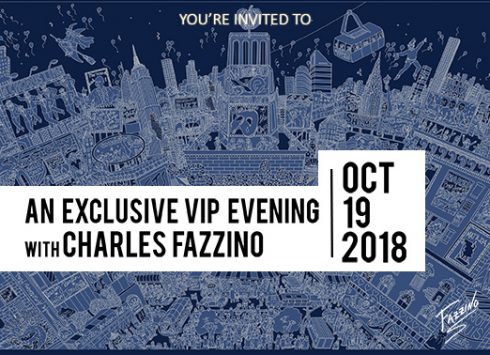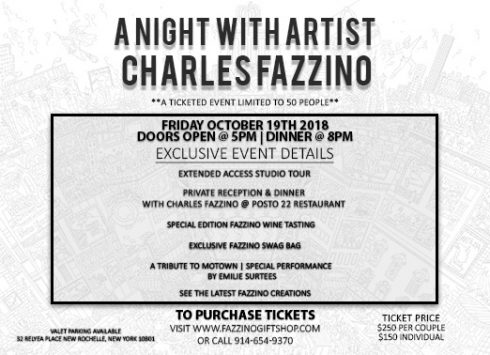 Dates & Times
Friday, October 19th:
Private Fazzino Collectors Club Reception – Tickets and RSVP Required. Limited to 50 People. Purchase either individual or couples tickets by visiting one of the following two sites or calling our office at 914-654-9370
Saturday, October 20th:
Time: 11am – 6:00pm
Open to the Public for New Rochelle ArtsFest
Sunday, October 21st:
Time: 11am – 6:00pm
Open to the Public for New Rochelle ArtsFest