The St. Francis Food Pantries and Shelters
will be celebrating the sixteenth annual "Doodle for Hunger" Celebrity Art Auction on Thursday, November 5, 2015 at Pier Sixty/Chelsea Piers - 23rd Street at the Hudson River. The event which begins as an elegant buffet cocktail party, features both silent and live auctions of original drawings ("Doodles") by artists, entertainers, athletes, politicians, and business celebrities. All of the proceeds from the event and the Doodles benefit the efforts of the Pantries to simply "to feed, cloth, and counsel poor families." The guest of honor for this year's event is the inimitable
Regis Philbin
. Actor/Entertainer
Danny Aiello
provide the wonderful entertainment while Fox news anchor
Ernie Anastos
plays the role of host and emcee.
Celebrity Art Auction
Doodle for Hunger is the brainchild of Executive Director Joe Sano. He has spent years cultivating relationships with corporations and celebrities alike, collecting hundreds, if not, thousands of original autographed drawings. That's what makes the Doodle for Hunger so incredibly unique. Nowhere else in the country will you find an auction containing so many original works by celebrities. The auction will include original drawings by Lady Gaga, Cybill Shepard, Cardinal Dolan, John Travolta, Tom Hanks, Donald Trump, Yoko Ono, Penny Marshall, and so many others. Of course, Charles Fazzino will also be adding his annual Doodle to the collection: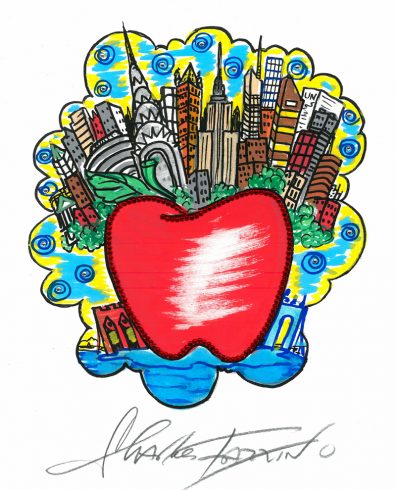 Contributing to and Attending  Doodle For Hunger
As he has done in year's past, Charles Fazzino has also created a small mini print edition. This year's edition celebrates long-time Doodle for Hunger host Ernie Anastos and celebrating his new television show "
New York's Star of the Day
". If you are interested in attending and bidding on Fazzino's Doodle, or any of the hundreds of others, you can buy tickets to the event  purchased through the
Doodle For Hunger
website.