The 2018 Charles Fazzino Award of the Heart was handed out at the end of the last academic year and we are so proud of this year's recipient. The award, given annually by Project Community, Inc (formerly Nurses Network of America) was named" in honor of the international pop artist whose sensitivity to community needs has made him a valued friend of Project Community, Inc. for over 30 years. The award recognizes generosity of spirit, creativity and resources that support innovative programs that inform and offer practical choices to prevent illness for children, teens and adults."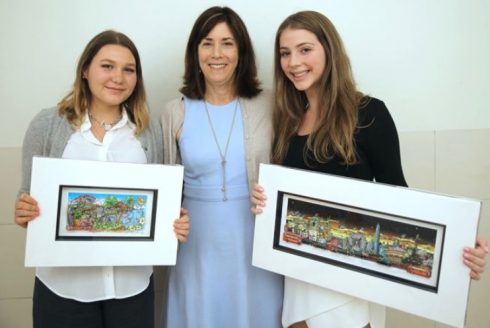 The award was given to two outstanding young people. According to Project Community's Susan Deland:
"On the left is Chloe Krulak, and she was recognized for her help to Project Community, Inc, with our biggest fundraising effort in May 2017, which is our Color Run. We were disorganized that year, and Chloe rallied her friends to come to our rescue and deal with all the details of this one-mile run/walk through Pelham where the participants are doused with colored powder at various intervals. We made $17,000 from the event, which allowed us to continue our programs centered on alcohol-poisoning prevention, sexual assault prevention, and free social and art programs for developmentally-disabled children and teens. Chloe will be a Freshman at Elon University this fall, and she is a gifted visual artist herself.

The girl to the right is Sophia Juliano, now a Freshman at Tulane University. Sophia was a volunteer at the social and art programs in Pelham, a program known as Project CHILDD. As a Teen Mentor, Sophia interacted with the special needs teens and adults during the 2 1/2 hour programs, providing friendship and social modeling. We were particularly struck by Sophia's frequent attendance, well beyond the required service hours that her high school mandates, and that often she attended the Friday night programs when all her neurotypcial friends were out doing fun Friday night activities. Just looking at the faces of the kids in the program when they saw Sophia gave a clear sign of how beloved she was to them.

The woman in the middle is Anne O'Beirne, a Project Community Inc. Board Member who was there to present the award."
The stories of these two young women are both heart-warming and inspiring. We wish them well in their future endeavors and know that whatever path they choose will be a successful one! Great Job!